Petition launched to save Griffith Park Teahouse after report it might be taken down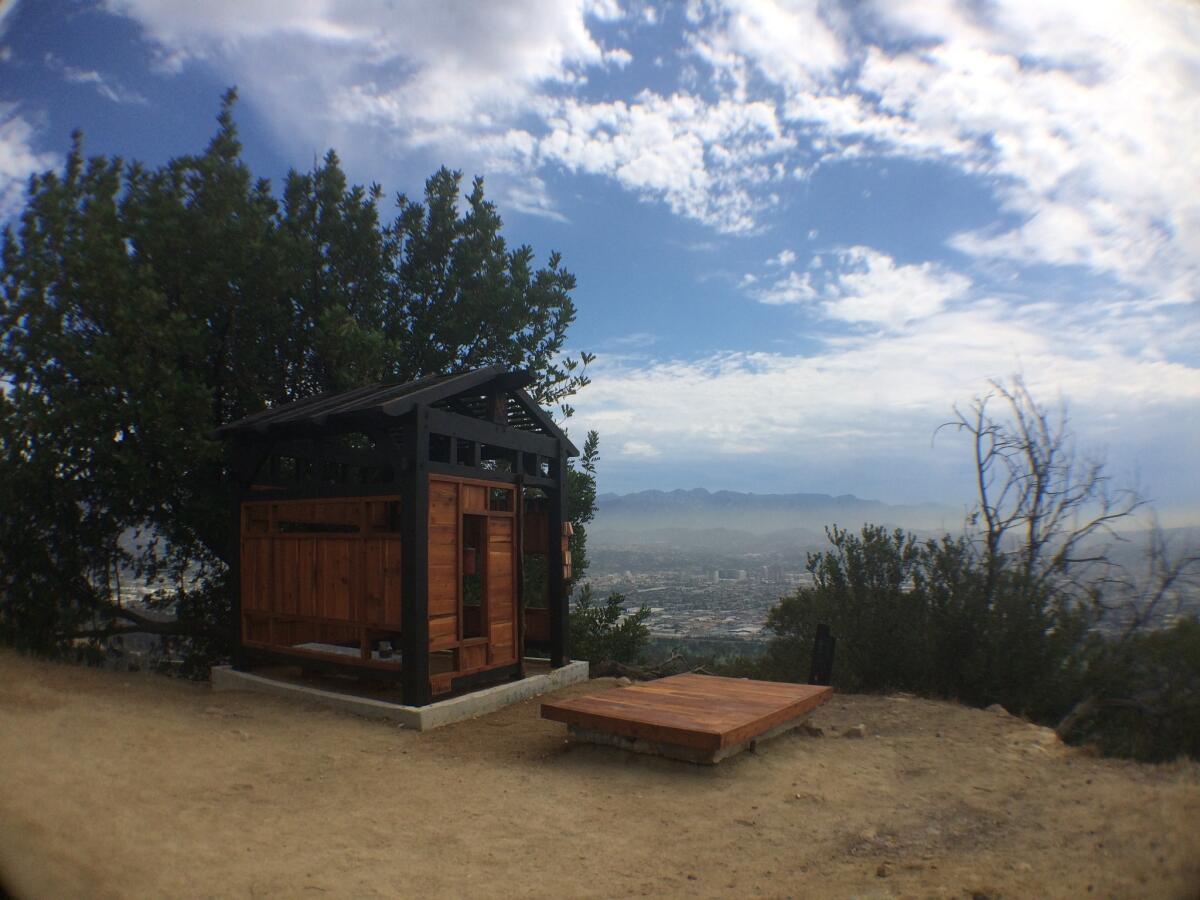 It may be a short life for Los Angeles' Griffith Park Teahouse, the surreptitiously installed artists' project that materialized on a ridge in the park Monday night and was inaugurated with a dawn ceremony Tuesday.
Wednesday morning, a Twitter feed connected to the anonymous collective of artists who created the teahouse announced that the city's Department of Recreation & Parks was talking about taking down structure. This quickly resulted in the creation of an online petition, addressed to Mayor Eric Garcetti, City Councilman David Ryu (whose district includes Griffith Park) and former Councilman Tom LaBonge, who previously represented the area, asking them to keep the Griffith Park Teahouse standing.
"We'd love for people of L.A. to visit the teahouse and to weigh in on its fate," said the artists via an email statement. "We view it as a gift to the city and we genuinely hope the city chooses to accept it."
Whether the parks department is indeed going to remove the guerrilla art project, however, still has not been confirmed. The city agency has not responded to a request for comment on the matter. Likewise, Ryu's office was unable to comment, since the new councilman was just sworn in this week. (When reached by The Times, some of Ryu's staff members were standing in line, waiting to be assigned work badges.)
During a visit I made to the site on Wednesday, however, a parks department employee, who did not give his name, arrived to give the structure a brief once over after hearing about it from colleagues. Asked what the department's plans were, he said "they are talking about taking it out."
Once word of the possible removal hit Twitter, one supporter of the teahouse launched a petition on Change.org. By Wednesday night it had more than 750 signatures.
The artists, in the meantime, say their structure is secure.
"The teahouse was robustly made and installed by professional fabricators," reads their statement. "The pre-existing concrete platform was unwelcoming, with exposed rebar and sawed-off pipes that could have been hazardous."
They add: "This beautiful, quiet spot offers a moment of calm within our wild metropolis. People have already decorated its walls with hanging shingles bearing their wishes, and even some memorials."
Certainly, the controversy resided far from the minds of most visitors to the teahouse on Wednesday, who have been trickling in to enjoy the views of the city and the San Gabriel Mountains and to write wishes of peace and love on the blank wood slats that hang on the building. One unknown visitor even deposited a doily and a jar of oolong tea, to which the public is invited to help themselves.
Over the course of the morning, the structure drew a gaggle of Japanese tourists who didn't realize it wasn't supposed to be there, a couple that read about it and decided to stray from their established hike in order to find it, and a few hikers who didn't want to be identified because they were playing hooky from work.
Claire Aguilar of Burbank and Victoria Tobar of North Hollywood stumbled into the teahouse late in the morning after getting lost in the area. The friends generally hike around Amir's Garden, on the park's eastern flanks, but decided to break from routine and explore the area around Mt. Bell.
"I was really frustrated until I found this!" exclaimed Aguilar. "When we saw it, we knew we were meant to be here. It's so creative. It's giving purpose to an old structure and it's bringing something back to life."
Neither of them had heard about the teahouse before seeing it in person.
"That's what makes this so awesome," said Tobar. "You come up a hill and you see something amazing, something with meaning. It's a place where you can come express a bit of you."
Whatever the future of the Griffith Park Teahouse, it's not the first or last time that someone has taken it upon themselves to make improvements to the park. In the early 1970s, Iranian immigrant Amir Dialameh famously landscaped the five-acre area tract now known as Amir's Garden in the wake of a brush fire with the blessing of the city.
-----------
For the record
2:46 p.m.: An earlier version of this post reported that Amir's Garden in Griffith Park was surreptitiously landscaped by Amir Dialameh. Dialameh did the work with permission from the city.
------------
And on my way into the park in the morning, I ran into a pair of young women looking for directions to a prayer box that had been deposited there earlier by a group from Hawaii. All they had to go on was an image of a scrubby peak posted on Instagram.
I asked if perhaps they were looking for the teahouse.
"No," one of them said. "But if we don't find the prayer box, maybe we can go there instead."
Find me on Twitter @cmonstah.
Get our L.A. Goes Out newsletter, with the week's best events, to help you explore and experience our city.
You may occasionally receive promotional content from the Los Angeles Times.