A show toying with unexpected ideas of color rises at the Underground Museum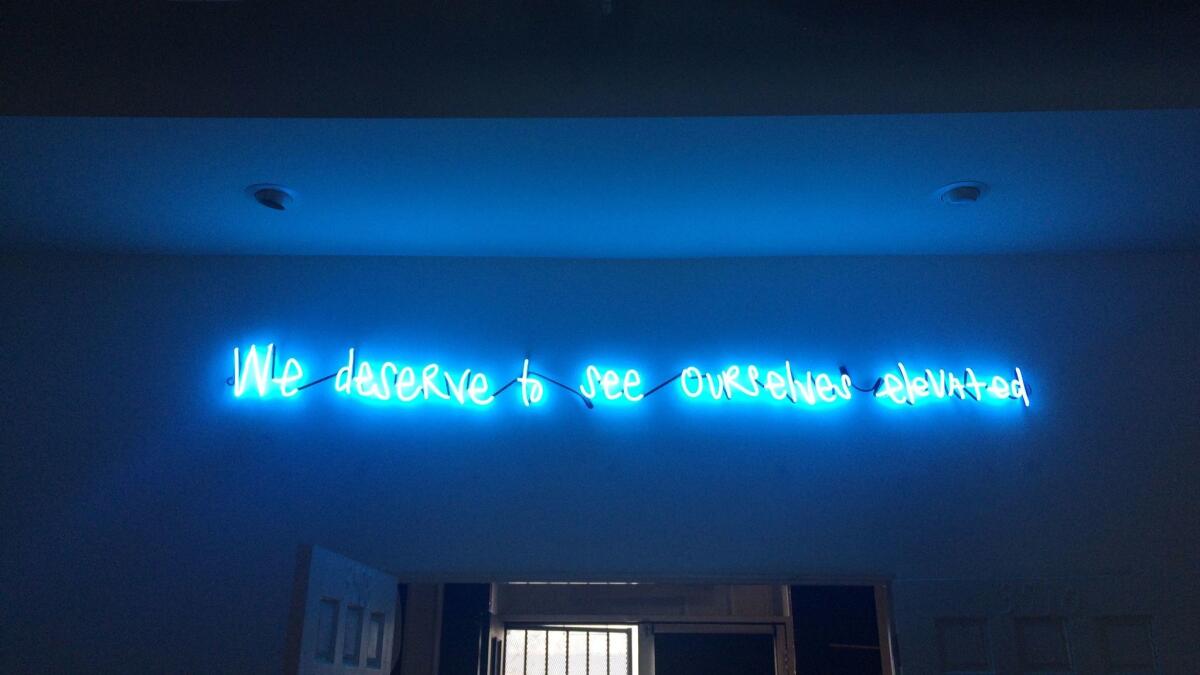 A show called "Artists of Color" is not what you think.
There are a pair of chimerical blue orbs by Lita Albuquerque, an early study of boxy green forms by seminal Modernist Josef Albers and a series of monochromatic paintings by Félix González-Torres that depict the colors of the Palestinian flag — a sequence of white, green, red and black that was once outlawed by Israel.
For its latest exhibition, the Underground Museum in Los Angeles is tackling the concept of color in various guises — from its visceral appeal as a tone, to the ways in which humans can politicize its significance.
"We want to talk about how color is perceived or deployed," says Megan Steinman, the space's director, "and how that can shift over time or by culture."
The show is the third exhibition in the Underground Museum's ongoing partnership with the Museum of Contemporary Art Los Angeles — in which the artist-run space features works from MOCA's collection in its storefront location in Arlington Heights.
Founded by the late painter Noah Davis, along with his wife, installation artist Karon Davis, the Underground Museum has already featured exhibitions of video by South African artist William Kentridge and staged the critically well-received group show "Non-Fiction," which looked at the ways in which the black figure has been treated in art (and U.S. history).
The shows were conceived by Noah before his 2015 death and have been executed by MOCA and the team at the Underground Museum. This includes Karon and Steinman, as well as the painter's brother, video artist and director Kahlil Joseph.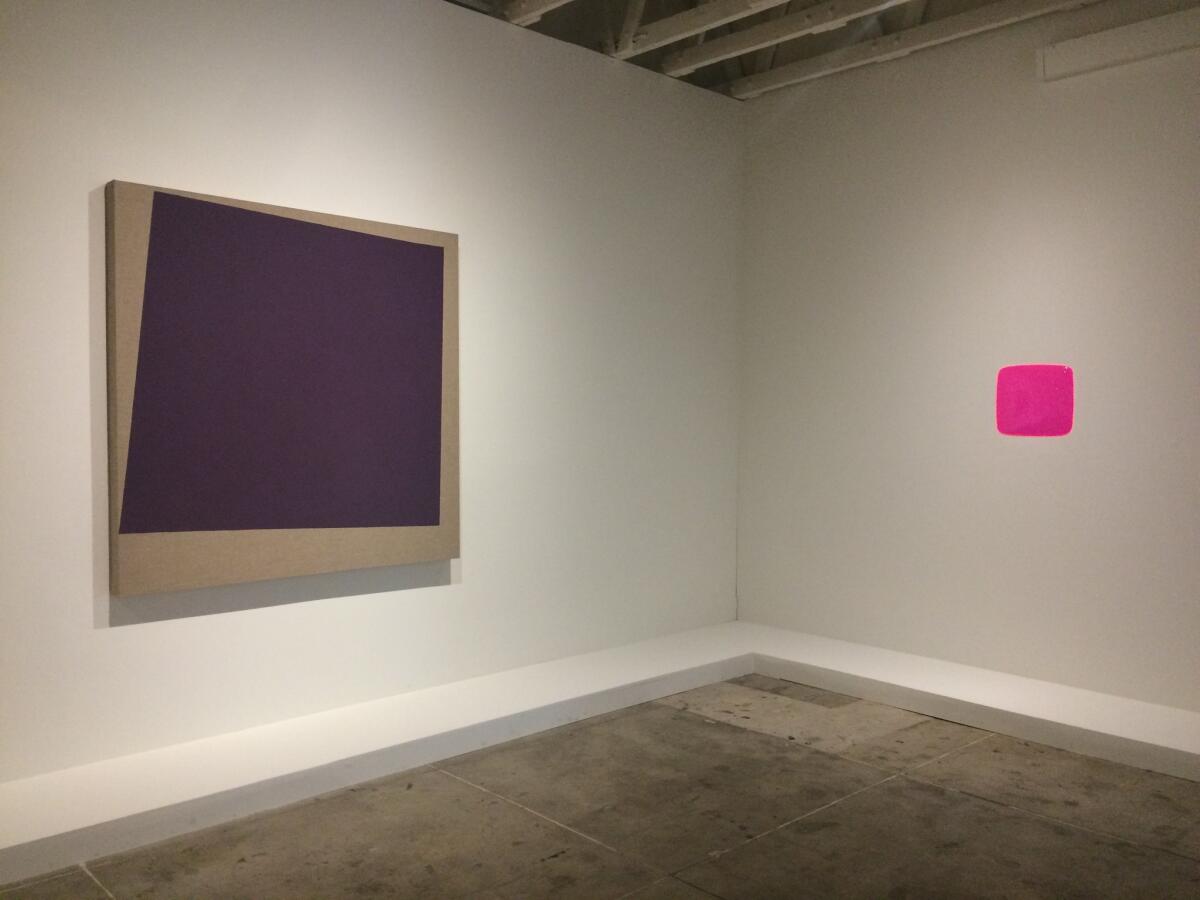 As with "Non-Fiction," "Artists of Color" features a mix of works from MOCA's collection, with pieces by contemporary artists — providing a dialogue between artists from different places and times.
A 1960s light installation by Minimalist Dan Flavin, for example, faces a neon text piece by Los Angeles artist E.J. Hill that reads: "We deserve to see ourselves elevated."
In another gallery, a purple painting by Davis — inspired by the notion of the swing state — sits across from González-Torres' meditation on the forbidden Palestinian flag.
"It's the idea of color having real weight, real influence," Steinman says. "The idea of the Israeli government being so intimidated by these colors that they ban them." (Israel's ban was lifted in 1993, with the advent of the Oslo Accords.)
There will be aesthetically joyous experiences too: The backyard garden, for example, features an installation by artist Diana Thater that uses mylar to create a tunnel of color and light.
Despite Noah's untimely death at the age of 32 from a rare form of cancer, the Underground Museum continues to hum in his absence. This past year, the space has held regular film screenings and talks by figures such as photographers Deanna Lawson and Catherine Opie and Black Lives Matters' founders Tanya Bernard and Patrisse Cullors.
This summer, it will also host a juice bar run by youth food activists from Baldwin Village. And a summer film series kicks off June 16 with a presentation of the 1963 documentary "Crisis: Behind a Presidential Commitment," about John F. Kennedy and school integration in Alabama, as well as "La Jetée," Chris Marker's 1962 sci-fi masterpiece.
Steinman says the space continues to add programs and events, remaining committed to Noah's initial idea of doing museum-grade shows in a predominantly working-class neighborhood.
She points to Hill's bright blue neon over the front door — with its buoyant colors and words.
"E.J.'s piece," she says, "is the guiding sentiment."
---
"Artists of Color"
Where: Underground Museum, 3508 W. Washington Blvd., theunderground-museum.org
When: Opens Sunday; no closing date has been set
Info: theunderground-museum.org
Sign up for our weekly Essential Arts & Culture newsletter »
ALSO:
An unassuming storefront. A major museum. A collaboration that takes museum art to the people of L.A.
Karon Davis' 'Pain Management' plumbs loss and love in a tribute to her late husband, Noah Davis
Heinous history as potent muse in Underground Museum's 'Non-fiction'
Review: Black, white and the gulf in between in Lorraine Hansberry's 'Les Blancs'
Get our L.A. Goes Out newsletter, with the week's best events, to help you explore and experience our city.
You may occasionally receive promotional content from the Los Angeles Times.