Karon Davis' 'Pain Management' plumbs loss and love in a tribute to her late husband, Noah Davis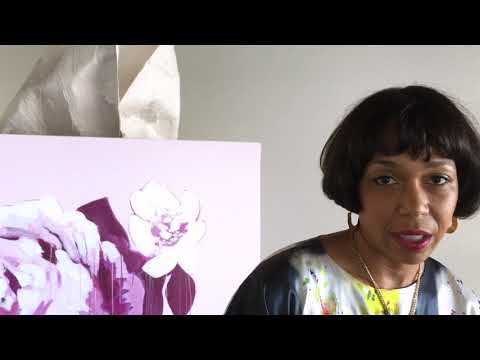 Karon Davis' new exhibit "Pain Management" plumbs loss and love in a tribute to her late husband, Noah Davis.
Karon Davis knows about waiting.
Dressed in a long, silky, gold head scarf, sparkly wrist bangles and laced-up rain boots, Davis settles into an armchair inside her sculptural installation at Wilding Cran Gallery, a re-creation of a hospital waiting room. The piece, part of her solo exhibition "Pain Management," is a generic-looking medical space: Canned music prattles in the background, abstract prints adorn the walls, US Weekly magazines are laid out for distraction, floral tissue boxes are tucked into corners.
It's a scene Davis knows intimately. In 2015, her husband of seven years, Noah Davis — a rising L.A. art star whose work had been acquired recently by L.A.'s Museum of Contemporary Art, the Los Angeles County Museum of Art and the Studio Museum in Harlem — died at 32 from a rare form of cancer, myxoid liposarcoma, that had wrapped around his heart.
"There's a lot of anxiety and prayer that goes on in this room," Davis says. "We spent so much time waiting — waiting for a doctor, waiting for an answer, for a cure — sleep. It just seemed so fitting."
Noah, whose brother is artist and director Kahlil Joseph, founded the Underground Museum in 2012, a partnership with MOCA aiming to bring high-quality art to the working class neighborhood of Arlington Heights. His death left a void in the art community and in Davis' life. She managed to keep moving forward, raising their now 6-year-old son, Moses, and serving as president of the Underground Museum, which she co-founded. But Davis remained in a liminal state, functioning "like a robot, just to get through and take care of business," she says — waiting to feel whole again.
Leaning back, Davis surveys the room and releases a giggle-studded exhale, a combination of relief that the long drive from Ojai, where she lives, is over, mixed with the satisfaction that her first solo gallery exhibition has come to fruition. The show of installation work and figurative sculptures — ethereal, white plaster casts made with the couple's shredded medical bills — is about pain, physical and emotional. It's both an ode to the transitory state of grief so many people find themselves stuck in after a loved one has died and a personal tribute to Davis' late husband.
Creating the work was a key part of Davis' grieving process.
"I wasn't sure if I was ready to step back into the studio I shared with Noah and make work," Davis says. "But actually, it's what I needed — to pull back from life and be quiet and be in our space. It was very comforting and inspiring to be there. I feel like he was guiding me the whole time."
Five dreamy and haunting sculptures, which Davis calls "Children of the Moon," anchor the show in the gallery's main exhibition space. They're modeled after real kids in and around the Underground Museum area or Davis' Ojai neighborhood, and they're named after saints from different religions. Their gauzy, plaster exteriors conjure the process of Egyptian mummification, something Davis says she's deeply interested in, since it's about the preservation of memories and holding onto the past, but they all bear prominent, glossy glass eyes conveying acute, in-the-moment emotion.
Three larger figures, nurses dressed in colorful scrubs, watch over them. They're named after drugs that, for better or worse, treat pain or anxiety: morphine, nicotine and the chemotherapy drug ifosfamide. The "Morphine" nurse is collapsed on the ground, as if praying, under giant, feathery angel wings made of shredded bills. "She's just exhausted," Davis says. "So many people are weighed down by debt because of medical bills, so I really wanted to show how that feels."
The sculptures are at once delicate and rough-hewn. Little girls' dresses are flowy, with lace cutouts, and children's' skulls are only partially sculpted, precarious and porous. But the plaster is also layered on thick in places, lumpy and textured, or spread so thin that scratchy patches of gauze peek through the cheeks on their faces.
"I like the roughness, just letting the plaster be wild," Davis says.
In the center of the room is an 8-foot-tall tissue box called "Cry, Baby." "There's no tissue box large enough for my tears," Davis says.
As much as the show is a heartfelt nod to Noah and Karon Davis' love, says MOCA chief curator Helen Molesworth, the work is particularly powerful because it transcends their personal story.
"It's about Karon's period of mourning the loss of her compatriot soul mate, but it's also a really beautiful meditation on the way we die now," Molesworth says. "I find the waiting room just devastating. That's how we've decided to organize ourselves around illness in our society. Those horrible rooms are so impersonal. And the figures composed out of shredded medical bills. It all points to this larger problem we have as a culture: We've lost touch with this fundamental part of being human, which is dying. I found it really poignant in that way."
The theatricality of Davis' work is no surprise. She grew up in Manhattan and New Jersey, the daughter of Broadway actor Ben Vereen and Nancy Vereen, a ballet dancer. She attended USC film school and was doing freelance film production work when, in 2005, she met Noah through a mutual friend she was rooming with in West Adams. The two would spend long periods of time together "locked in the house" making art. Noah helped her to develop a cross-medium visual art practice, she says.
"I called myself a closet artist for so many years," Davis says. "I never thought of showing or putting myself out there. I always just made work for me or my family — collage and sculpture, video art, photography. Noah was like: 'You got something.' He made me believe in myself."
They married in 2008 in a Miami courthouse during Art Basel, at which Noah was exhibiting work in the Rubell Family Collection's first incarnation of the "30 Americans" show.
Karon Davis went on to show video work in a 2009 group show at the L.A. gallery Roberts & Tilton; and in 2013, she debuted her first solo exhibition at the Underground Museum. "Pain Management" is her first solo gallery show.
As heavy as "Pain Management" is, it's also inspirational and brimming with love. Noah Davis' presence is palpable. Shortly before he died, Noah pushed Davis to finish a piece they had started making together, an amalgamation of the caregivers who'd been treating him. After he died, it became the first piece Davis finished for the show, the nurse "Nicotine."
One of the child sculptures in the show, "Gabriel," of a little boy clutching purple flowers, is based on an image from Noah's painting "Green Behind the Ears." Another of Davis' sculptures, "Mikail," who's lying on his side by the front door of the gallery, was taken from the last work Noah made, an untitled painting of a man lying in the grass.
The first art project Noah and Karon made together for fun, after they'd started dating, was a cardboard tissue box. Davis adorned the outside of the new, giant one in "Pain Management" with Noah's trademark paint drippings and her style of ripped and torn plaster.
Davis eyes the absurdly large tissue box from across the room, a monument to both of their artistic styles.
"We were so silly and free together — that's what I miss about him the most," she says, wiping tears from the crook of her eyes and laughing.
"This piece, it represents us and our sadness. Our art," she says. "Noah's everywhere in here. This show's for him. It's like: 'Look what I did, Boo!'"
------------
'Pain Management'
Where: Wilding Cran Gallery, 939 S. Santa Fe Ave., Los Angeles
When: Through Nov. 12
Information: (213) 553-9190; wildingcran.com
Follow me on Twitter: @debvankin
National Medal of Arts to go to Morgan Freeman, Philip Glass, Luis Valdez
Goodbye Britain, hello Beverly Hills: Newly arrived artistic director of the Wallis throws an open house
Kanye West's famous 'Famous' sculpture is not for sale, gallery says
Doug Aitken's 'Electric Earth' will shake the MOCA landscape
The Broad announces its first visiting special exhibit: 'Yayoi Kusama: Infinity Mirrors'
Get our L.A. Goes Out newsletter, with the week's best events, to help you explore and experience our city.
You may occasionally receive promotional content from the Los Angeles Times.