The Golden Globes have come a long way in five years. 2010 was when, you might recall, the nominees in the movie musical or comedy category included such enduring classics as "Burlesque," "Red" and "The Tourist." Now comedy nominations from the Hollywood Foreign Press Assn. awards are at least respectable ("The Big Short" and "Joy") or slightly respectable ("Trainwreck" and "Spy"), and actors are (mostly) lauded for the performances for which they're nominated.
Still, it wouldn't be the morning of Golden Globes nominations if there weren't a handful of head-scratchers, puzzlers and outright howlers. Here are six surprises, snubs or otherwise notable narratives from Thursday announcement.
"Mad Max" rising. It was hard to know where, if anyplace, "Mad Max: Fury Road" would fit in this awards season. It's hard enough for any blockbuster to be remembered this time of year, let alone a blockbuster that came out in May. But the National Board of Review named it best film and the L.A. Film Critics Assn. tabbed George Miller best director. Now the Golden Globes have doubled down, nominating it for both director and best movie drama. It's still too early to say whether it or Miller can land a spot on crowded Oscar lists. But the surprisingly robust showing at the Globes on Thursday morning doesn't hurt.
Incidentally, on the subject of blockbusters, it's worth noting that, after "The Martian" was totally snubbed in the SAG Awards nominations, awards-season order was restored Thursday as the movie landed nods for director, lead actor and best movie musical or comedy (OK, not total order).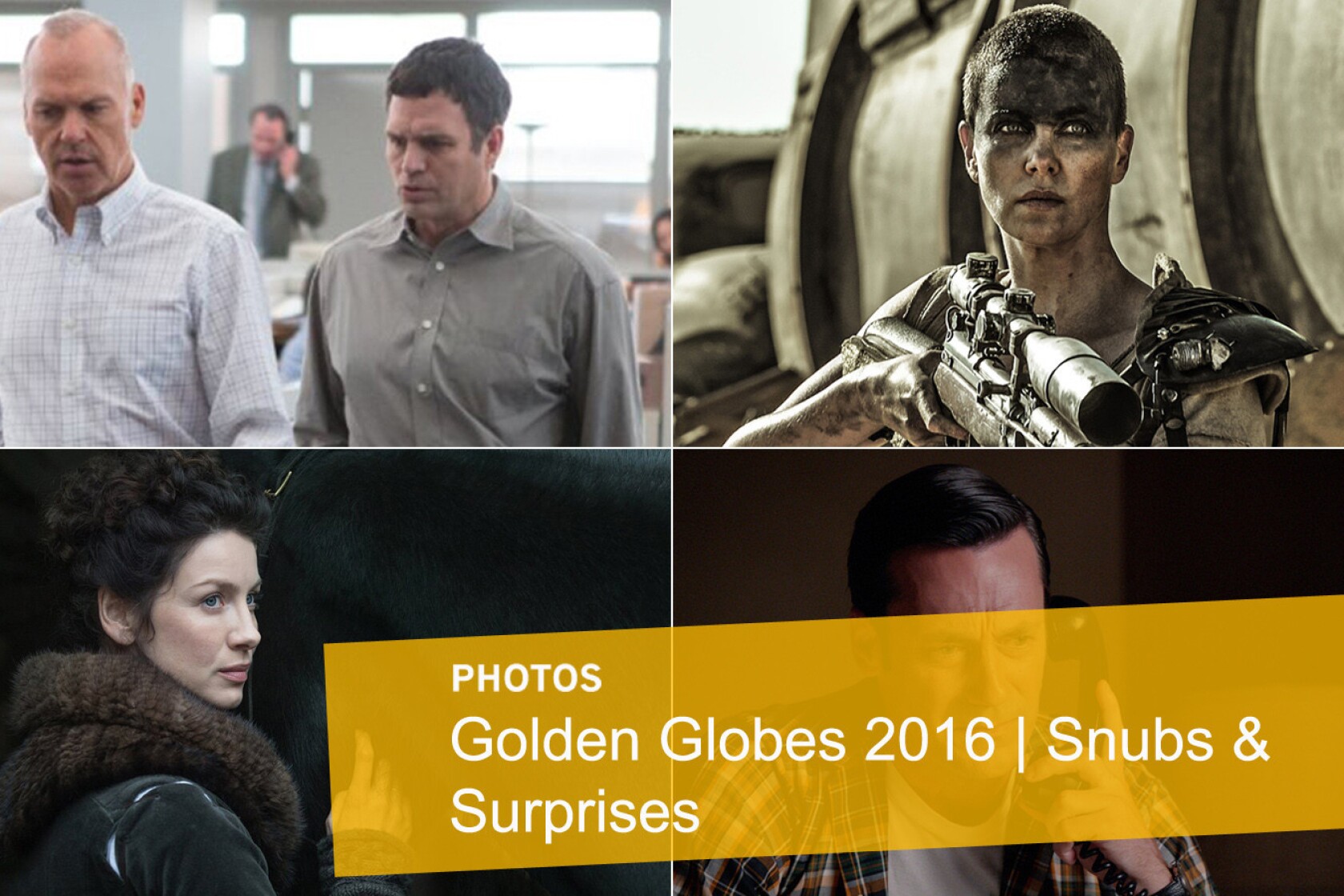 Yes, "Mad Max: Fury Road" was nominated. Click through to see more 73rd Golden Globe nomination surprises and snubs.
(Open Road Films; Warner Bros.; AMC; Starz)
It's not often a summer blockbuster is among the mix during awards season, but "Mad Max: Fury Road" earned a nomination in the very competitive drama picture category, edging out films such as "Steve Jobs," "Bridge of Spies" and "Straight Outta Compton." Director George Miller was also nominated.
(Jasin Boland / Warner Bros. Pictures)
While "Spotlight" was nominated in the drama picture category, none of the film's actors were recognized. The film's two other nominations were for directing and screenwriting.
(Kerry Hayes )
Perennial Golden Globes favorite Johnny Depp was not recognized for his turn as Whitey Bulger in "Black Mass," which some consider a more awards-worthy performace than some of his past roles that earned him nominations. "Black Mass" was not recognized in any category.
(Warner Bros.)
The Golden Globes haven't shied away from recognizing new talent when it comes to nominations, but it was still a surprise to see Rachel Bloom of "Crazy Ex-Girlfriend" among the nominees for TV comedy actress.
(Eddy Chen / The CW)
Another new series to get some love from the HFPA is "Mr. Robot." The show was among those nominated for drama series, and both Rami Malek and Christian Slater earned acting nods, making "Mr. Robot" one of the top TV nominees.
(David Giesbrecht / USA Network)
It should no longer come as a surprise that Netflix is racking up awards nominations, but most did not expect to see "Narcos" in the mix for the very competitive drama series category over shows including "Mad Men" or "House of Cards." Wagner Moura also earned a nomination in the TV drama actor category.
(Daniel Daza / Netflix)
When it comes to Amazon comedy series, "Transparent" tends to get the spotlight, but "Mozart in the Jungle" came out with 2 Golden Globe nominations -- one for comedy series and the other for lead actor Gael García Bernal.
(Amazon Studios)
Hulu's "Casual" was also among the comedy series nominees. Network shows were completely shut out in the category.
(Hulu)
It was out with the old, in with the new in many categories, including the highly competitive TV drama actress race. Eva Green was one of three newcomers in the field for her portrayal of Vanessa Ives in "Penny Dreadful."
(Jonathan Hession / Showtime)
This year's nominees show the HFPA embracing genre fare that is often overlooked by other awards shows, including "Outlander." The show is among those nominated in the drama series race, and both Caitriona Balfe and Tobias Menzies were nominated in acting categories.
(Neil Davidson / Starz)
That Aziz Ansari earned a comedy series actor nomination for his role in "Master of None" is not as surprising as the fact that only one of last year's nominees made it back to the list. The rest of the field (including Ansari) is made up of performances for shows in their freshman season.
(K.C. Bailey / Netflix)
The last year of "Mad Men" was only recognized in one category. Jon Hamm earned the show's sole nomination for actor in a TV drama series.
(Justina Mintz / AMC)
Perhaps one of the most surprising nominations was the ballet drama "Flesh and Bone" in the limited series or TV movie category. Sara Hay also earned a nomination for actress in a limited series or TV movie. But it wouldn't be the Golden Globes without a few headscratchers.
(Patrick Harbron / Starz)
Golden Globes 2016: Full Coverage | Complete list | Snubs, surprises and reactions | Top nominee photos
The "Mad Max" effect. Best picture drama was always going to be a tough Globes category; it's a really competitive year, and there aren't a lot of best picture hopefuls the HFPA can jam into comedy/musical (unlike last year, when eventual Oscar winner "Birdman" was classified as a comedy). And once "Mad Max" landed in the drama category, it was going to get even tougher -- so tough you could make a great list just off the movies that were left off the Globes list Thursday morning. Among them: "Brooklyn." Bridge of Spies," "Steve Jobs" and Straight Outta Compton." At least one ("Spies") will be nominated for Oscar best picture, and you can make a case for others.
Some of this is not the Globes' fault -- it's just a deep year for dramas. But it is the odd result of having 10 nominees (as the Oscars can do), but carving out five of those spots for comedies (as the Oscars never do).
Johnny Depp-ed. Globes voters do love their stars. And they especially love Johnny Depp. He's been nominated 10 times, including for the aforementioned "Tourist." Yet he gives a much more awards-ready performance as Whitey Bulger in this season's "Black Mass" and … nada. Depp seemed like the one element of the movie sure to get a Globes nomination. Yet the film was zeroed out Thursday morning.
Instead, the HFPA went with a group of actors that included "Trumbo's" Bryan Cranston, an actor who was attracting little attention until he landed a SAG Award nomination Wednesday. They still did go with Will Smith in "Concussion" — a bubble candidate for most Oscar pundits but as sure a thing for the Globes as you'll find. Old habits about celebrities change. They don't die.
Out of the "Spotlight." By now it's becoming a significant question: Where's the love for the "Spotlight" actors? First the movie failed to garner much individual support at the SAG Awards (only Rachel McAdams in a supporting role). And then Thursday morning the Golden Globes gave the movie not a single acting nod (its three slots were for director, screenplay and picture). No Michael Keaton, no Mark Ruffalo, no Rachel McAdams, no John Slattery. This is an actors' piece through and through. Yet somehow the ensemble idea seems to be working against it.
Act up. One of the actors snubbed for "Spotlight," Ruffalo, did get a nomination — for "Infinitely Polar Bear." Can't remember which one that was? You're not alone. The movie, about a dad with psychiatric issues, debuted at Sundance nearly two years ago and barely made a dent at the box office. (It's also arguably not a comedy, but that's another matter.) Yet there was Ruffalo, in a lead actor category, getting a nod for that film. Ah well, at least he'll be at the show.
Also turning up, unexpectedly, will be Jane Fonda in "Youth," a supporting performance that's been buzzed about less in that film than a number of her co-stars, and both Christian Bale and Steve Carell from "The Big Short" as lead actors. Contrary to the cancel-out dynamics of the "Spotlight" ensemble, the HFPA managed to nominate both actors — in the less competitive comedy category, but still. And it considered both actors leads, which you can make a case against, as the Oscars almost certainly will.
The Streamies. OK, so it's not a film trend. But it's still notable that the HFPA made sure nearly all its TV comedy nominees were shows you watch on computers -- "Casual," "Transparent," "Orange Is the New Black" and "Mozart in the Jungle." And the other two -- "Veep" and "Silicon Valley" -- are consumed in large gulps online via the likes of HBO Now. Even for a group that likes to see itself as in front of the curve (it helped kick off all the "Transparent" awards love last year) this was still a bold statement. Just two years ago, four of its five TV comedy nominees were on network. And all five were on your TV set.
One area the Globes didn't go Netflix? Film. Though the site's "Beasts of No Nation" took a slot in SAG's top prize of ensemble, the movie on Thursday landed but one acting nomination, for Idris Elba. Stream away those TV comedies, but watch movies in a theater.
Twitter: @ZeitchikLAT
You Might Also Like:
Live Coverage: Golden Globe nominations
SAG Awards: Matt Damon, Helen Mirren and the five biggests snubs and surprises
December movie releases get little SAG Awards love, but be careful what you read into it
---