Fanning's turn as rape victim sparks alarm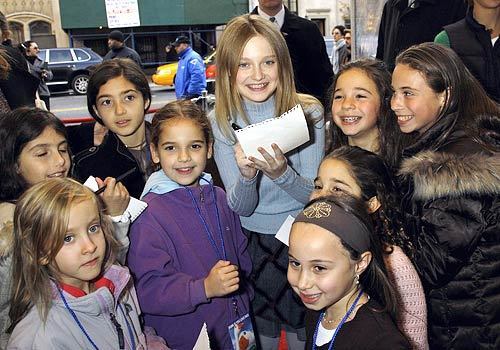 In a career spanning more than half her life, 14-year-old Dakota Fanning has racked
up over 30 IMDB credits
including starring roles opposite Tom Cruise, Denzel Washington and Robert De Niro. She has played young versions of both Reese Witherspoon and Ellen Degeneres and in 2002 she became the youngest person ever to be nominated for a Screen Actors Guild Award. Being the youngest in something was not new to her, and she has been proclaimed the next Jodie Foster. Journey back with us over the illustrious career of the finest (and one of the only) actresses of her generation.
February 23, 1994:
Hannah Dakota Fanning is born in Conyers, Georgia to Joy, a professional tennis player and Steve, a former professional ball player.
(Rick Maiman / AP)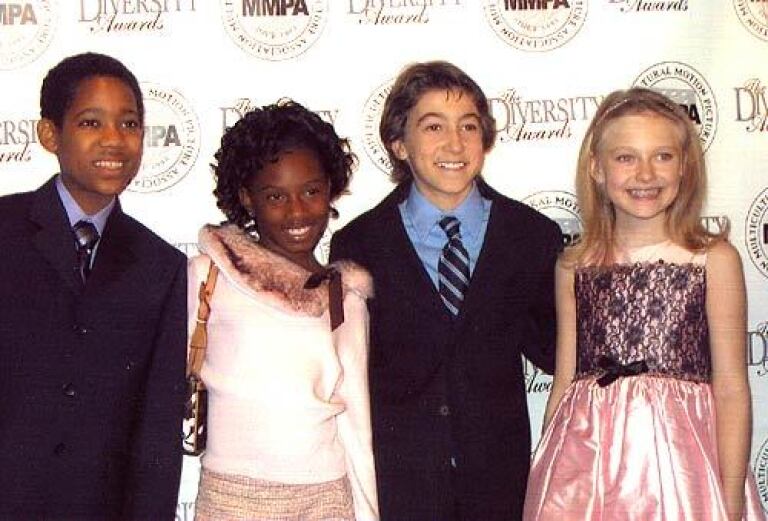 1998:
Thinking ahead, Fanning's parents create Elle Fanning, a sort of mini-Dakota, who will go on to play younger versions of her sister in "I Am Sam" and the mini-series "Taken."
1999:
After joining a neighborhood playhouse, Fanning's stage work gets positive reviews from the parents of her fellow young actors. Hollywood begins to beckon.
(Krista Woodley)
2000:
Fanning lands her first professional gig in a national Tide commercial and begins to work the television circuit. She gets one-episode parts in "Ally McBeal" "Spin City" and "The Practice" and a role on "ER" where she played a girl with leukemia who got hit by a car.
2001:
The Fanning family moves to Los Angeles permanently and Fanning signs with a professional agency. After a year of slaving away as a nobody, she lands her breakthrough role in "I Am Sam" alongside Michelle Pfieffer and Sean Penn. Fanning's star begins to shine.
(Lorey Sebastian / New Line Cinema)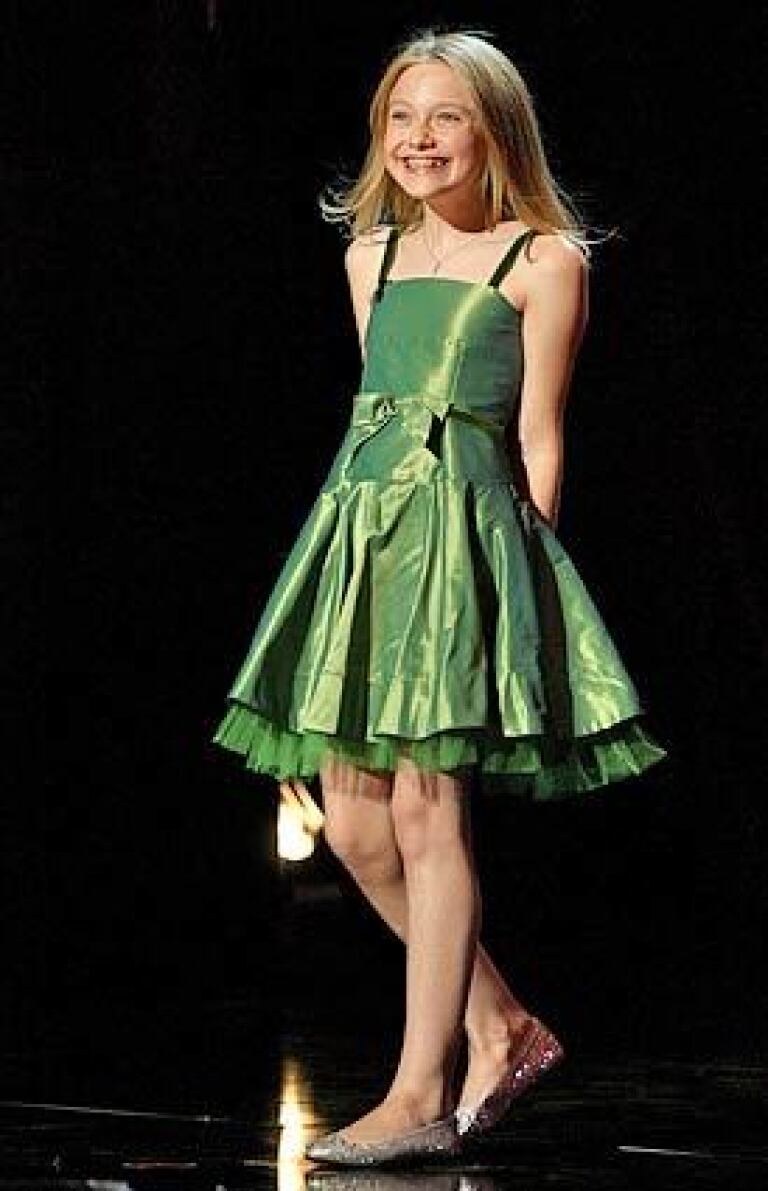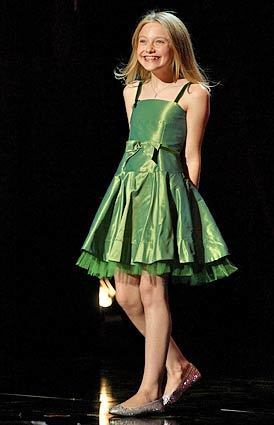 2002:
The actress is nominated for a Screen Actors Guild Award for supporting performance for her work in "I Am Sam." She doesn't win, but does win the Best Young Actor/Actress award from the Broadcast Film Critics Association. Because she is too short to reach the microphone, presenter Orlando Bloom holds her up for the duration of her acceptance speech. That same year she plays a young version of Reese Witherspoon in "Sweet Home Alabama" and begins what will become a lifelong collaboration with Steven Spielberg with the science fiction mini-series "Taken."
(Kevin Winter / Getty Images)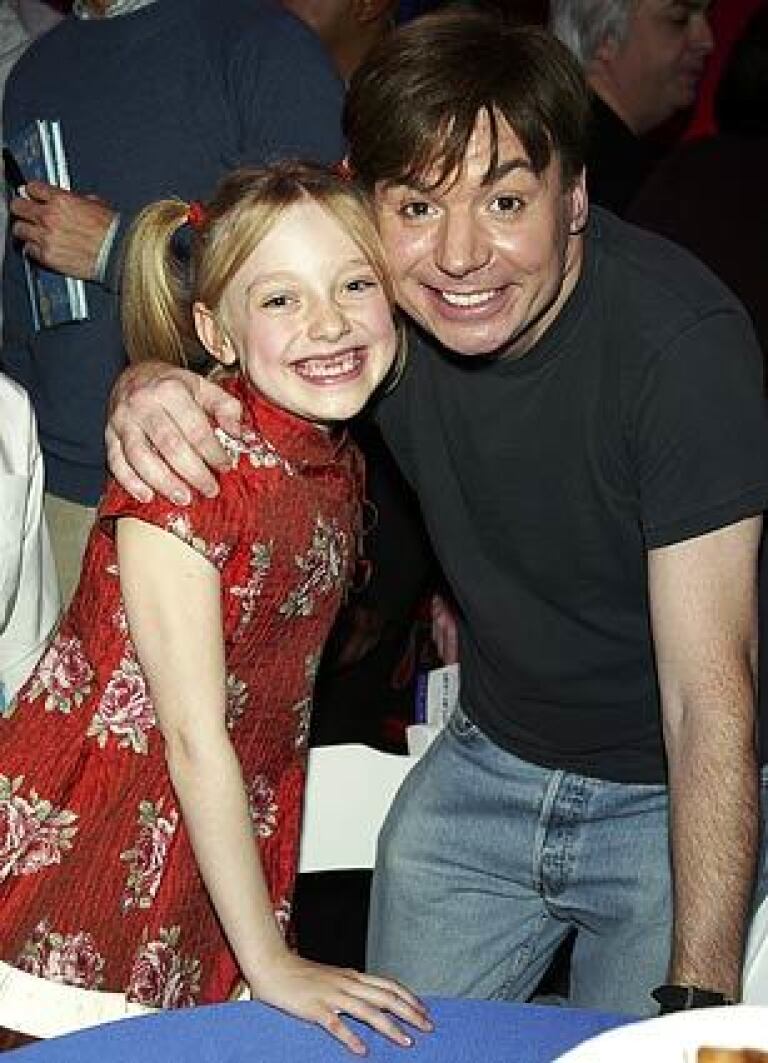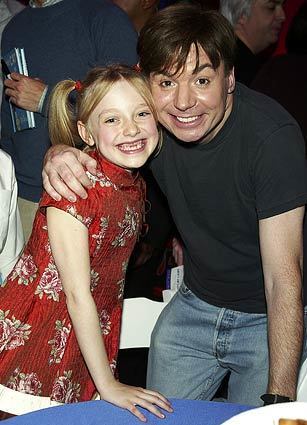 2003:
Fanning's next film "The Cat in the Hat" is poorly reviewed, but her work as a spoiled brat in "Uptown Girls" is heralded. She also ventures into the world of voice over on shows like "Kim Possible."
2004:
Fanning delights audiences in "Man on Fire" with actor Denzel Washington, inspiring Roger Ebert to declare the actress "is a pro at only 10 years old, and creates a heart-winning character."
(Kevin Winter / Getty Images)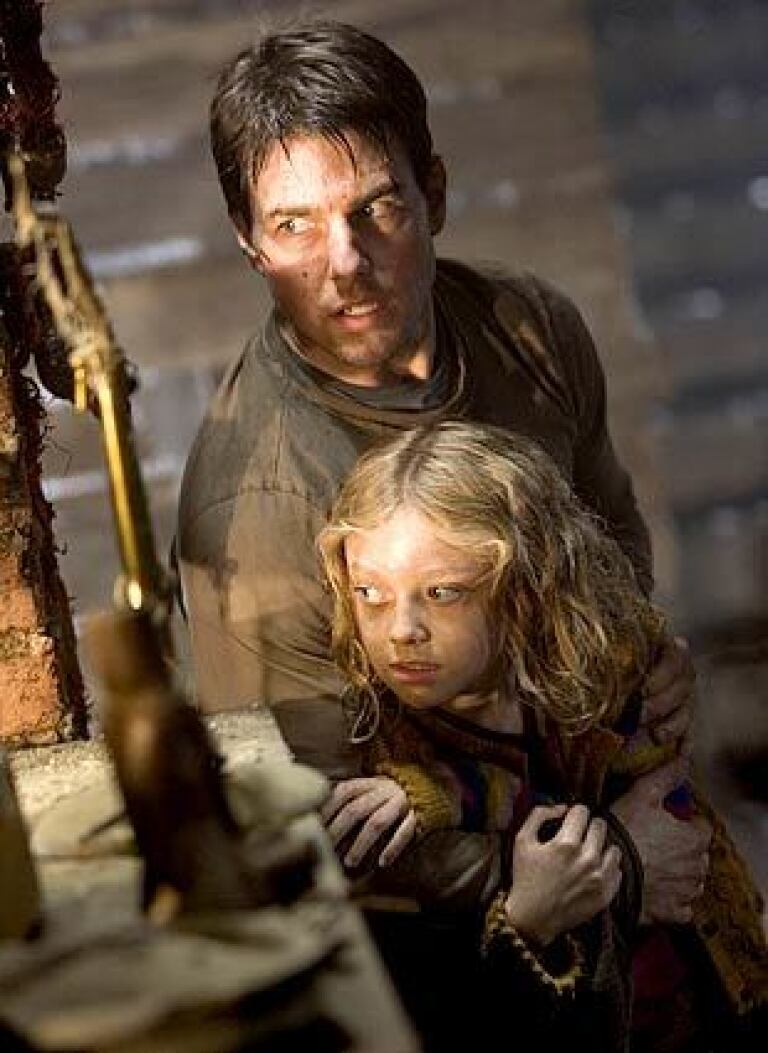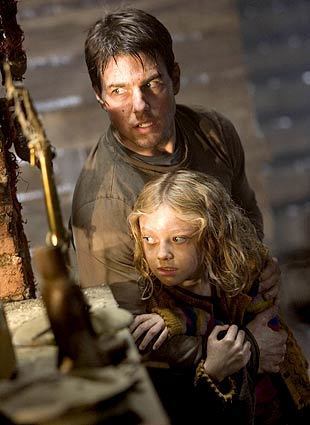 2005:
A big year for the young actress. She plays opposite two Hollywood heavyweights—Robert De Niro ("Hide and Seek") and Tom Cruise ("War of the Worlds"). Her arresting performance as a terrified little girl in "War of the Worlds" solidifies her standing as one of America's finest young talents.
(Andrew Cooper / Paramount Pictures)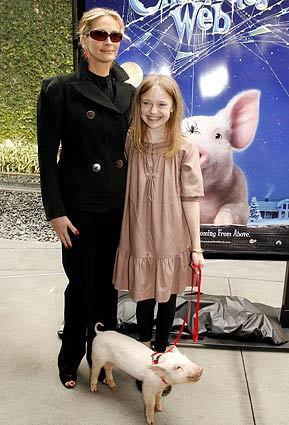 2006:
Fanning becomes the youngest member of the Academy of Motion Pictures Arts & Sciences. She also stars in the live action film "Charlotte's Web" as the character Fern. Because of her work in the film she lands a feature in Vanity Fair entitled "Cinderella in Sneakers."
(Kevin Winter / Getty Images)
2007:
Fanning seemed to seek an acting challenge and took on the Sundance movie "Hounddog," in which her character is raped. Many thought the move was a bit too much for the young actress, but she persevered.
(Fred Norris / Empire Film Group)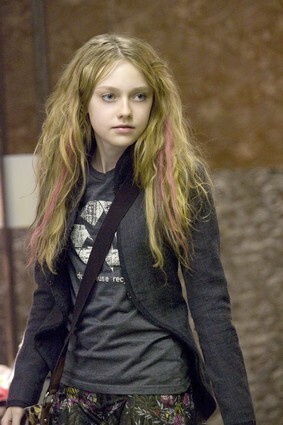 2009:
With two big movies releasing on the same weekend, Fanning seems to be coming on strong. She stars in "Push," a thriller with Chris Evans, and does the voice of the lead character in "Coraline," an animated film from the mind of Neil Gaiman.
(John P. Johnson / Summit Entertainment)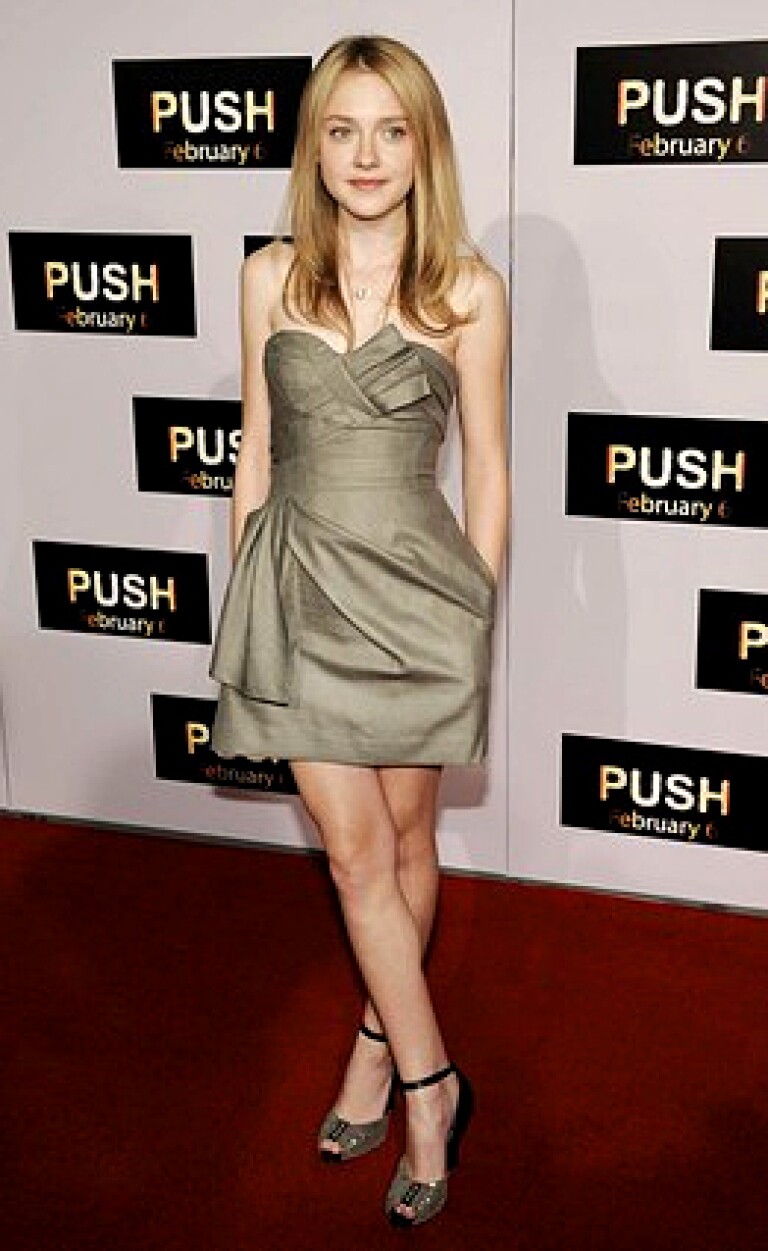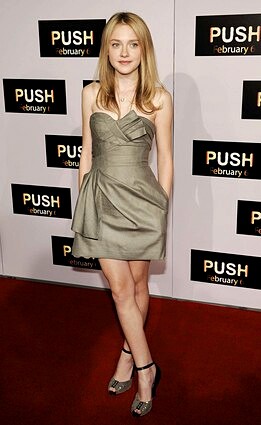 Present and beyond :
Fanning is on the verge of being cast in the mega popular "Twilight" sequel "New Moon" as a vampire.
— Deborah Netburn and Jevon Phillips, Times staff writers
(Chris Pizzello / Associated Press)
Times Staff Writer
Consider this your early-warning Sundance Film Festival controversy alert: Cute little Dakota Fanning plays a precocious child sex-abuse and rape victim in Full Moon Films' upcoming "Hounddog."
The issue: Fanning, who turns 13 next month, is reportedly depicted in the film nude or scantily clad during compromising scenes, and her face is shown in close-up during a rape scene.
Early reports of the film's contents have stirred up a minor Internet storm over whether Fanning's mother, Joy, and her agent, Cindy Osbrink, are exploiting the girl in hopes of an Oscar nomination. In a statement, writer-director Deborah Kampmeier urged critics to withhold judgment until seeing the film.
Child actors depicted in sexual roles is nothing new in Hollywood. Jena Malone portrayed a child rape victim in "Bastard Out of Carolina" (1996), pre-adolescent Brooke Shields' virginity was auctioned off in Louis Malle's "Pretty Baby" (1978) and Jodie Foster famously played a child prostitute in Martin Scorsese's "Taxi Driver" (1976). All were younger than 15 at the time.
Such roles can vault a young actress from the category of "adorable" into being taking seriously as an artist, and Osbrink was quoted this summer as holding out hopes for an Oscar nomination - despite the subject matter, which the New York Daily News reported had scared off some investors during filming.
Fanning is already an experienced actress with more than 30 roles listed on the www.imdb.com web site, including roles in the slasher film "Hide and Seek" and the remake of "War of the Worlds" (both 2005), and as Fern in "Charlotte's Web" (2006).
One of those outraged is Ted Baehr of the Camarillo-based Christian Film & Television Commission.
Baehr, whose advocacy group also runs the movieguide.org website that ranks films based on Christian themes and family appeal, said he hasn't seen the film but is calling on movie distributors to reject the film and report the filmmakers to legal authorities. The movie has the first of four Sundance screenings Jan. 22
"It's pedophilia," Baehr said in a telephone interview Wednesday. "There should be a sense of outrage about it."
Baehr described the filmmakers as "politically correct moral degenerates" who "tolerate sexual promiscuity, including pedophilia."
Kampmeier responded that it was the "height of hypocrisy for a man who bills himself as a film reviewer to pass judgment on movie he's never seen. Mr. Baehr's statements about 'Hounddog,' while repugnant, are also factually incorrect. It is a sad statement about his own morals that Mr. Baehr wants to censor films at all, much less films that tackle difficult but real life issues that need to be addressed. It is a slippery slope that every American should be afraid of."
Representatives for the film also released a statement from Lynn Parrish, a spokeswoman for the Rape, Abuse and Incest National Network, who has seen the movie: "RAINN applauds the makers of 'Hounddog' for shedding light on the issue of sexual assault against our nation's children, a problem we see every day. It is our hope that the national discussion created by the film will give a voice to young survivors everywhere, encouraging them to come forward despite the hurdles they face."
scott.martelle@latimes.com
---
The complete guide to home viewing
Get Screen Gab for weekly recommendations, analysis, interviews and irreverent discussion of the TV and streaming movies everyone's talking about.
You may occasionally receive promotional content from the Los Angeles Times.