Review: 'Last Confession' takes earnest look at reform, power struggle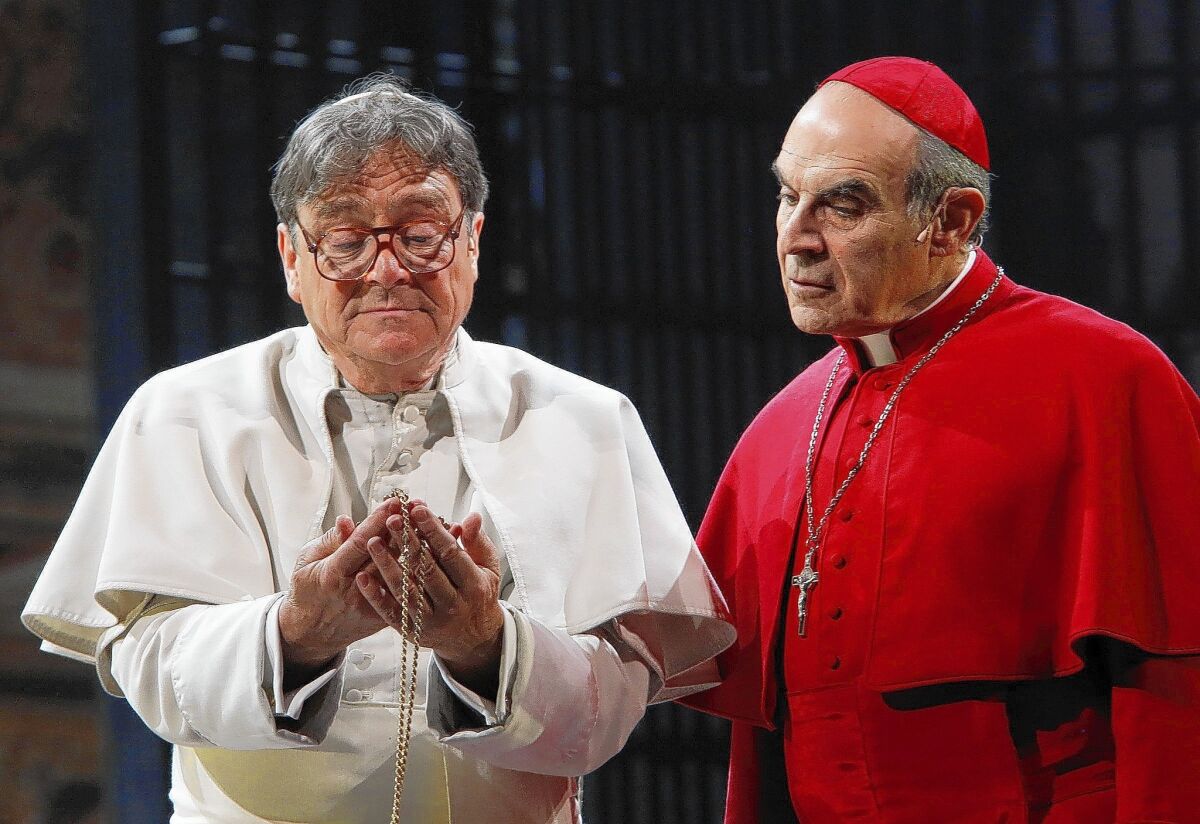 David Suchet, best known for his television portrayal of Agatha Christie's Hercule Poirot, plays another canny scrutinizer of nefarious human behavior in Roger Crane's "The Last Confession," a straightforward political drama sexing itself up as a religious whodunit.
In this Chichester Festival Theatre production, which has its only U.S. stop at the Ahmanson Theatre, Suchet plays Cardinal Giovanni Benelli, a Vatican moderate who was considered a leading candidate to become pope but instead became the power behind the Supreme Pontiff after helping to make Pope John Paul I, whose papacy lasted a mere 33 days.
The conspiracy theories instigated by this untimely death would be enough to make Dan Brown's mouth water, and Crane takes advantage of the mysterious circumstances that some believe point to murder.
But his main objective isn't solving this most holy of cold cases. "The Last Confession" earnestly engages issues of reform and backlash, wondering whether it's wise or even feasible for an idealistic new leader to attempt to radically transform an institution with entrenched interests and intransigent elites.
These issues are of great interest at the moment to Catholics enthralled by the tonal shift of Pope Francis' reign. But they're equally pertinent to political observers tracking the successes and failures of President Obama, who swept into the White House on the campaign slogan "Yes We Can," in conjunction with the changing fortunes of the tea party, the grass-roots conservative movement that rose up in opposition to his policies.
Today, however, one doesn't have to go to the theater to watch liberals and conservatives wage war against each other. The Vatican setting may add novelty, but the combat of these cardinals is only too familiar.
Much of "The Last Confession" is devoted to the internecine squabbling within the church's bureaucratic leadership. And although performed with clarity and crackle, there's an inherent dryness to the proceedings.
Crane, a lawyer by trade, has meticulously organized his plot, but his playwriting inexperience betrays itself with the way everything is just a little too neatly worked out. By understanding his play so well, he has foreclosed a greater complexity.
Perhaps to compensate, Cardinal Benelli's character is cast in shadows. Some of this lighting seems artificial at times, but Suchet never strikes a false note in a sleekly efficient production (directed by Jonathan Church) that's built to travel.
A man of the cloth who is plagued by doubts about his faith, Benelli knows the stranglehold the conservatives have on the Roman Curia, the Vatican's administrative body. But he refuses to remain quiet in the face of what he regards as questionable financial practices and reactionary theology.
In failing health when the play begins, Benelli wants to make a final confession about his own guilt regarding the death of Pope John Paul I. How much did his hunger for power contribute to the tragedy of an uncorrupted holy man? His conscience will not allow him to mistake his own competitive self-interest for progressive idealism.
As the play goes back in time, we see how skirmishes escalate. Benelli may be dressed in a cardinal's robe and skullcap, but he might as well have his face decked in war paint when contending with Bishop Marcinkus (Stuart Milligan), Cardinal Felici (John O'May) or Cardinal Baggio (Kevin Colson), all of whom are anxious to protect the status quo. (The supporting cast is uniformly strong.)
At stake for Benelli is the soul of the church, even if spirituality seems a distant concern in these Vatican corridors. The smell of incense may permeate the stage, but this is a play in which scheming is shown to be more efficacious than praying.
The most saintly figure is Albino Luciani, the cardinal who becomes Pope John Paul I. As portrayed by the superb Richard O'Callaghan, this accidental pope appears meek yet possesses a steely determination to move the church forward. His goodness is unimpeachable, though his leadership capacity raises doubts. Commands in his mouth have a way of sounding like pleas even when he refuses to back down.
This chapter in Catholic history wasn't well known to me, and I must admit that my interest in Crane's play was fueled largely by a desire to learn more about these events. (The nonfictional basis of this speculative fiction compensates for some of the dramatic shortcomings.) The chance to see Suchet and O'Callaghan on stage together was another bonus — two pros lending their keen acting intelligence to a story that seems ripe for BBC/PBS adaptation.
Questions of morality also resonated. Benelli is warned early on to "be careful of power" or his "punishment may be finding it." It's a lesson that even the best-intentioned leaders have to learn.
Twitter: @charlesmcnulty
---
Get our L.A. Goes Out newsletter, with the week's best events, to help you explore and experience our city.
You may occasionally receive promotional content from the Los Angeles Times.