In 'Lady Macbeth,' Florence Pugh is a powerful, placid dynamo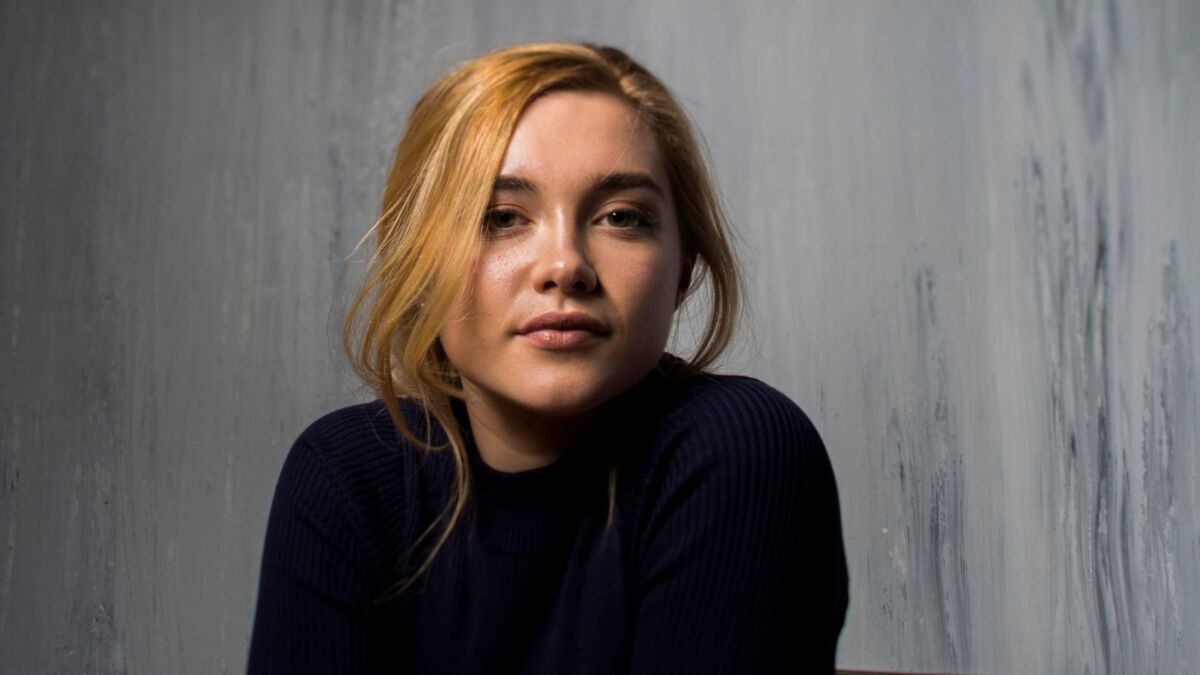 "Lady Macbeth" is full of surprises. First off, it's not Shakespeare, but rather an adaption of the Russian novel "Lady Macbeth of the Mtsensk District" by Nikolai Leskov. But what will really get audiences talking is the lead performance of controlled fire by British actress Florence Pugh. It's a startling, provocative breakthrough of terrifying inner strength and placid resolve.
Directed by acclaimed theater director William Oldroyd in his feature film debut, Leskov's story is adapted for the screen by playwright Alice Birch, resetting the action to rural 1865 England.
As the story opens, young Katherine (Pugh) enters into an arranged marriage with the controlling Alexander (Paul Hilton) at the remote estate where he lives with his domineering father Boris (Christopher Fairbank). An affair with a stablehand, Sebastian (Cosmo Jarvis), takes place under the suspicious watch of Katherine's maid Anna (Naomi Ackie) and sets off a chain-reaction of humiliation, deception, betrayal, seduction, murder and survival.
Oldroyd compares the character of Katherine to that of Daniel Plainview, played by Daniel Day-Lewis in "There Will Be Blood," for the way in which the audience comes to understand her actions even as they are increasingly terrified by her. For Pugh, the character was never a villain, even as she is not exactly a conventional heroine.
"She does bad things, but she's still kind of good," Pugh said.
"I'm probably the worst person to ask about Katherine now, because I am such a Team Katherine. I can't possibly think of not being Team Katherine," she added.
Recalling her first time reading the script, she said, "It's that you're not expecting it, every page is just bigger and better than before. You don't see it coming. I remember halfway through, just smiling, thinking, 'Oh my God, she's epic.' And when a character does that to you, you have to give your all in trying to get it."
I'd love to see more characters like those two onscreen ... women who do something, women who have something to say, women who become something.
— Florence Pugh on her characters in 'Lady Macbeth' and 'Fighting with My Family'
The actress, now 21, was 19 when she was cast in the part. For Oldroyd, it was Pugh's ability to convey the transformation of Katherine, from young and innocent to cunning and willful, that set her apart from other actresses he was seeing for the role.
"We met a lot of people who when you met them, I could see them as Lady Macbeth. You could see those things straightaway and there was nowhere else for us to go," he said. "You needed to feel it was a journey for her, and Florence had the innocence but also a sort of steely core. And that's the real power she has as an actress."
Oldroyd also responded to all the ways in which Pugh projected a sense of personal power, a self-contained dynamo the opposite of the poised, porcelain English rose stereotypes of the female lead for British heritage costume dramas.
"What I loved about Florence was that she completely shattered that idea," he said. "We met somebody who was young and open and available and robust and joyful and playful and very grounded and earthy. All of those qualities she brought were so important for Katherine."
Oldroyd continued, "You can imagine a lot of people who were helping us make the film — financiers and executives — they had an idea in their mind those other actresses, and so they were slightly confused. They said, 'Well this isn't the sort of person we imagined for 'Lady Macbeth,' and I said, 'Well that's the whole point.'"
Having already impressed critics in its debut at last year's Toronto International Film Festival, "Lady Macbeth" went on to screen at Sundance and the Los Angeles Film Festival and now finds itself positioned as intelligent counterprogramming to summer blockbusters.
Pugh was in Los Angeles earlier this summer after having just finished shooting on "Fighting With My Family," in which she plays the British wrestler known as Paige. In a Los Feliz cafe on a midweek afternoon, a steady stream of aspiring starlets strolled through the door, all having perfected the casual glamour of the off-duty actress. Pugh bounded in with purpose, looking both casual and glamorous in an unstudied way, wearing sneakers, shorts and a ribbed top.
Two of Pugh's three siblings were performing professionally before she started, so she had already seen firsthand the day-to-day struggles of auditions and rejection. Which is why even though she wanted to act, she didn't respond at first to an open audition call at her school. But she finally put herself on tape and got the part, cast in the movie "The Falling" from her very first audition.
She had been planning to eventually go to drama school, but after shooting "The Falling" she got an agent and set off on a year-and-a-half of more auditions. She spent time in Los Angeles to shoot a television pilot called "Studio City." It was shortly after finding out that the pilot wasn't picked up that Pugh first got the script for "Lady Macbeth."
"I think it's so interesting which ways your career can go," she said. "I would have been a completely different actor doing a completely different story and I would have missed 'Lady Macbeth.'"
Stephen Merchant, who wrote and directed "Fighting With My Family," auditioned some 60 women for the role of Paige. He had an early look at "Lady Macbeth," but Pugh's controlled performance did not completely convince him that she was right for the expressive role of a gothy bad-girl wrestler.
"I was looking for someone who could be fiery and vivid, but also funny and vulnerable — and convince as a wrestler. It's a tough role for any actor," Merchant said via email. "Flo worked hard in her auditions to convince me she can do it all. Turns out she can."
Merchant found out just how much she could do when on only Pugh's fourth day of filming she went out in front of 20,000 wrestling fans at the Staples Center to re-create Paige's debut match.
"I was amazed at how calm and self-possessed she was," recalled Merchant. "I was more nervous than her. Paige's theme-tune played and she just strode out there like she was a superstar wrestler. I'm editing that sequence at the moment and I'm constantly amazed by her performance. She didn't miss a beat."
For her part, Pugh recalled the experience by saying that performing in front of a cheering, roaring crowd snapped into focus why wrestlers put up with physical injury and emotional adversity to climb back into the ring time and again. "When I was in the ring and the roar started, I remember thinking, I am a superhero for 10 minutes. Anything I do they will either like or dislike, and it's up to me," she said. "You're essentially invincible for about 10 minutes, and I was like, 'I get it.'"
MORE: Is a repressive 19th century drama from a newbie director the most radical movie of the season? »
Though she will also be seen in the upcoming thriller "The Commuter" and the horror film "Hush," between the characters of Katherine and Paige, Pugh realized her career is off to an unusual launch. She's playing women of power and decisiveness, full of the kind of contradictions that can be rare opportunities for a young actress.
"I'd love to see more characters like those two on-screen," said Pugh. "not just women who are empowering, but women who do something, women who have something to say, women who become something. To me it's an important thing. The women I'm attracted to playing I hope will mean something to someone.
"And I can't say that I've achieved that because I'm at the beginning of my career," she added, "but I hope to create characters that people want to watch — and they either want to be or are or it's something that they recognize. Why shouldn't there be more epic, brilliant female characters onscreen?"
SIGN UP for the free Indie Focus movies newsletter »
Follow on Twitter: @IndieFocus
Also
Q&A: On 'A League of Their Own's' 25th anniversary, Geena Davis still isn't afraid to say 'feminist'
'Shaun of the Dead's' Edgar Wright accelerates toward the mainstream with 'Bay Driver'
The LA Film Festival embraces and explores the city with a new spark
---
Get our L.A. Goes Out newsletter, with the week's best events, to help you explore and experience our city.
You may occasionally receive promotional content from the Los Angeles Times.