'Shaun of the Dead's' Edgar Wright accelerates toward the mainstream with 'Baby Driver'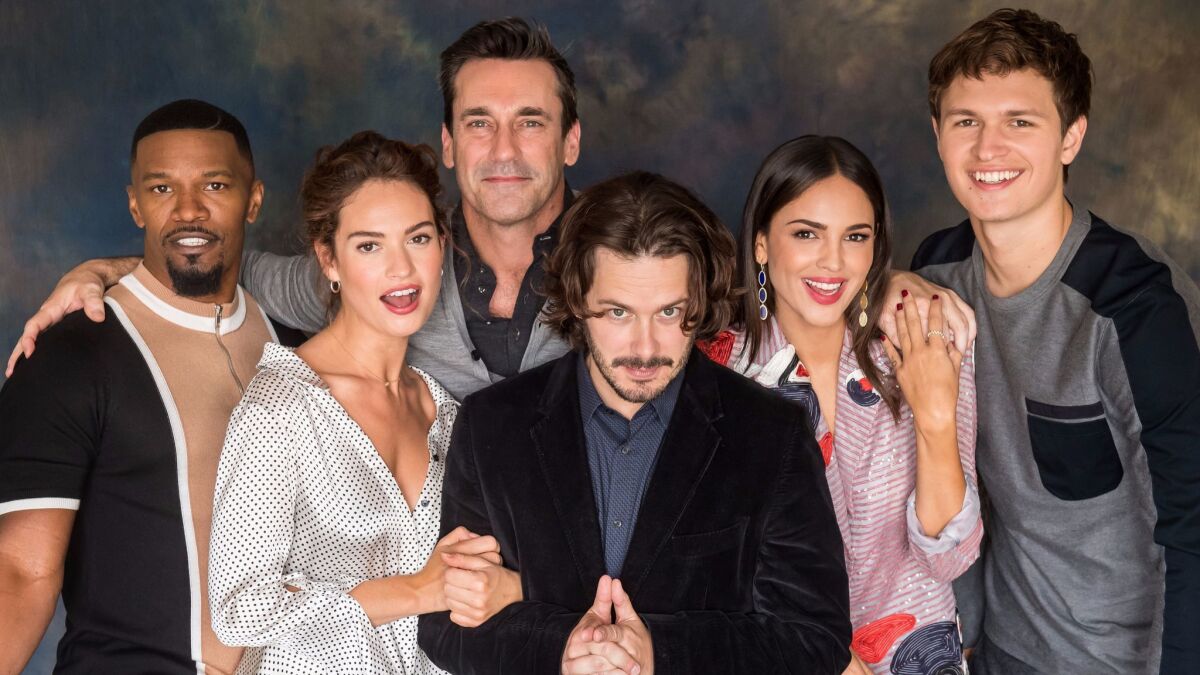 As the audience was settling into the theater before the world premiere of "Baby Driver" earlier this year at the South by Southwest Film Festival in Austin, Texas, the energy level was stoked higher by a pre-show playlist of songs with "Baby" in the title curated by writer-director Edgar Wright himself. That sort of attention to detail, a sense of bespoke fun, encapsulates what has made the British-born Wright a favorite of discerning fans and critics alike.
Wright is known for the cult favorite trilogy of films "Shaun of the Dead," "Hot Fuzz" and "The World's End" plus "Scott Pilgrim vs. the World," making him an ultimate example of a geek made good, but his latest film may be the one to finally push his distinctive appeal to broader, mainstream audiences. With its exuberance, wit, antic precision and idiosyncratic mix of action, music and romance, "Baby Driver" is in many respects Maximum Edgar.
MORE: 'Baby Driver' fever: More movies with cars, action and music »
"I think at heart they're all works of passion," Wright said during a recent interview in Los Angeles. "I'm never doing a movie because I think I ought to; I'm doing movies because I want to. And I'm also creating the stories I want to see."
He added, "'Baby Driver' in a way is a lot of different passions colliding in one movie — to do a full-on action movie, but it's also about music at the same time. So to kind of tackle my twin passions in one movie, it's a dream come true."
The movie, which opens June 28, follows a young man who goes by Baby (Ansel Elgort) and works as an ace getaway driver for criminal enterprises planned by the powerful Doc (Kevin Spacey). Baby always listens to music on his headphones, even while driving, as a way to both soundtrack his life and drown out the ringing tinnitus in his ears. After Baby meets a waitress named Debora (Lily James), he wants out of the criminal life, but not before a final heist with a crew that includes live-wire outlaws Buddy (Jon Hamm), Darling (Eiza Gonzalez) and Bats (Jamie Foxx).
I'm never doing a movie because I think I ought to; I'm doing movies because I want to.
— Edgar Wright
The origins of "Baby Driver" go back some 22 years, when Wright was in a modest apartment in North London listening to a cassette tape of the skittish blues-rock of the Jon Spencer Blues Explosion song "Bellbottoms" over and over, lost in the car chase it evoked in his head.
While Wright would use some of those ideas in a 2003 music video he directed for the group Mint Royale, the dazzling opening heist and car chase sequence of "Baby Driver," set to "Bellbottoms," is more or less what Wright pictured in his head all those years ago.
From there he eventually built out a story to go along with that nascent imagery, assembling a growing want list of songs, including old soul and R&B, vintage British rock and more of a wide and varied taste. And the story of Baby the driver itself took on the air of a cautionary workplace fable.
"I did like the idea of starting the film with the fantasy of being a getaway driver and ending it with the nightmare of being a criminal," Wright said.
Originally from Somerset, England, Wright made his feature debut with the ultra-low-budget "A Fistful of Fingers" when he was barely 20, then moved on to the British TV comedy "Spaced" before launching to international acclaim with "Shaun of the Dead."
Wright, 43, is in a rarefied field of directors with a core following and critical cachet. Perhaps emblematic of his standing in the filmmaking field, he recently participated in an impromptu Twitter round table with directors Christopher McQuarrie, Ava DuVernay, Guillermo del Toro, James Mangold, Rian Johnson and William Friedkin.
But Wright's rise has not been without bumps in the road. It has been four years since the release of his previous film, the apocalyptic comedy "The World's End." In that time Wright went through a high-profile departure in 2014 shortly before production was to begin on Marvel's "Ant-Man," a project he had been working on since 2006. Though Wright still received a writing credit on the finished project, he has never watched the film.
"I don't want to go into too much detail, and I can't go into too much detail, but the simple, hard facts of it is that there was a point right before, about eight weeks before were supposed to start shooting, where they wanted to do a draft with somebody else," Wright said. "Once you've been a writer-director on a movie for eight years, it's kind of tough to take.
"So it was a really tough decision that ultimately was a binary decision. If I do something like that I want to be a writer-director on it, I don't want to just be a director-for-hire, that's not what I signed up for. The positive thing that came out of it is I came into doing this film next."
Wright's longtime producer Nira Park doesn't think the experience of "Ant-Man" changed Wright at all as a filmmaker, though she could see he had extra determination once they decided that the long-gestating "Baby Driver" was the movie he would make next.
"Edgar is an eternally optimistic person, and that was obviously very tough, but he remained very positive and then he threw himself into 'Baby Driver,'" said Park of how "Ant-Man" affected Wright. "I think what it did was, once we decided 'Baby Driver' was the next thing, there was no way Edgar wasn't making that movie."
As for whether the experience has turned him off to the possibility of franchise filmmaking in contemporary Hollywood, Wright answered with a mixture of diplomatic caution and hard-earned wisdom.
"I would be a fool to say no, so I will definitely say never say never," he said. He leaned in close to a reporter's recorder to add with a smile, "I will say on the record that I'll do a Bond movie."
Wright's intense preparation for "Baby Driver," with a budget estimated at $34 million, made itself apparent even before the production assembled in Atlanta, where the film was shot and its story set. Actors and key crew were sent a tablet set up so that certain songs and sound effects could be heard while reading the script, giving a sense of the movie's sensory overload. As Gonzalez put it, "When I read the script, my brain melted through my ear."
Having made meticulous storyboards before shooting, Wright works with an editor on set during production, putting together the movie as it is in progress piece by piece. Yet he remains open to collaboration and the sort of creative invention that can happen on set.
"He does really let you let rip," James said. "You can hear him giggling behind the camera, 'Yes, yes do that again.' It feels like there is a real freedom to the whole thing, and when you are working with someone who is so deeply passionate about what he's created, it's the most infectious energy."
Hamm met Wright at the after-party when the actor first hosted "Saturday Night Live" in 2008 and the two became friends. During shooting on "Baby Driver," Hamm said he often felt the need to remind Wright to simply sleep and eat.
"He genuinely loves this. He loves talking about movies, he loves talking about music, he loves listening to music, he loves watching movies, he loves the whole process," said Hamm. "And when we were down in Atlanta, there was no one person who worked harder than Edgar. Period. By a factor of, like, five."
In many ways Wright is perhaps still not so far removed from that young man in a shabby apartment with a head full of images and dreams. He recalled a recent 10th anniversary screening in Los Angeles of his police comedy "Hot Fuzz" (which boasted a Q&A moderated by "Get Out" director Jordan Peele).
"That's my hometown in 'Hot Fuzz,' I'll never get over how trippy it is sitting in Hollywood watching my hometown," Wright said. "Because that's how I started, sitting in quiet, rural Somerset, watching Hollywood movies on the big screen, and cut to 2017 and I'm in Hollywood watching my hometown on the big screen. And I think that is something, that twist of irony is probably my proudest achievement."
I sort of feel like making these movies is like lassoing a unicorn.
— Edgar Wright
Wright isn't certain what his next film will be. He has adaptions of Neil Gaiman's book "Fortunately, the Milk" and Andrew A. Smith's novel "Grasshopper Jungle" in development as well as some ideas for original projects. There have also been offers for what Wright calls "bigger, sillier things" as well.
Now on the other side of both "Ant-Man" and "Baby Driver," Wright hopes to continue to follow his creative passions with a fan's unbridled enthusiasm.
"In this day and age, stating the obvious, it's difficult to get original movies made, so if I have the chance to do an original film with a studio, I should do it. For the sake of film history, apart from anything else. I think it's vitally important that studios keep making original movies as well as all of the franchises. So when you get an opportunity to do that, you've got to go for it."
He added, "I sort of feel like making these movies is like lassoing a unicorn."
SIGN UP for the free Indie Focus movies newsletter »
Follow on Twitter: @IndieFocus
ALSO:
Why director Edgar Wright loved the 'wink and twinkle' of Roger Moore's James Bond best
Edgar Wright's 'Baby Driver' is an action-musical thrill ride at South By Southwest
The L.A. Film Festival embraces and explores the city with a new spark
---
Get the Indie Focus newsletter, Mark Olsen's weekly guide to the world of cinema.
You may occasionally receive promotional content from the Los Angeles Times.