Review: Tiffany Haddish aside, 'Night School' doesn't get high marks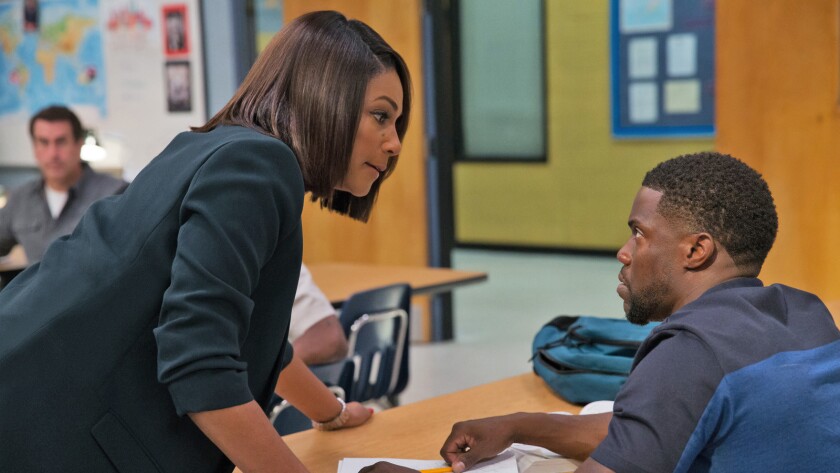 Film Critic
The word "hustler" gets thrown around a lot in the sloppy, sporadically funny new comedy "Night School." The movie, directed by Malcolm D. Lee, ekes out a C-plus at best. But if the assignment was to nail the quintessential Kevin Hart role in one word, well, "hustler" passes the test and then some.
In comedies like "The Wedding Ringer" and the "Ride Along" movies, Hart delights in playing the wily motormouth, the smooth operator whose vocal pitch rises manically in sync with his ambitions. It hardly matters whether he's playing the guy once voted "most likely to succeed," as he was in 2016's enjoyably dumb "Central Intelligence," or a high-school dropout trying to shortcut his way to success, as he is here. Either way, his characters love to cajole and maneuver their way forward, causing a lot of trouble and hopefully eliciting a few laughs along the way.
The laughs emerge with stingy fitfulness in "Night School," and Hart's overly familiar antics don't account for many of them. Still, the premise — the scholastically challenged Teddy Walker (Hart) has to attend night school to earn his GED 17 years after dropping out — is promising enough, to the extent that you know his teacher will be played by Tiffany Haddish, still riding high after last year's breakthrough performance in Lee's incalculably superior "Girls Trip."
Getting to that point, alas, is a bit of a drag. A prologue shows a young Teddy marching off his Atlanta campus, declaring himself forever done with school and vowing to forge his own path to success. Seventeen years later, he's making a so-so living hawking retail barbecues, though he's saved up enough to buy a Porsche and has an out-of-his-league girlfriend, Lisa (Megalyn Echikunwoke), who has no idea that he isn't as comfortable or as educated as he appears.
Teddy, hoping to marry Lisa, keeps the deception going even after an idiotic workplace accident leaves him unemployed and unable to land a decent job unless he earns his GED. And so it's back to his old stomping grounds, where Teddy's former classmate and arch-nemesis, Stewart (Taran Killam, intense), is now the school's bat-swinging fascist principal, and a bunch of equally under-educated misfits await him in his evening classes.
The much-vaunted Hart-and-Haddish pairing never pays dividends. It feels more like Half-and-Half.
It helps that those classmates are played by a winning second-banana lineup that includes Mary Lynn Rajskub, Anne Winters, Romany Malco, Rob Riggle, Al Madrigal and Fat Joe. Their sheer likability, individually and collectively, helps elevate what is essentially a midlife-crisis rehash of "The Breakfast Club."
The script gives them various forms of overworked shtick: Riggle suffers a painfully convincing pratfall, while Malco commits with admirable abandon to the role of a conspiracy-peddling technophobe. Rajskub is a delight under any circumstances, even when those circumstances require her to play Chloe from "24" as a God-loving repressed sexpot. (The genial if flat-footed Christian-skewering humor continues when Teddy gets a job at a Jesus-themed fried-chicken joint.)
Keeping the night schoolers in line — and giving the movie its raison d'être — is their perpetually exasperated teacher, Carrie, a role that allows Haddish to show off her intimidating no-nonsense side. It's far from her most brilliant work, though it's a pleasure to see her play the schoolmarm rather than the merrily unhinged comic anarchist for a change. Still, for all her improvisational skill and that of her top-billed costar, the much-vaunted Hart-and-Haddish pairing never pays dividends. It feels more like Half-and-Half.
It's unfortunate that Teddy is marched through the usual tedious gantlet of self-help montages, as he comes to grips with what Carrie describes as a "mixed drink of learning disabilities" and realizes that lying to your beautiful, accomplished fiancée is bad. The very unfunny subtext of "Night School," of course, is that Lisa, who suspects nothing of Teddy's deception, is treated as the single stupidest character in the story, which is saying a lot.
Will Lisa forgive Teddy and take him back in the end? You don't need a high-school diploma to answer that question, but you also don't need to accept the answer. It's hard not to admire that Kevin Hart hustle, but falling for it is another story.
------------
'Night School'
Rated: PG-13, for crude and sexual content throughout, some drug references and violence
Running time: 1 hour, 51 minutes
Playing: In general release
See the most-read stories in Entertainment this hour »
---
The complete guide to home viewing
Get Screen Gab for weekly recommendations, analysis, interviews and irreverent discussion of the TV and streaming movies everyone's talking about.
You may occasionally receive promotional content from the Los Angeles Times.