'Grandma' to open Los Angeles Film Festival; Lily Tomlin to be honored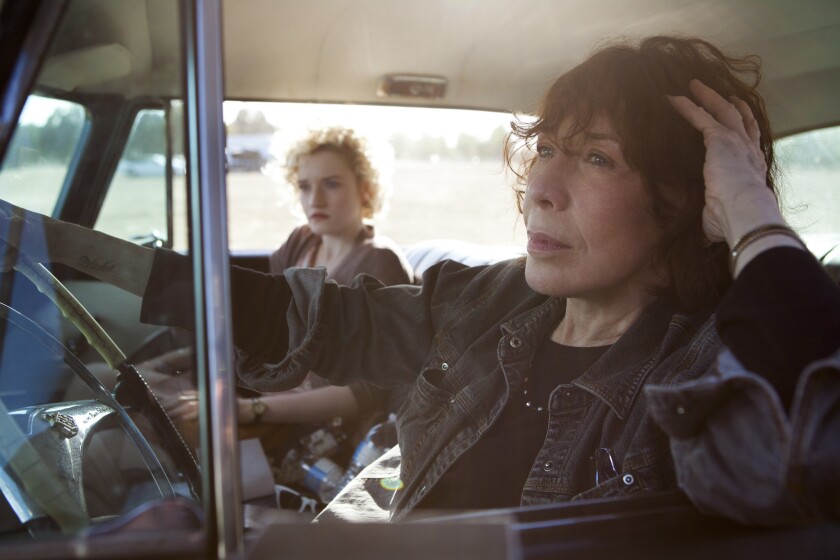 "Grandma," writer-director Paul Weitz's dramedy about an ornery septuagenarian poet who helps her teenage granddaughter try to rustle up money for an abortion, will open the Los Angeles Film Festival, organizer Film Independent announced Tuesday.
The 21st annual fest, which is co-sponsored by the Los Angeles Times, runs June 10-18.
Starring Lily Tomlin as the title character, "Grandma" marks the veteran actress and comedian's first leading role since 1988. Tomlin has also been named the recipient of the festival's Spirit of Independence Award, an honor given to those who advance the cause of independent film and champion creative freedom.
"Lily Tomlin comes out swinging rock-steady as the tough-minded titular character of 'Grandma,'" Film Independent curator Elvis Mitchell said in a statement. "She embodies the Spirit of Independence as a performer whose list of directors range from Robert Altman to David O. Russell, two fierce embodiments of the maverick powers of film."
"Grandma," which debuted to positive reviews at the Sundance Film Festival earlier this year, also stars Julia Garner, Marcia Gay Harden, Judy Greer, Nat Wolff and Sam Elliott. Sony Pictures Classics will release the film in August.
Tomlin previously appeared in Weitz's 2013 movie "Admission." The filmmaker's other credits include "American Pie," "About a Boy" and "Little Fockers."
LAFF organizers also announced that Rodrigo Garcia will serve as guest director of the festival and that Gale Anne Hurd will receive the Jaeger-LeCoultre Glory to the Filmmaker Award.
The full festival lineup will be unveiled May 5.
Follow @ogettell for movie news
---
Get the Indie Focus newsletter, Mark Olsen's weekly guide to the world of cinema.
You may occasionally receive promotional content from the Los Angeles Times.