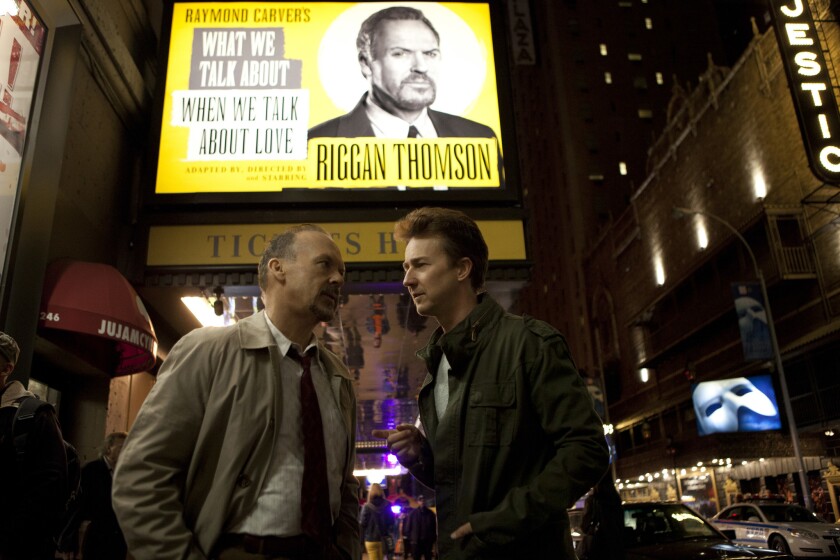 Alejandro G. Inarritu, Nicolas Giacobone, Alexander Dinelaris Jr. and Armando Bo won the Oscar for original screenplay Sunday for "Birdman," their daring black comedy about a washed-up superhero actor attempting a career comeback.
Accepting the award, director and co-writer Inarritu said, "The journey of 'Birdman' started three years ago when I asked Nico, Armando and Alexander to follow me in a crazy idea, and because they are crazy, they did it and we wrote together 'Birdman.' For that, I am … grateful and thankful."
Inarritu also gave kudos to his cast, including Emma Stone, Edward Norton and "the maestro of maestros, Mr. Michael Keaton, for making this film fly."
FULL COVERAGE: Oscars 2015
The win represents the first Oscar for each of the four writers, and the first nomination for Giacobone, Dinelaris and Bo. Inarritu had Oscar nominations in two previous years and is also up for director and best picture for "Birdman."
In the original screenplay category, the quartet beat out Wes Anderson for "The Grand Budapest Hotel," Richard Linklater for "Boyhood"; E. Max Frye and Dan Futterman for "Foxcatcher"; and Dan Gilroy for "Nightcrawler."
Inarritu's fifth feature film, "Birdman" stars Michael Keaton as a past-his-prime actor grappling with ego and self-doubt while trying to regain his mojo by mounting a Broadway play.
OSCARS 2015: Complete list | Top nominees | Red carpet blog | Live updates | Red carpet photos
Speaking to The Times when Oscar nominations were announced in January, Giacobone said the film's creative challenges brought out the best in the foursome.
"I think that for a writer, facing a huge question mark all the time — not knowing what that is and trying to learn what that is and trying to learn how to make it — it's very useful," he said. "It's how special things happen at the end."
Follow @ogettell for movie news
---