Made in America Festival makes debut at downtown L.A.'s Grand Park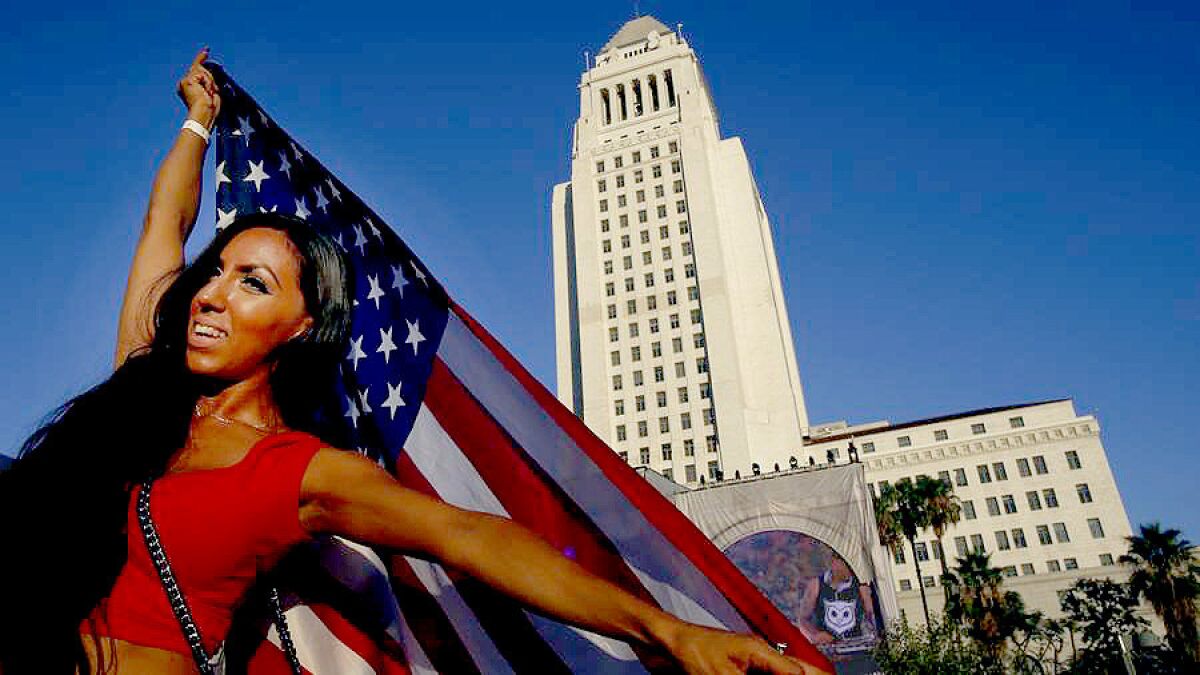 "Hello, Los Angeles," said Metric lead singer Emily Haines near the end of the band's second song on the city's first day of the Budweiser Made in America Festival. Her next words were far more ominous: "They're going to eat me alive, if I stumble."
She wasn't singing about the two-day music festival that transformed the Civic Center area, but city planners are keeping a watchful eye on the event, which was fast-tracked by Mayor Eric Garcetti since its announcement in April. Made in America is the biggest close-up yet on the downtown location, a recreational space with a just-opened area nearby, still partly covered in construction dirt.
Minutes before the festival gates opened, workers were hurrying to ready the grounds surrounding downtown L.A.'s Grand Park. The festival is the first-ever paid event at the 2-year-old park, which stretches between City Hall and the Music Center.
All of the last-minute prep was to ensure that Grand Park was ready for an expected crowd of 35,000 or more this weekend. As of about 5 p.m. Saturday, an estimated 26,000 people had entered the festival grounds, according to Los Angeles County Sheriff's Capt. Charles Stringham.
The concert, the brainchild of rap mogul Shawn Carter — better known as Jay Z – featured a diverse crop of artists on its first day, including local rap star Kendrick Lamar, Las Vegas rock band Imagine Dragons and English DJ Gareth Emery.
Hip-hop celebrity Kanye West and adult-pop romantic John Mayer will close the fest on Sunday. But the true star of Made in America was designed to be Grand Park itself.
"I work downtown and it's so up-and-coming," said Brea Warner, 27, of Silver Lake. "There's so much going on, so it's fitting that there's a festival."
It's also an event that took many by surprise.
"It's crazy to play here, man; we're right in front of the courthouse — everyone I know [has] seen that building," said Made in America artist DJ Mustard, who has produced singles for YG, 2 Chainz and Ty Dolla Sign. "I'm just happy to see L.A. music come full circle, to see the mayor out here for L.A. hip-hop. It's crazy."
Garcetti, who said in a recent interview with The Times that he wanted Made in America to prove that L.A. could be a "cultural destination," was not at Grand Park on Saturday. The mayor — and Jay Z — was expected to be on the grounds Sunday.
Downtown resident Eddie Rishwain, 25, said he bought a two-day, $215 ticket in part to see how Grand Park would be utilized. Since it's a narrow, multi-tiered space spread across several blocks, Rishwain said he was initially nervous Made in America would feel too "clustered," but was pleased the festival grounds included the surrounding blocks.
It wasn't just the urban setting that set Made in America apart. Many of its young attendees were dressed as if it were the Fourth of July, sporting patriotic apparel and headwear. Some even brought flags, lending Made in America a drastically different vibe than the more trendy, high-fashion scene of the Coachella Valley Music and Arts Festival in the desert city of Indio.
Those who came to check out the venue were also seeing a park that was arguably as much an advertisement for a beer brand as it was downtown. The "park for everyone" had been decorated with signs and logos with all the subtlety of a Nascar vehicle.
Even the artwork was branded. If Coachella is known for giant installations — one this year that included a massive roaming astronaut — Made in America's sculptures were dedicated to the art of brewing. What looked to be a wooden jungle gym festooned with beach balls was designed to represent the rice used in Budweiser beer.
There also were some opening day growing pains. Lines for food trucks were sometimes 20 people deep, especially in the early evening, and most of the portable toilets were tucked away on Hill Street, a small hike from the two main stages on Spring Street.
Julie Paul, 20, a USC student from Pasadena, had attended Coachella this year. Though she thought the price for Made in America was fair, she was dissatisfied with the expansive layout.
"This is more disorganized than other festivals," she said. "There are way too many people for this venue. We can't find water. There are no maps."
Still, heading into the evening — and before crowds packed in for the night's headliners —the Los Angeles County Sheriff's Department said there had been minimal issues, noting there had been no arrests at the event, for which gates opened shortly after noon.
Asked about the clouds of pot smoke wafting above the crowd, Stringham said: "What are you going to do?"
Kate Linthicum and Gerrick D. Kennedy also contributed to this report.
---
Your essential guide to the arts in L.A.
Get Carolina A. Miranda's weekly newsletter for what's happening, plus openings, critics' picks and more.
You may occasionally receive promotional content from the Los Angeles Times.