Robert Plant, Los Lobos, Fantastic Negrito and more emphasize tradition at Arroyo Seco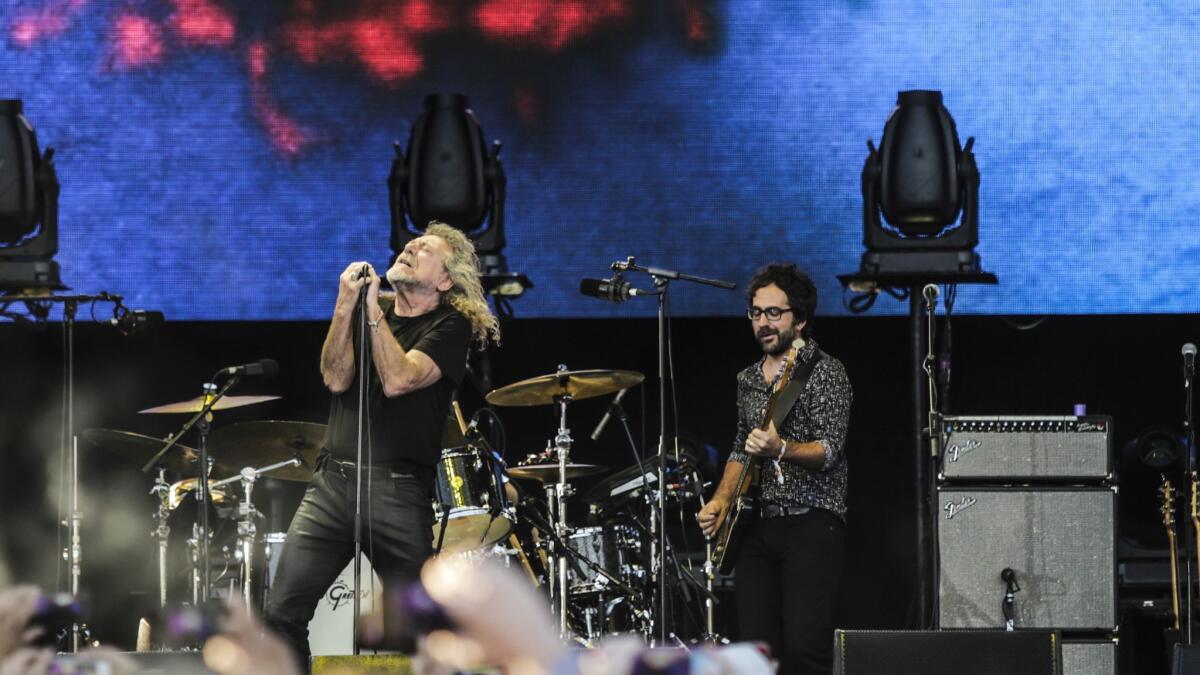 "Music is medicine for the soul," declared the singer who performs as Fantastic Negrito, eagerly prowling a stage on Sunday with a revivalist's fury leading into the final hours of Arroyo Seco Weekend in Pasadena.
There were bigger names at the Goldenvoice-presented festival, now in its second year, than the artist born Xavier Amin Dhprepaulezz, but the crowd was right there with him. Negrito's anxious soul and blues explosions were an early highlight in a full day of sounds that stretched from the intimate indie rock swagger of Margaret Glaspy to the big blues and world music flourishes of former Led Zeppelin singer Robert Plant.
Amid this largely genial festival's lineup, Negrito's 45-minute set was a mixture of organic traditions – in his case blues, soul, hip-hop, often politically charged – and ended with energy to burn, as the singer did impromptu jumping jacks and push-ups onstage. In his farewells, Negrito allowed in a bit of the chaos that is modern life beyond the pristine festival grounds by closing with a warm yet wickedly ambivalent, "I love most of you, but not all of you!"
On the same stage later that night, Aaron Neville was equal parts force and vulnerability, as he has been for half a century, gently imploring a lover on his 1966 hit "Tell It Like It Is." In bright tie-dyed shirt and white fedora, Neville turned to Sam Cooke's searing and still relevant political soul classic "A Change Is Gonna Come," his falsetto aching and defiant as he tackled the civil rights anthem.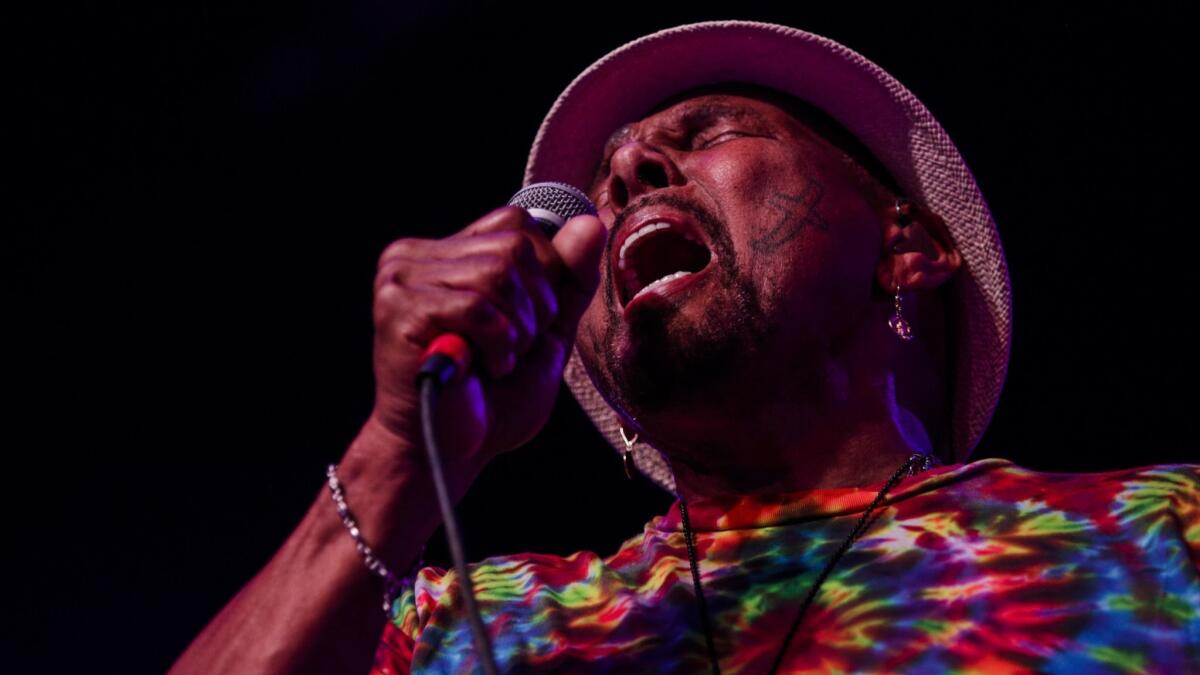 The day's biggest crowd was gathered for Plant, who emerged in the late afternoon with his long hair and beard an elegant tangle of blond and gray. With his band the Sensational Space Shifters, he dove into his past and right into Led Zeppelin's "The Lemon Song," a sure crowd favorite to get the audience plugged into what was to follow.
When he later found a lemon tossed to the stage, the British singer paused to ask with a laugh: "So this is my prize after 50 years of coming here?"
Plant's solo career has been consistently challenging, leaning away from the Zeppelin sound in most of his endeavors, and his newest album, "Carry Fire," connects his interests with African and Mediterranean culture with his early obsession with the blues of the Mississippi Delta.
From the recent past, Plant performed a crashing and hypnotic "Turn It Up" and a wistful "Rainbow," as he slapped a Moroccan bendir hand drum. The singer praised the legacy of essential American folk-bluesman Lead Belly as the band eased into the traditional "Gallows Pole," a song famously covered by Zeppelin, this time arranged more as bluegrass rave-up with banjo and fiddle.
All the Plant solo songs performed were from the last several years, with nothing else from his three decades as a musical free agent. There was no "Tall Cool One" (an actual hit in 1988) or even his 2009 Grammy-winning "Please Read the Letter," recorded with Alison Kraus.
Fully half of Plant's set was devoted to work connected to his days with Zeppelin. So a long-suffering Zep fan might wonder what is preventing one more reunion of the classic rock group, but Plant was clearly pleased to be performing new music in new ways above all else, and to be collaborating with this group of players. This golden god just isn't ready to turn back yet.
Following him on the main stage were Kings of Leon, much younger players devoted to the classic rock sounds Plant seems determined to escape. The quartet of brothers and cousins arrived a decade ago as unruly and tradition-bound proselytizers of modern Southern rock, and an audience was ready to receive them.
On Sunday, Kings of Leon unfurled "The Bucket," a track from their second album and an early sign of the band's promise and personality. Their sound was urgent, lovesick and searching. Recent albums have aimed for bigger venues and crossover appeal, costing them some rough edges, and not to their benefit.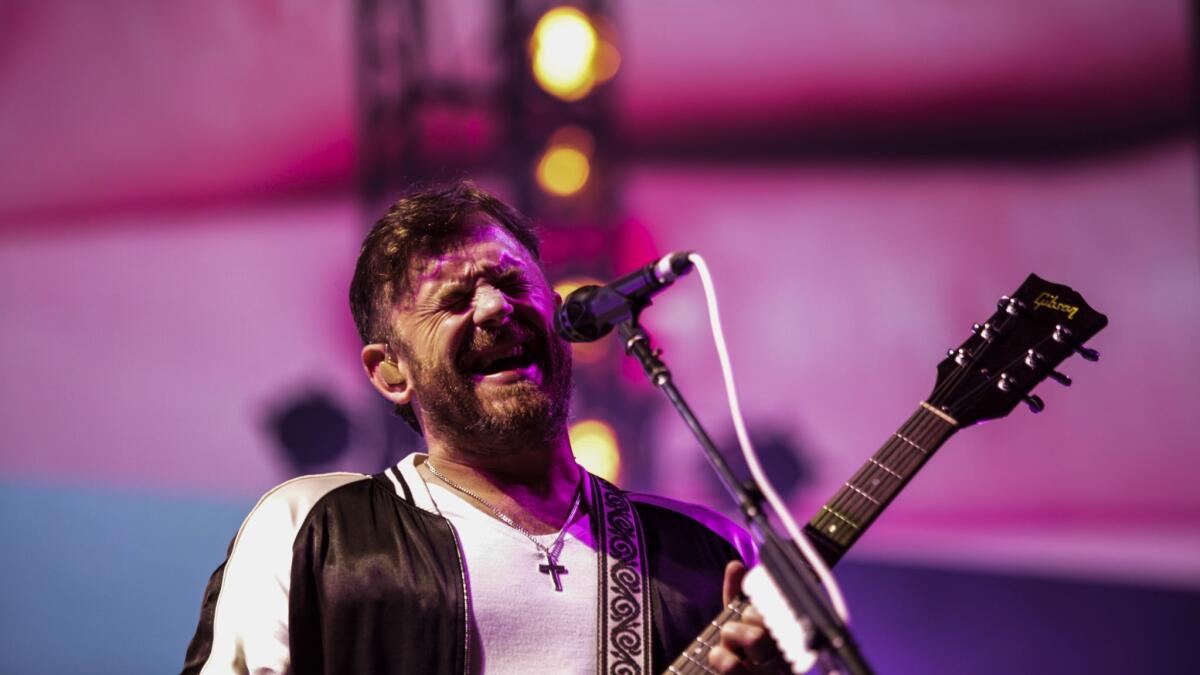 The band still had muscle in performance, rumbling through "Use Somebody" but also turning quiet on "Walls," performed by singer Caleb Followill on acoustic guitar, with subtle piano accompaniment and a heartbreak beat.
The Bangles shared rich pop melodies centered on their '80s catalog, including the 1986 hit "Manic Monday," written for them by Prince. (His former band the Revolution also paid tribute on Sunday.)
East L.A. icons Los Lobos were dependably joyous. Before diving into a contemplative "The Valley" (from their 2006 album, "The Town and the City"), singer-guitarist David Hidalgo drew a connection to the urgent present.
"This is for all the families out there separated," he said, referring to the national alarm over America's immigration policies under President Trump. As a result of Trump's "zero tolerance" approach, thousands of children have been separated from their families — a practice he ordered an end to last week in favor of keeping families together in detention.
Hidalgo's comments once again brought a bit of real life into the plush Arroyo Seco grounds. "Who knows what's going on out there right now."
Get our L.A. Goes Out newsletter, with the week's best events, to help you explore and experience our city.
You may occasionally receive promotional content from the Los Angeles Times.