Children separated from parents arrive in L.A., but frustrated community gets few answers
The crisis over children separated from their parents at the border reached Los Angeles, bringing many offers to help but few answers.
Immigration and aid groups said nearly 100 kids separated under President Trump's policy have reached detention centers in the Los Angeles area, and local officials on Thursday knew little about the children's whereabouts, their living conditions and what the federal government's plans were to reunite them with their families.
"We're getting zero information," said Mayor Eric Garcetti, adding that children are being dropped into the city with "no links back to their parents."
Immigration advocates believe many of the 2,300 kids detained by Trump's policy intended to live in the L.A. area, with its vast Central American population. The region has long been a destination for refugees from El Salvador, Guatemala and Honduras fleeing gang violence, rampant crime and political persecution.
"So many of these kids are ultimately L.A.'s kids," said Lindsay Toczylowski, executive director of the Immigrant Defenders Law Center, which deals directly with kids in detention. "They belong to our families, to our communities."
Most of the kids who have made it to the L.A. region in recent weeks are 9 and younger. They are housed in detention shelters or foster homes overseen by government-contracted shelters, organizations said Wednesday. Few have been reunited with family.
It is unclear what will happen to these kids or the 2,200 others detained now that Trump has retreated from his 6-week-old practice of splitting families who illegally cross into the United States.
In recent weeks, community leaders fought back against Trump's hard-line immigration policy, as did other cities nationwide. They have held protests and vigils, filed resolutions and motions and started donation drives to provide legal aid to children and their parents.
On Thursday, people across L.A. stood ready to do their share, offering housing, food, diapers, toys and blankets.
"I'm desperate to help," said Jessica Foldes, 39, of Sherman Oaks. "I would like to bring cookies for the kids."
But so far, there was was no place to send that help as the government has not shared any details on the children. A spokesman with the Office of Refugee Resettlement did not return requests for comment.
Rep. Jimmy Gomez (D-Los Angeles) is pushing to investigate conditions at detention centers.
"It's like the president was in a vehicle careening through traffic, hitting a bunch of cars, and now he's not paying attention to the carnage he's left behind," said Rick Coca, spokesman with L.A. Councilman Jose Huizar's office.
Huizar and other city leaders have found themselves under public pressure to help. They've linked up with community organizations and have found ways to bring attention to the topic, but they're also limited to their jurisdiction.
This week, Huizar will introduce a resolution asking the city to join in legal action to help families who have been split.
County officials also recently approved a motion pushing for access to children who were separated from parents to provide them with county services such as healthcare and legal aid.
Michael Kapp, spokesman for Supervisor Hilda Solis, said she is "committed to helping these children reunite with families and be treated with the dignity that every person deserves."
Still, bureaucracy is a challenge.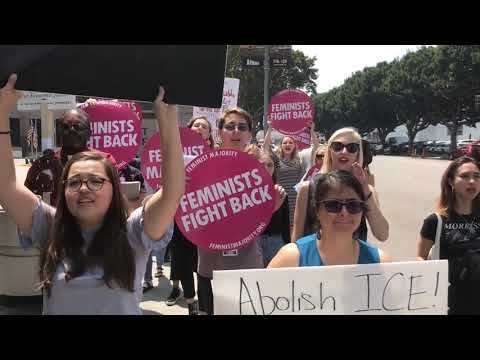 Rally against separating families outside Federal Building in downtown Los Angeles
Months ago, the county and city partnered to start a fundraiser to help immigrants in court. The L.A. Justice Fund has raised more than $7 million since December.
That money, however, is hardly able to help children separated from their family because recipients of the fund must prove they are residents of L.A. County or that they have family connections in the county.
"It's an immediate challenge, and we're looking to see how we can address that with an amendment," said Efrain Escobedo, vice president of the California Community Foundation, which oversees the fund.
"We welcome resolutions and taking a public stance," added Toczylowski. "But what's more important is for elected officials to put money where their mouth is and create a fund that's usable to help these populations."
Immigrant Defenders recently began its own donation drive on Facebook to represent more children and provide bail for parents in detention around the country.
Los Angeles, an epicenter for immigrants, has been receiving unaccompanied kids for years, well before Trump's policy shift.
Since 2014, when thousands of kids began crossing the border alone because of violence in their home countries, Los Angeles County has remained one of the top regions to receive unaccompanied kids.
In fiscal year 2017, sponsors countywide received nearly 3,000 children, more than any other county in the country.
In many communities, families are ready to sponsor separated children, said Guillermo Torres, director of organizing with Clergy & Laity United for Economic Justice.
The group, which includes 1,000 clergy and lay leaders, said its congregations are eager to house children and their parents.
"What we want to know is where are these kids?" Torres said. "That way we can tap our network of communities who are more than willing to help these families."
Trump on Wednesday signed an executive order to end the practice of separating children from parents illegally crossing into the United States.
His directive seeks to keep families together in detention. That is likely to open a new legal battle, however, over a landmark 21-year-old court settlement known as the Flores agreement, under which the federal government agreed to hold immigrant minors no longer than 20 days. Immigration cases typically take much longer than that.
The order could well be temporary. Administration officials called the order a stopgap measure and refused to say what they would do with the migrant children in three weeks, should they fail to get a court's exemption or pass legislation through Congress. Nor did the administration have plans to begin reuniting families already separated.
Times staff writers Nina Agrawal and Dakota Smith contributed to this article.
esmeralda.bermudez@latimes.com
Twitter: @LATBermudez
Sign up for Essential California for news, features and recommendations from the L.A. Times and beyond in your inbox six days a week.
You may occasionally receive promotional content from the Los Angeles Times.