Metal and beer: Deftones jump into arena with Iron Maiden, Mastadon, Opeth and Killswitch Engage in battle for ale supremacy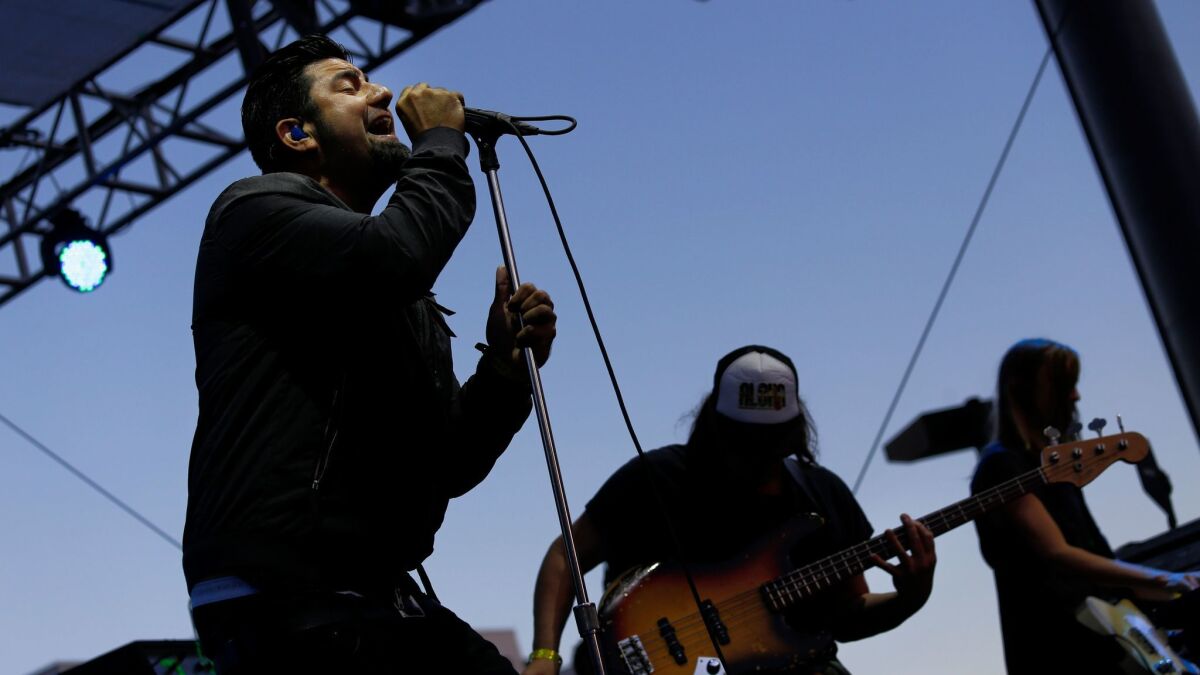 When singer-guitarist Chino Moreno and the alt-metal band he co-founded, Deftones, first went on the road in the early 1990s, they figured they'd hit the big time when they could demand tour promoters supply them with cases of beer.
Their brand of choice? "Coors Light, of course!" Moreno said on the phone from Bend, Ore.
A quarter century later, Deftones have sold millions of records, booked arena tours and won Grammys. More impressive to hop snobs, however, the band recently worked with the San Diego craft brewery Belching Beaver to release Phantom Bride IPA, a limited-run ale that's as far removed from Coors Light as Deftones are from Celine Dion.
"We came from pretty meager places, so it was like, 'Whatever we can afford to drink,'" Moreno said. "We didn't know any better."
That started shifting when the group played an early gig in Chico. Hitting pay dirt while expanding their palates, band members were paid in pitchers of what Moreno described as "rich people beer": the pioneering Sierra Nevada brewery's pale ale, "which wasn't a good idea for the show itself, because we had a little too much fun."
Decades later, Moreno knows his porters from his saisons so well that he selected the hops (Mosaic, Amarillo, Simcoe, and Citra) for Phantom Bride, which sold out when it was issued in the fall.
In June, the beer will return to the market in cans.
Named for a Deftones song about being trapped in a void and "rotting in the same cold space," Phantom Bride IPA was the first in a series of state-spanning collaborations between the Sacramento-born band and the 5-year-old brewery.
The next batch will be called Swerve City, an IPA named for the 2012 Deftones song about a mysterious woman who "breaks her horses with strange distant voices/ That travel through the air."
Deftones aren't alone in the beer-branding game. British metal legends Iron Maiden not only forged powerful riffage but also helped define the beer-and-metal arena with a line of ales called Trooper, featuring beers including Red n' Black Ale and 666.
The Atlanta metal outfit Mastodon has teamed with breweries including Mikkeller (a fruity farmhouse IPA called Mother Puncher), Mahr's Bräu (Mastodon premium lager) and Signature (Black Tongue, a double-black IPA).
Metal bands such as Opeth, Megadeth, Anthrax, Skeletonwitch and Killswitch Engage have also partnered to make beer. Gwar has a line of vodka. AC/DC has a tequila. Motörhead even introduced both a hard cider and some beer.
In fact, Moreno started contemplating a craft beer after trying Iron Maiden's product. He wasn't impressed.
He said that although Iron Maiden is a much bigger band than Deftones, "when I saw how mass produced [that band's beer] was and how well it was doing, honestly, that's what gave me the idea. It's like, 'Man, I'm actually really into beer. I can make a beer that smokes this beer.'"
Describing himself as "a hop guy," Moreno committed to an IPA and Belching Beaver for the run.
"We didn't want to do something where we just slap our name on whatever. We wanted to actually be a part of it. My knowledge — not that it's that vast — but what I do know about beer is I want to give my input on what I like and what I think people would enjoy."
Though Moreno still claims that his beer definitely smokes Maiden's, Mastodon's product is a different story.
Describing the band as "avid beer guys," Moreno enjoys "hanging out with those dudes, because we have a lot in common when it comes to craft beer. Every time we're together, we are talking about it and drinking it."
For tips, records, snapshots and stories on Los Angeles music culture, follow Randall Roberts on Twitter and Instagram: @liledit. Email: randall.roberts@latimes.com.
---
Your essential guide to the arts in L.A.
Get Carolina A. Miranda's weekly newsletter for what's happening, plus openings, critics' picks and more.
You may occasionally receive promotional content from the Los Angeles Times.