How Florence Welch got back to 'the love of making music'
Pop Music Critic
Florence Welch says she's glad she left the Grammy Awards empty-handed a few years ago.
In 2016, the frontwoman of England's Florence and the Machine was up for three prizes with her dramatic rock band's third album, "How Big, How Blue, How Beautiful." And that recognition seemed like a fitting reward, she said the other day, for a record she'd made "with quite a lot of ambition — with this idea that I had something to prove."
It was only after she went 0 for 3, though, that Welch had the realization that led to her next project.
"I learned it didn't matter that I didn't win anything," the singer said. "It didn't mean that the songs weren't meaningful or that they didn't reach people. So all those less spiritual reasons you have for doing this — because you want to get into parties or get on the awards ceremonies — they kind of fell away."
What remained, she added, was "just the love of making music."
A bit of spin from a once-buzzy artist looking to manage expectations? Perhaps. Yet the signs of Welch's awakening are all over Florence and the Machine's "High As Hope," which came out in June.
Quieter and smaller in scale than the group's first three albums — which spun off a series of stomping alternative-rock radio hits including "Shake It Out" and "Dog Days Are Over" — the record feels more like a private rumination than an invitation to celebrate.
There are thoughtful songs about religion and about Welch's love for the punk singer and poet Patti Smith. And there's "Hunger," which addresses the eating disorder Welch says she struggled with as a teenager.
Throughout "High As Hope," the singer uses her powerful voice in a way longtime fans will recognize; she's still swooping and hollering when the moment calls for it. But the tender, sometimes gauzy music bears out her claim that it sprang from a rededication to personal expression.
"This album is very homegrown — almost a made-in-your-bedroom kind of record," Welch, 32, said from her tour bus as it rolled toward Los Angeles for shows Tuesday and Wednesday at the Hollywood Bowl. "It's a sound that comes from deep inside me."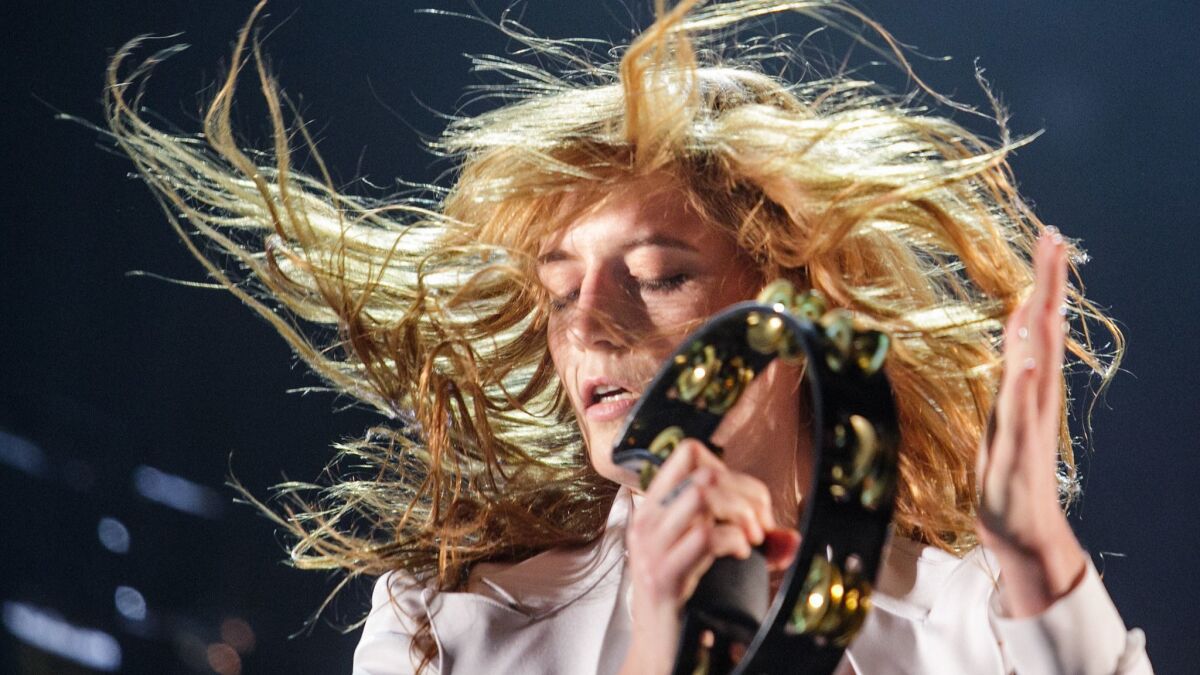 Indeed, Welch began work on the album by herself in London, playing drums and piano and "experimenting with playing synths really badly," as she put it. After six months or so, she took what she'd recorded to L.A., where she set up with the producer Emile Haynie, known for his work with Lana Del Rey, at his home studio (which they dubbed the Love Hospital).
Asked if she considered completing the album on her own — "High As Hope" is her first on which she's credited as a producer — Welch said she had.
"You worry about a song being taken away from you, especially as a female writer," she said. "You have to fight to get your credit. So I can be like, 'No, I'm sitting in the room and I'm doing it myself.' " Ultimately, though, she decided she was confident enough in her material that she wanted to open up the sessions to other musicians.
"I knew what the sound of the record was, so I could just get amazing people to come and be amazing."
Among them were Tobias Jesso Jr., who contributes keyboards, and Kamasi Washington, the acclaimed jazz saxophonist, who's also opening for Florence and the Machine on tour.
Just as she did in the studio, Welch said she's changed her focus on the road.
When she started touring a decade ago, her attitude in every city was basically "Oh my God, this is a new place — let's get" messed up, she said, using a stronger word.
She quickly established a reputation as a dynamic performer, but with the highs came lows. (In 2015, she broke her foot after jumping off the stage at Coachella.)
Today, Welch said, "I take my craft really seriously, and I try to look after myself so I can give the best performance I can." Instead of partying, she reads, while coffee has mostly replaced booze.
"The off days are definitely a bit more boring," she said with a laugh. "I've sacrificed what I perceived as the rock 'n' roll aspects of the touring life.
To be honest, I don't even know what rock 'n' roll is anymore. Some of the new young pop stars out there are the most rock 'n' roll people I can imagine.
— Florence Welch
"But to be honest, I don't even know what rock 'n' roll is anymore," she went on. "Some of the new young pop stars out there are the most rock 'n' roll people I can imagine."
Speaking of pop stars, Welch said her artisanal approach on "High As Hope" — what she called the album's "Laurel Canyon vibe" — shouldn't be taken to mean that she disapproves of the more systemized process behind the Top 40.
"I love pop music, and I love dance music," said the singer, who's appeared on tracks by Calvin Harris and Lady Gaga. She added that she's worked on stuff with professional songwriters in the hopes that some well-known act might take it to the radio.
"But every time I've done it, something about my weirdness means the song never makes it," she said.
Might that mean there are hard drives floating around L.A. with tunes rejected by Kelly Clarkson and the Chainsmokers?
Welch laughed. "I think that actually could be true."
Twitter: @mikaelwood
---
Your essential guide to the arts in L.A.
Get Carolina A. Miranda's weekly newsletter for what's happening, plus openings, critics' picks and more.
You may occasionally receive promotional content from the Los Angeles Times.