Video: The story of the first time Jimi Hendrix plugged his guitar into a wah-wah pedal
Those cruising Sunset Boulevard in Hollywood have likely passed Studio Instrument Rentals at one point or another, but it's easy to miss.
The unassuming complex, located across from the CNN building, is celebrating 50 years of supplying the L.A. music industry with gear, rehearsal space, tour support and pretty much anything sound-related.
The company's first client? Jimi Hendrix, who was transforming the sound of electric guitar when he sought S.I.R.'s Dolph Rempp for help with gear. As part of The Times' package of stories on Sunset Boulevard and music, Rempp in the video below recounts the wah-wah pedal he suggested Hendrix try out.
Read MoreALSO
From Donna Summer to Tupac Shakur, Sunset Boulevard is the backdrop to a history of classic songs
Music-making memories of Sunset Boulevard, from the Beach Boys to Vince Staples
As jazz waned, the Hollywood Palladium helped popularize the Latin music craze
Avant-pop band Sparks recalls the time it got booted from the Hyatt House on Sunset (bagels are involved)
The avant-pop band Sparks has been making curiously brilliant music for over four decades, and for a lot of that time they've done so in proximity to Sunset Boulevard.
Founded by brothers Ron and Russell Mael, who were raised in Pacific Palisades, the band earned early attention for gigs at the Whisky a Go Go, and learned the ropes by watching such bands as the Move, Tyrannosaurus Rex, the Doors and the Beach Boys.
"It was really our education," said Russell Mael during a recent interview with him and Ron.
On Sept. 8, the band will release a new album, "Hippopotamus," and in early 2018 (tentatively), shooting will begin on "Annette," the Leo Carax-directed adaptation of a Sparks musical. Adam Driver and Michelle Williams are committed to the project.
You were raised in Pacific Palisades, so you must have relied on Sunset Boulevard a lot.
Ron Mael: When we started commuting, at least for me, I had a commute along Sunset Boulevard to get to UCLA, so the Dead Man's Curve area and all that, that was something that was really special to me.
And then when we were in school and going to listen to music, it was always going to places like the Whisky and seeing British bands, just getting turned on by so many of those people coming to Los Angeles. The Whisky became so comfortable for us.
These days, Echo Park draws more hipster foot traffic than the Sunset Strip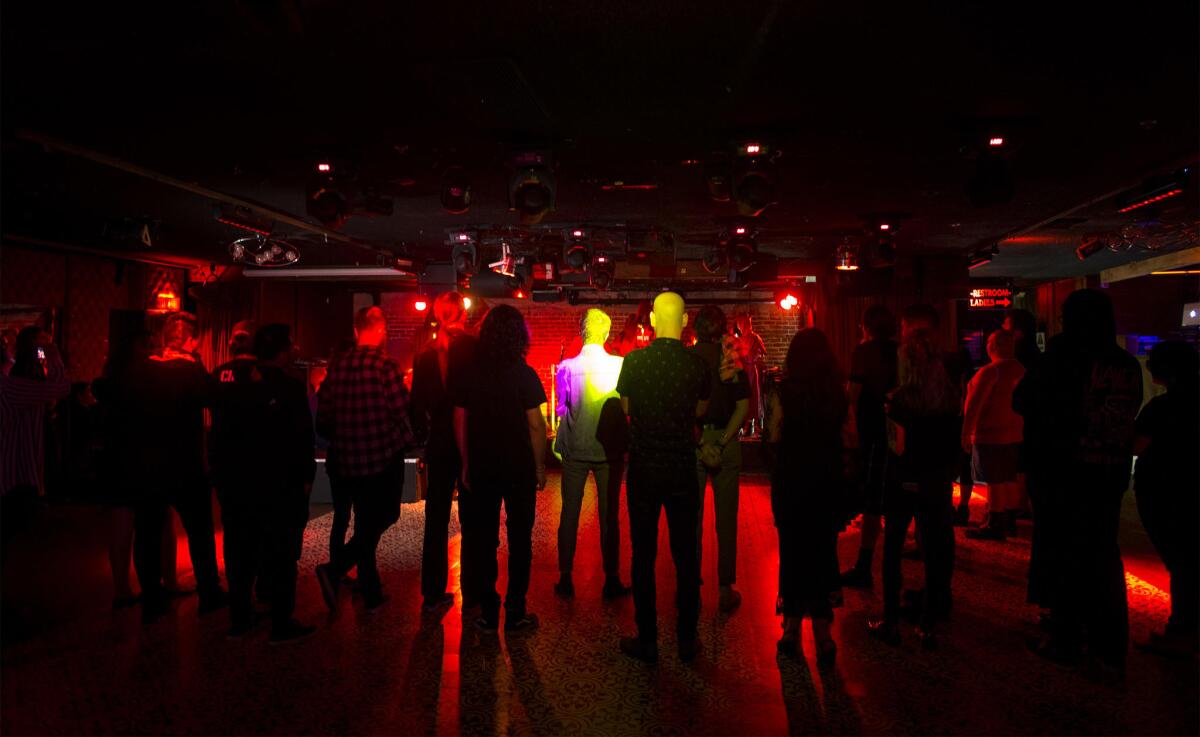 The Sunset Strip and Hollywood may get all the historical ink, but these days, Echo Park draws more hipster foot traffic.
Located not far from where songwriter Tom Waits once sang an "Emotional Weather Report" of "gusty winds at times around the corner of Sunset and Alvarado," this mini-hub boasts the versatile Los Globos, indie rock fixture the Silver Lake Lounge and the popular watering hole the Thirsty Crow. The Echo, a few blocks away, remains a vital stop for developing artists.
Los Globos was long a Latin club serving neighborhood residents. Nightclub entrepreneur Steve Edelson bought the place six years ago and brought on his Chicago friend Sire Dhone Johnson, a Jamaican expat, musician and veteran club owner who came up in that city's house music and reggae scenes.
Despite the occasional noise complaints from some neighborhood residents, Los Globos since has established itself as a shuffle-era venue that showcases a range of genres, including house, dancehall, ska, hip-hop, cumbia, punk and industrial noise, while still regularly scheduling Latin nights. It's best known as the host of the era-defining monthly house music party A Club Called Rhonda.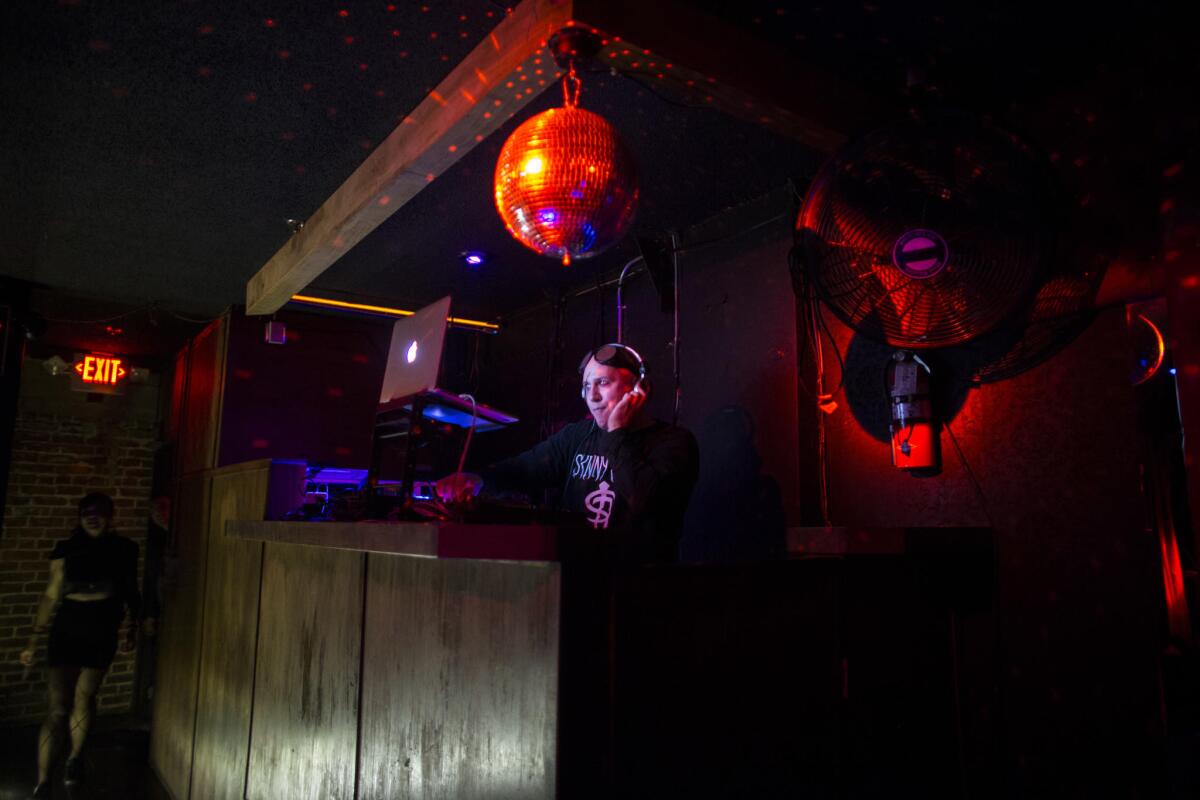 The Hollywood Palladium stage opens up to its citizens: An L.A. story
If Sunset Boulevard represents a kind of metaphorical artery pumping rhythms across the city and around the world, worth examining is how those sounds were built, heard and danced to.
"We always need a through line, and I'm intrigued by the street itself as the through-line that cuts east to west," says Anthony Macias, assistant professor of ethnic studies at UC Riverside.
There's a strong argument to be made that the Hollywood Palladium marks the center of that line.
Macias, who wrote "Mexican American Mojo: Popular Music, Dance, and Urban Culture in Los Angeles, 1935-1968," says that his reflex when considering Sunset is to think of "the early punk scene and the hair bands at the Whisky a Go Go."
But that tells only part of the story.
Whisky a Go Go, once a launchpad for bands, faces a less go-go era
The storied venue the Whisky a Go Go, which has occupied the corner of Sunset Boulevard and Clark Street on and off since 1964, has seen its share of action.
This is the joint, after all, where go-go dancing was born, where Otis Redding brought soul to the Sunset Strip, where the Doors played almost 100 times, where the L.A. punk bands the Germs, X, the Runaways and the Go-Go's got early career boosts and where Guns N' Roses and a legion of metalheads fomented a movement.
That history seemed inconsequential on a recent Friday night as a trio of weekend warriors called Third Power Project stood in front of a crowd of a few dozen tourists and fellow travelers.
Now a "pay-to-play" venue that requires acts to pony up in advance for stage time and promote their own shows, the Whisky long ago stopped chasing music's next-generation visionaries.
With Amoeba Records' Hollywood location in limbo, what's the fate of music retail on Sunset?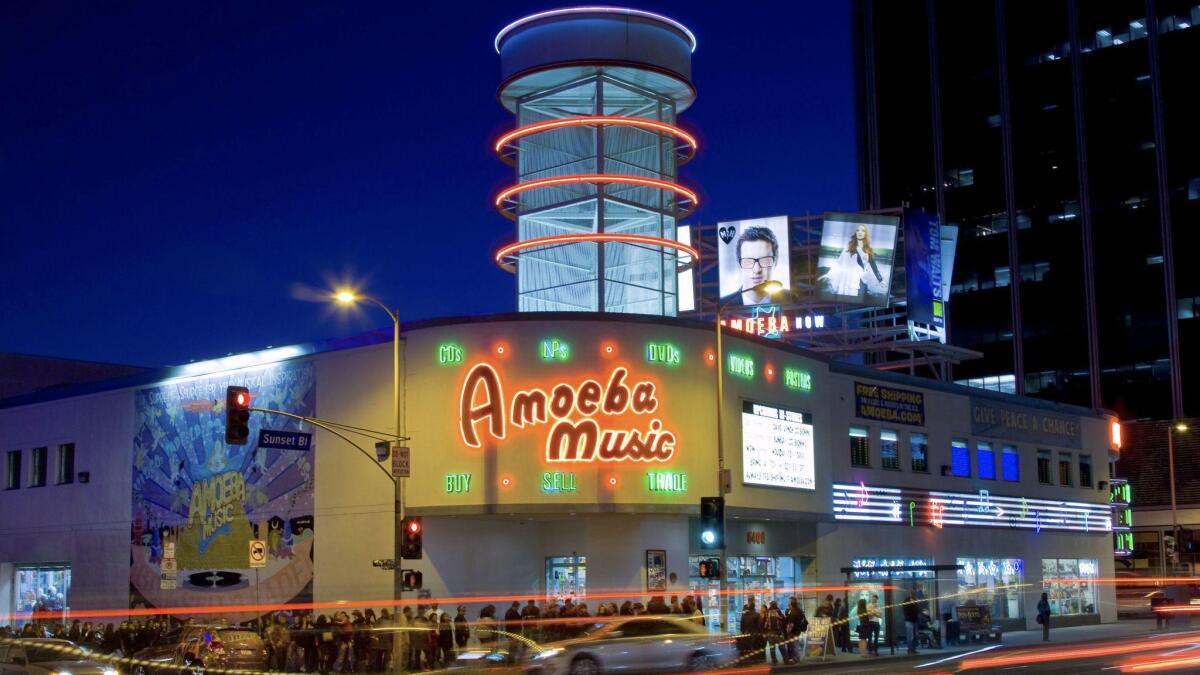 Last month, a shudder rumbled through the L.A. music world when news spread that Amoeba Music in Hollywood, the massive pop-culture retailer at the corner of Sunset and Cahuenga boulevards, might be forced to relocate.
The building's owners, GPI Properties, unveiled plans to construct a 28-story tower on the spot, a move that, if approved, would dramatically reshape an already changing neighborhood.
If Amoeba is forced to move, it won't be the first time that Sunset Boulevard has lost a major music retailer. But depending on where Amoeba lands, it could mark the first time in more than 75 years that the boulevard won't be home to a music superstore.
Before Amoeba, West Hollywood's Tower Records reigned supreme. Until it shuttered in 2006, Tower served as the go-to spot for fans, artists and the music industry during the LP, cassette and CD eras.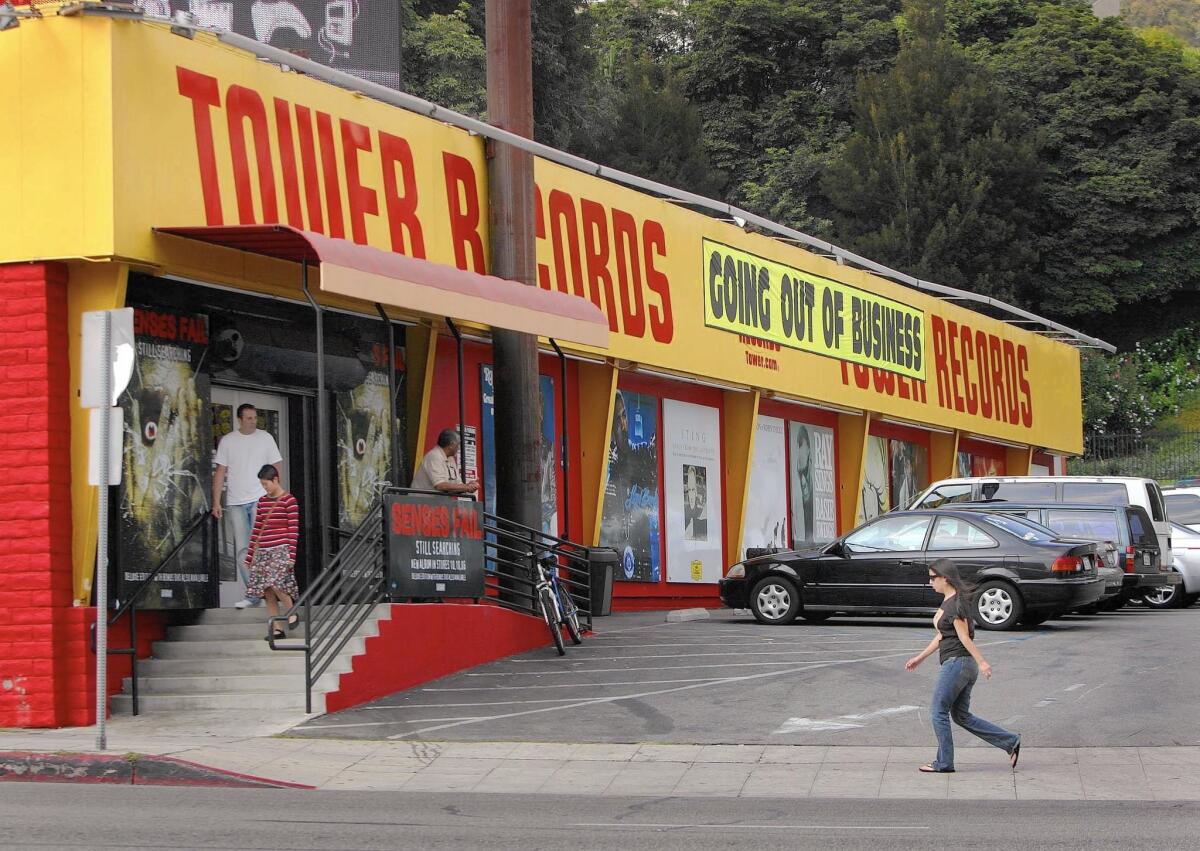 Music mogul Lou Adler: The Sunset Strip's musical commander in chief
From his excursions as a Boyle Heights kid to setting up shop in a Sunset Strip office for his labels, festival planning and ownership stakes in famous clubs, Lou Adler watched the rise of the modern music business from various locations along Sunset Boulevard.
If Rodney Bingenheimer is the mayor of the Sunset Strip, then Adler is its musical commander in chief, a man who, along with investors including Elmer Valentine, Mario Maglieri and others, helped transform the Sunset Strip starting in the early 1960s and who built a career doing business across its 22 miles.
Adler, 83, carries a vast trove of information about Sunset. Check out excerpts of a recent conversation about the storied music boulevard.
Sunset Boulevard's key musical moments from 1924 to now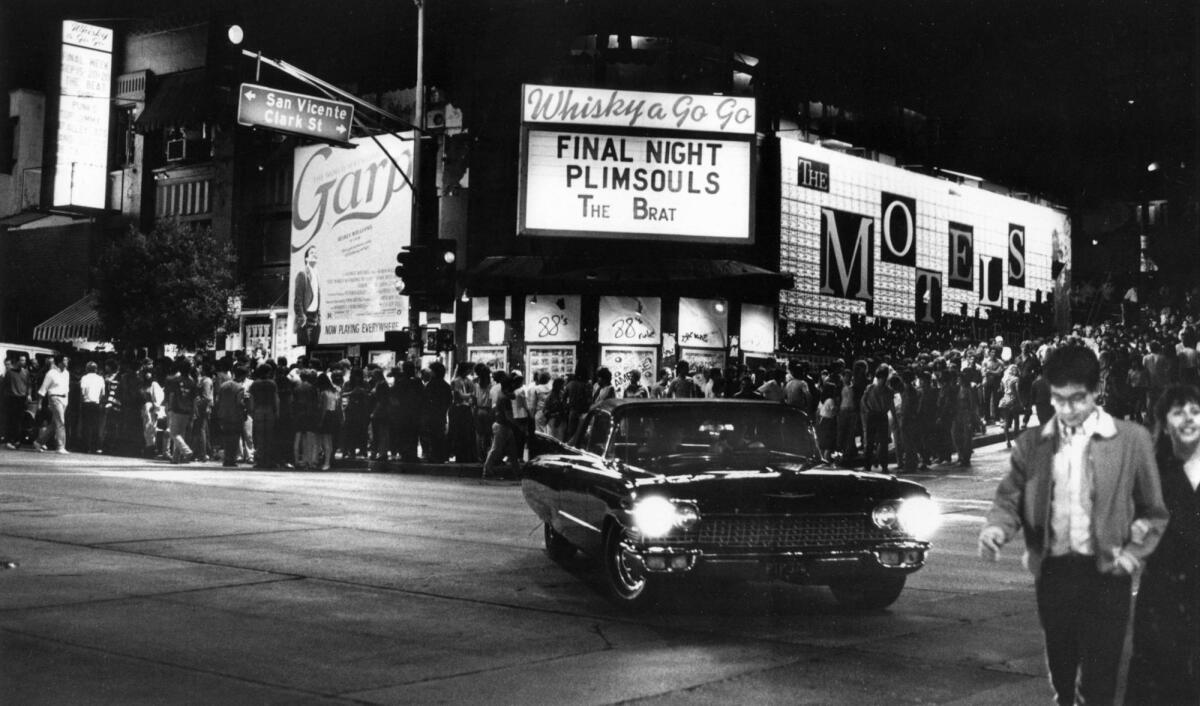 Sunset Boulevard's evolution over the last century from a former cattle trail to a boulevard of melody has influenced American culture in countless ways. Below, a timeline of some of the boulevard's key musical moments.
1924: Sunset Plaza, the first commercial development on the Sunset Strip, opens.
1926: Early West Hollywood gay club Cafe Gala opens.
1935: Club Seville, an early iteration of influential Sunset Strip club Ciro's, opens. That spot is now the Comedy Store.
1938: CBS Columbia Square opens in Hollywood. The complex will eventually house recording studios where artists including the Byrds, Barbra Streisand and Simon & Garfunkel will record.
Sunset Boulevard as a muse for musicians: 'That precious boulevard is a part of me and my music'
Next time you find yourself in a room with established musicians, ask them about their early experiences along Sunset Boulevard. Whether grizzled '70s rockers waxing about the Roxy, former post-punks recalling Club Lingerie or contemporary hitmakers born long after the Strip's heyday recalling studio sessions, chances are they've got stories set on Sunset.
It's one of the best things when I think of L.A.: Crammed in with a bunch of friends in a tiny Honda Civic cruising down Sunset, you know?
— Arrow DeWilde, singer of ascendant L.A. rock band Starcrawler
Studio Instrument Rentals' patrons have included Lionel Richie, Run the Jewels, Sonny & Cher and David Bowie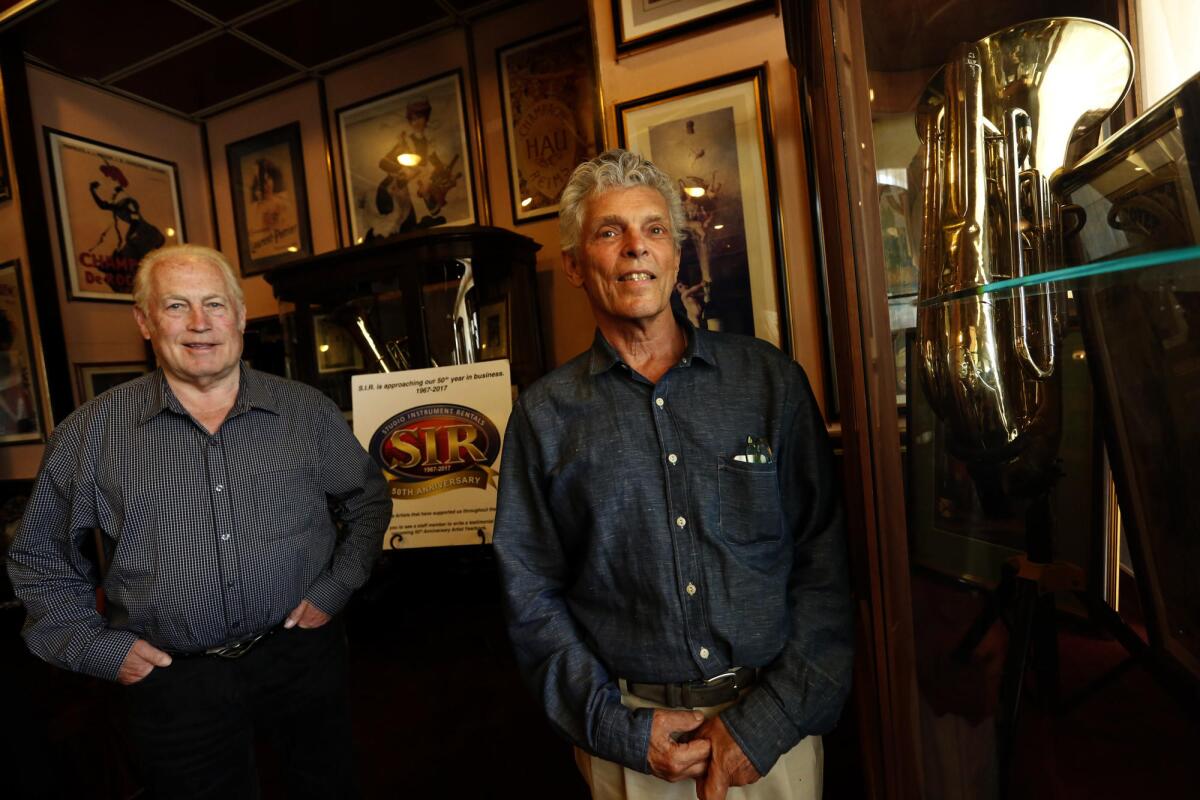 Although unassuming from the street, a single business along Sunset Boulevard has arguably aided more musical superstars than any other: Studio Instrument Rentals.
Founded by Ken Berry and Dolph Rempp in 1967 to service the recording scene along Guitar Row in Hollywood, the company today is celebrating 50 years in business.
And what a half-century.
In those decades, its Los Angeles hub has in one way or another catered to "every single group that you could imagine," Berry said, including the Rolling Stones, David Bowie, Madonna, Lionel Richie, Run the Jewels, Sonny & Cher, Stevie Nicks and Janis Joplin.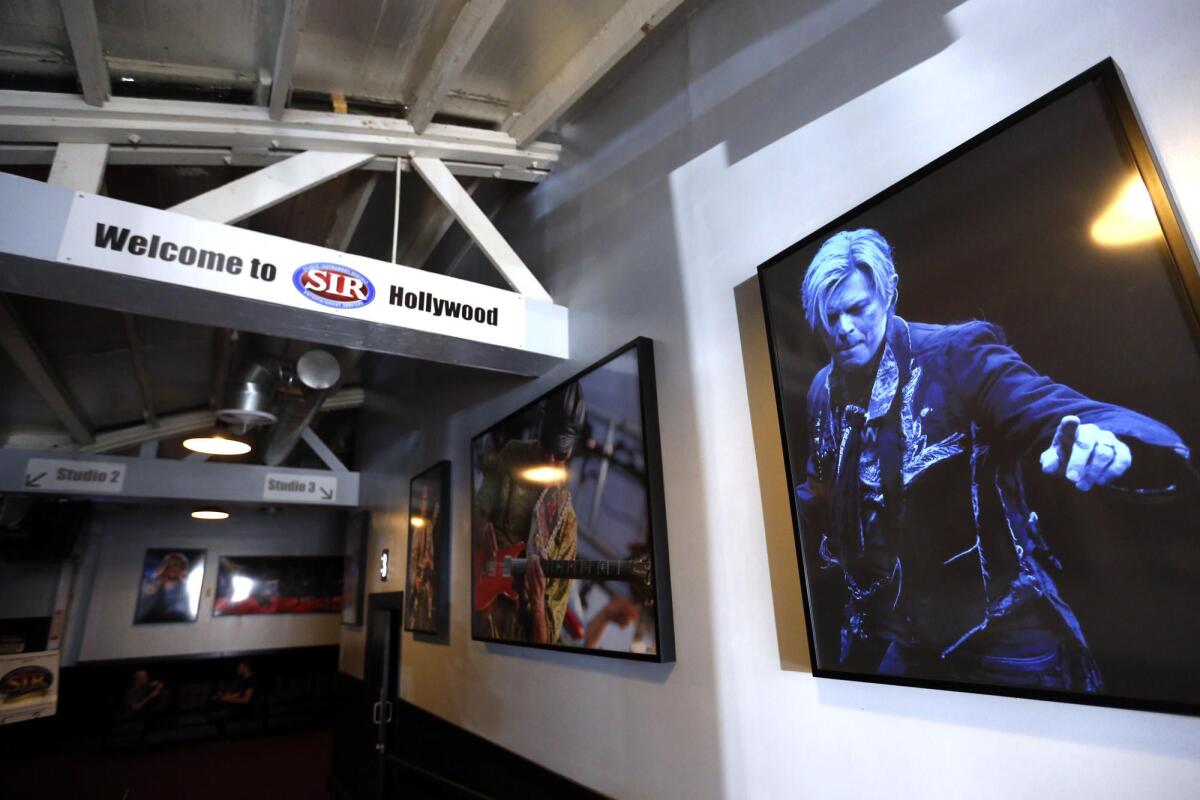 Sunset's memorable music moments feature the Beach Boys, Love, Prince, X, Earl Sweatshirt and more
Attempting to quantify the volume of music stories that have transpired across the 22 miles of Sunset Boulevard is a fool's game. But a few well-arranged snapshots from the thoroughfare's recording studios, venues, record labels and shops across the decades can capture a range of tastes, genres and attitudes.
The Rolling Stones recorded "(I Can't Get No) Satisfaction" at RCA Studios on Sunset. Prince recorded "Purple Rain" a few blocks down and across the street at Sunset Sound.
The Beach Boys recorded much of "Pet Sounds" on Sunset. The list goes on: Linda Ronstadt, Miles Davis, Aretha Franklin, Whitney Houston, k.d. lang and more recorded key records along its path.
The narrative tributaries angle off at every intersection, carrying stories about wild studio sessions and wilder nights chucking TV sets out of hotel windows, of epiphanies and overdoses and record label wars.
Barney Hoskyns, author of "Waiting for the Sun: A Rock & Roll History of Los Angeles," calls the boulevard "the story of a journey, historically and geographically. A kind of river of history."
Follow this map of Sunset Boulevard's musical memories
Over the course of Sunset Boulevard's life, hundreds of labels, studios, venues and publishers have come and gone. Gigs that seemed crucial in the moment have dissipated. Memories of debauchery have blurred. So-called "sure hit records" have missed. Stories, however, remain. Below, a few pieces of the Sunset puzzle as recorded in recent books and interviews.
A history of pop music is written along Sunset Boulevard
The boulevard, first recorded as Sunset in 1888, is indexed in virtually every book about Los Angeles and music, and is mentioned in hundreds of songs by artists — Steely Dan, Tupac Shakur, Donna Summer, Grant Lee Buffalo, to name but a few. It's a symbol for a certain kind of sun-drenched spirit.
Given the proper guidance, it's possible to glide westbound along Sunset's 22 miles from downtown Los Angeles to the beach without once using your blinker and cruise past musical sites that have helped define pop culture.