Music mogul Lou Adler on opening the Roxy and his life up and down Sunset Boulevard
From his excursions as a Boyle Heights kid to setting up shop in a Sunset Strip office for his labels, festival planning and ownership stakes in famous clubs, Lou Adler watched the rise of the modern music business from various locations along Sunset Boulevard.
If Rodney Bingenheimer is the mayor of the Sunset Strip, then Adler is its musical commander in chief, a man who, along with investors including Elmer Valentine, Mario Maglieri and others, helped transform the Sunset Strip starting in the early 1960s and who built a career doing business across its 22 miles.
He ran his label Ode, most famous for releasing Carole King's "Tapestry," from Herb Alpert's A&M Records compound, where it was recorded, just off the intersection of Sunset and La Brea Avenue.
Adler, 83, carries a vast trove of information about Sunset. Below, excerpts of a recent conversation about the storied music boulevard.
---
What are your earliest recollections of Sunset Boulevard?
I grew up in Boyle Heights and probably started to going to Sunset Boulevard when I was just out of the Navy, probably 20 years old. The first thing I remember was the Purple Onion, which was sort of a jazz dance club, and on certain nights they had dance contests and the rest of the nights they had jazz.
I remember some nights they had Gil Bernal — "Sex on the Sax." That's the first thing I recall, and that's before I had anything to do with the music business.
How did you start in the business?
The first thing music-wise, Lester Sill had an office on Sunset Boulevard, who I took some songs to. This was '58, and he was a publisher.
But for me the most prominent thing about Sunset Boulevard was my office, at 6515 Sunset Blvd., which was right next door to a lounge club that was pretty popular. That was the West Coast office for the publisher Alden Music — Donny Kirshner.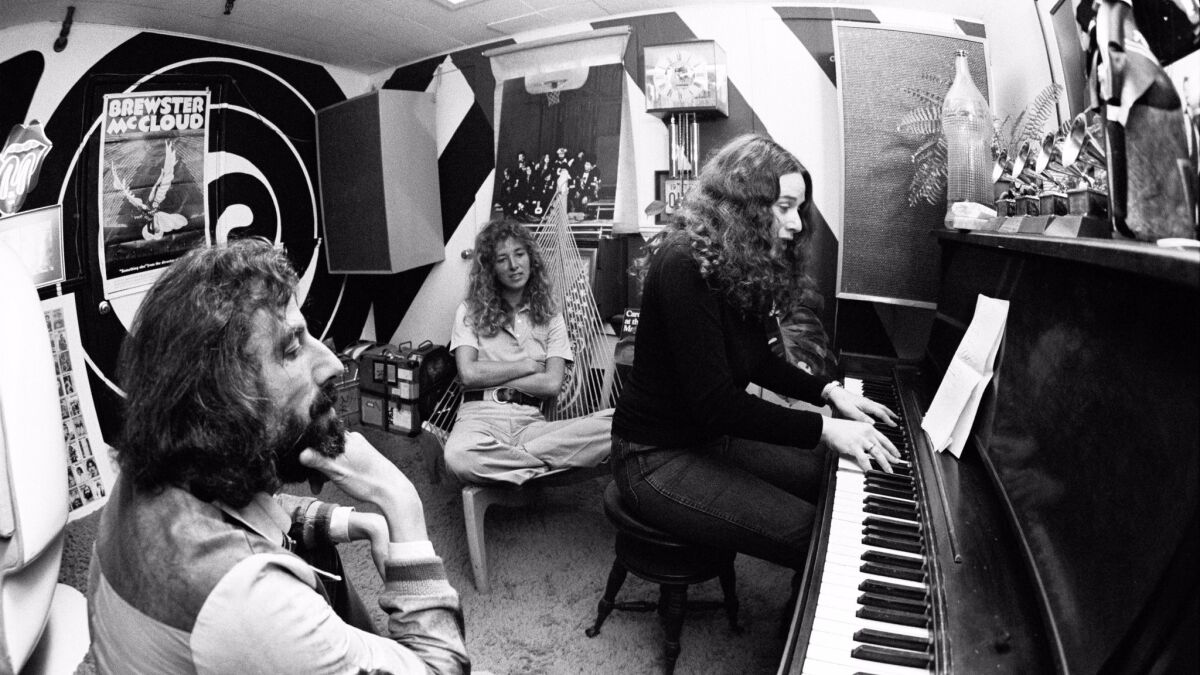 What about recording studios?
I recorded most of the early things at Western Recorders, some at United but not much.
Before it started to become popular as a rock 'n' roll recording place, they did a lot of radio broadcasts there, and the first act that I recorded there would have been Jan & Dean.
That's also where I recorded Johnny Rivers when we went into the studio — the early things were done at the Whisky, also on Sunset.
Barry McGuire — I produced "Eve of Destruction" [at Western Recorders]. We were doing an album and he asked if he could bring some friends down. I said, "Bring them down and when we take a break I'll listen to them." That's how I heard the Mamas & the Papas for the first time. Brian Wilson also used the same studio — Studio 3 at Western — and then if he wanted to do anything with strings or horns then he would go into the bigger studio.
FULL COVERAGE: Mapping Sunset Boulevard's musical history »
Why did you decide to invest in opening the Roxy?
The Troubadour was the only game in town as far as rock 'n' roll. Even though it was folk-ish, they started playing a lot of rock 'n' roll artists, and they were very tough on the musicians. You had to sign a seven-time engagement contract — and the money never got very good.
When [Whisky a Go Go and Rainbow co-owner] Elmer Valentine said to me, "You know, we should open this club." I thought, "Let's do it. Let's make the best rock 'n' roll club that L.A. has seen, with the best sound and the best seating and treat everybody really good."
It's remarkable how much Sunset Boulevard has affected music culture.
I think so. The office for the first Monterey Pop Festival was on Sunset, at the old Renaissance Club — which was across from Ciro's [now the Comedy Store] — and became the House of Blues.
For tips, records, snapshots and stories on Los Angeles music culture, follow Randall Roberts on Twitter and Instagram: @liledit. Email: randall.roberts@latimes.com.
---
Your essential guide to the arts in L.A.
Get Carolina A. Miranda's weekly newsletter for what's happening, plus openings, critics' picks and more.
You may occasionally receive promotional content from the Los Angeles Times.