Whisky a Go Go, once a launchpad for bands, faces a less go-go era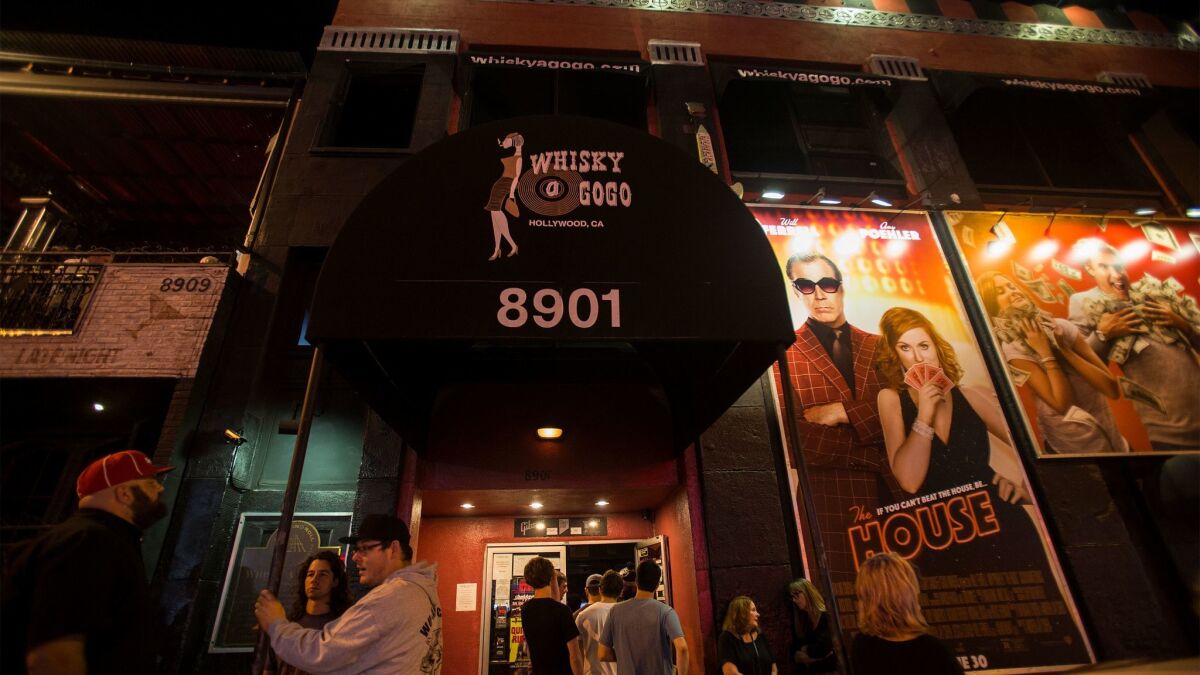 The storied venue the Whisky a Go Go, which has occupied the corner of Sunset Boulevard and Clark Street on and off since 1964, has seen its share of action.
This is the joint, after all, where go-go dancing was born, where Otis Redding brought soul to the Sunset Strip, where the Doors played almost 100 times, where the L.A. punk bands the Germs, X, the Runaways and the Go-Go's got early career boosts and where Guns N' Roses and a legion of metalheads fomented a movement.
That history seemed inconsequential on a recent Friday night as a trio of weekend warriors called Third Power Project stood in front of a crowd of a few dozen tourists and fellow travelers.
Now a "pay-to-play" venue that requires acts to pony up in advance for stage time and promote their own shows, the Whisky long ago stopped chasing music's next-generation visionaries.
FULL COVERAGE: Mapping Sunset Boulevard's musical history »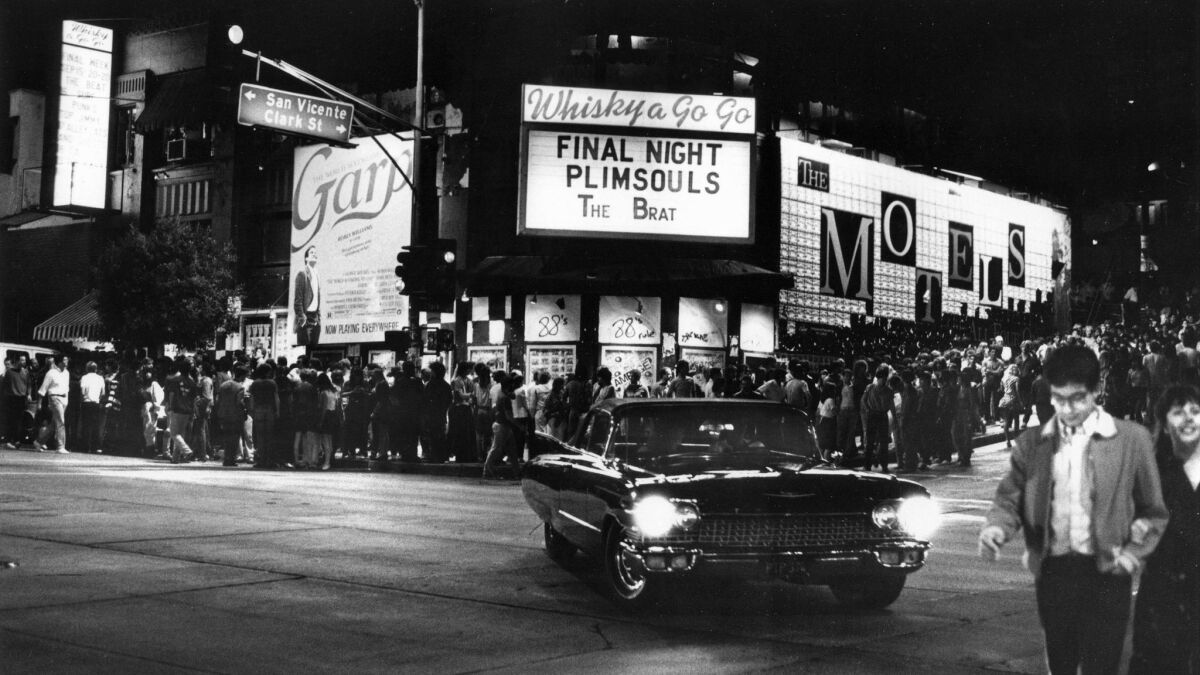 That night, one vocalist read lyrics from a music stand and downed shots between songs.
Behind the bar, two bartenders looked at each other and grimaced after a particularly bum bass note. In the balcony, a middle-aged rocker with a KISS road crew T-shirt and some friends sat around Jack Daniel's-branded bar tables and nodded their heads.
Between acts, the club cranked classic rock songs, including Deep Purple's "Smoke on the Water" and Quiet Riot's version of "We're Not Gonna Take It" — or, as one sarcastic twentysomething observed, "All the great songs."
This year the Whisky marked a sad milestone when its longtime manager and owner Mario Maglieri passed away at 93.
The club is still owned by the Maglieri family, and Mario's granddaughter, Tisa Mylar, serves as the on-the-floor general manager.
She stood outside the club with a bouncer while, inside, a white rapper and his producer had taken the stage and were spitting some amateur rhymes. A few feet away, the next band on the bill was guarding its gear while awaiting its moment of glory.
"You came on a slow Friday," Mylar said before encouraging a departing club-goer to return the next night. The heavy metal supergroup Hellyeah, featuring former members of Mudvayne, Nothingface and Pantera, was headlining.
"It'll be packed tomorrow night," the bouncer added.
For tips, records, snapshots and stories on Los Angeles music culture, follow Randall Roberts on Twitter and Instagram: @liledit. Email: randall.roberts@latimes.com.
---
Get our L.A. Goes Out newsletter, with the week's best events, to help you explore and experience our city.
You may occasionally receive promotional content from the Los Angeles Times.