All-star tribute to David Lynch lights up the Ace Hotel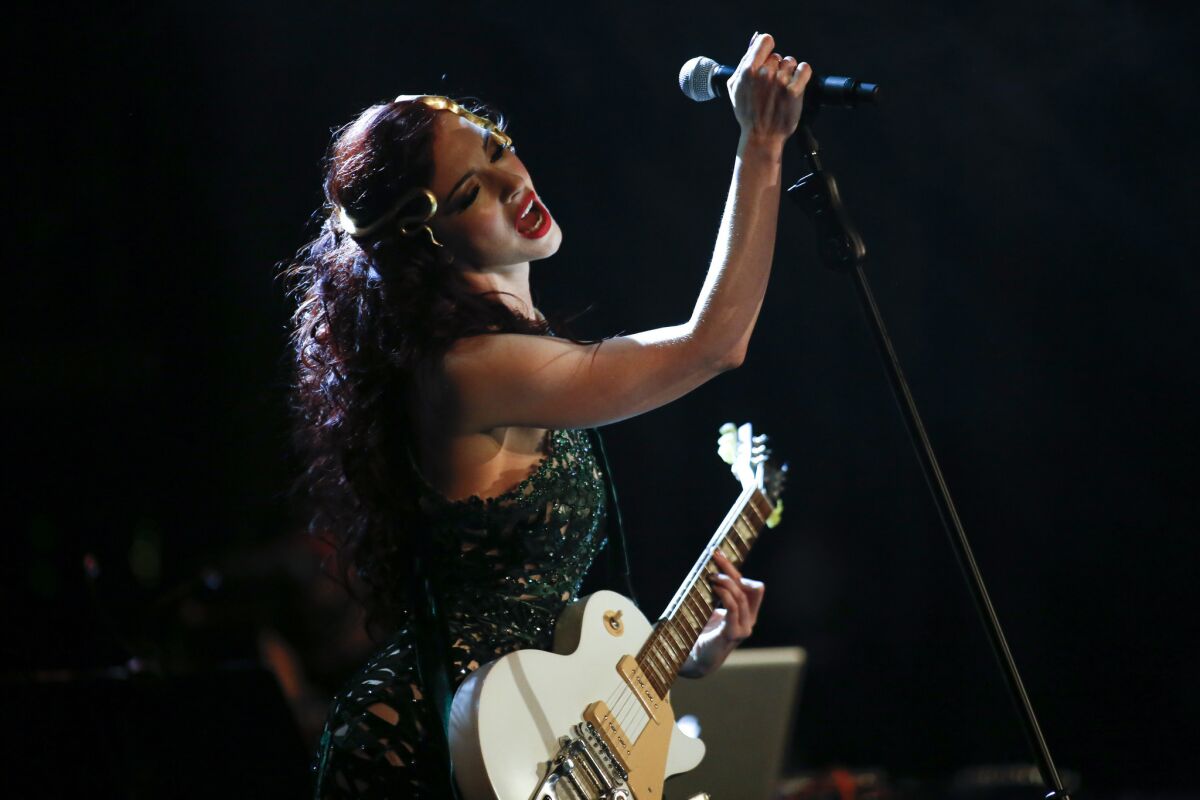 At an afternoon rehearsal in downtown Los Angeles, Flaming Lips frontman Wayne Coyne was on his knees making noise. Bearded and bushy-haired, Coyne lifted a device that crackled with static while partner Steven Drodz stood at a keyboard playing Samuel Barber's deeply emotional "Adagio For Strings," used to staggering effect by director David Lynch in 1980's "The Elephant Man."
The result was waves of beauty and clatter, or the sound of humanity and industry colliding. Coyne then read a poem from Lord Tennyson as the lights above pulsed slow and ominously: "Nothing will die / The stream flows, the wind blows, the cloud fleets, the heart beats ..."
It was a glimpse of the night to come Wednesday night at The Theatre at the Ace Hotel, where "The Music of David Lynch" would be performed by a long roster of artists including Angelo Badalamenti, Duran Duran, Moby, Karen O, Lykee Li and Zola Jesus.
Watching the rehearsal from the near-empty theater was Bob Roth, executive director and co-founder of the David Lynch Foundation, who noted that the filmmaker was not generally comfortable with self-celebration, especially on this kind of scale. "This is the only time this will ever happen," Roth said with a knowing smile. "The only reason he agreed to it is because it supports the foundation."
The sold-out concert was a benefit for the foundation's mission to bring Transcendental Meditation to schools and was expected to provide free instruction to 1,000 local students as an escape from sometimes-chaotic surroundings.
Hours earlier, Lynch relaxed in his painting studio high in the Hollywood Hills, a thick layer of foam in his cup of cappuccino matching the waves of gray hair piled high on his head. He hasn't missed his twice-daily meditations in 41 years and has made sharing what he's learned of TM a major undertaking, raising funds in part from an ongoing series of music events on both coasts.
"It's truly expanding," he says of the mental technique. "Negativity starts to lift away. That consciousness within is all positive. It's unbounded love, unbounded energy and unbounded peace."
In 2009, former Beatles Paul McCartney and Ringo Starr led a concert benefit for Lynch's foundation at Radio City Music Hall. "A lot of musicians do Transcendental Meditation now," said Lynch, "and they see what it does for them, and they see how it can help so many other people."
Lynch credits friend and composer Badalamenti with bringing him deeper into the "beautiful world" of music through their work on his multiple film and TV projects, including "Twin Peaks." But even on projects without Badalamenti's involvement, there has been a through-line of sonic texture and shadow, including on Lynch's own album "The Big Dream" in 2013 and his searing and sultry collaboration with singer Chrysta Bell, "This Train."
"I guess I like it low and slow, but I also like so many kinds of music," Lynch said, dressed in khakis with a black shirt and jacket. "I love what sound can do, what music can do, and to marry to the picture and make the whole thing greater than the sum of the parts."
Lynch's work has opened him to a wide range of sounds, including the speed-metal riffs that sent Nicolas Cage and Laura Dern into spasms of ecstasy in 1990's "Wild At Heart." But the layers of emotion he found with Badalamenti have a special place in his work.
"Angelo does what he calls 'suspensions,' " Lynch explained. "He has this gift of pulling on the heartstrings. It's a deep and powerful beauty. It speaks to people on an emotional level that is undeniable. It takes over."
Wednesday night at the Ace, the concert began in perhaps the only way it could, with Badalamenti at the piano leading a brooding "Laura Palmer's Theme." Joined by two other keyboardists, the sound was all dread and aching vulnerability, mixed emotions that set the tone for the night.
Soon after was one of the show's true highlights, as Lynch muse Chrysta Bell arrived in sky-high heels to sing "Swing With Me," a song co-written and produced by Lynch. Slashing wicked upstrokes on a white electric guitar, the singer's voice was rich and breathless against the house band's bluesy echo.
Her torrid closing line captured the moment: "I wish this night would never end."
Another elegant, forceful performance began as Rebekah Del Rio whispered "silencio" into the mike (re-creating a mysterious moment from Lynch's "Mullholland Drive") and erupted with the bold Spanish a cappella of "Llorando." Sky Ferreira's powerful reading of "Blue Velvet" was scorching and sweet, like the teen romance it describes.
The band Tennis recast Roy Orbison's tortured "In Dreams" into a jangly Laurel Canyon-like rocker, singer Alaina Moore's voice warm and soaring. Jim James of My Morning Jacket arrived in suit and tie with saxophonist Jim Bruening to sing a stressed and wounded "Sycamore Trees" like a man in need in of TM quiet time.
Re-creating her collaboration from Lynch's "Crazy Clown Time" album, Karen O of the Yeah Yeah Yeahs was biting and anxious to echoing slices of electric guitar on "Pinky's Dream." Backed by pedal steel, Donovan sang a warbled, eerie "Love Me Tender," first recorded by Elvis Presley, Lynch's earliest music idol.
Lykke Li delivered an angry, fragile reinterpretation of "Wicked Game," and Moby filled the Ace with a sudden blast of adrenaline, pounding the congas and excitedly pacing the stage as he mingled bits of "Laura Palmer's Theme" with an accelerating beat and three more singers.
Near the end, a short film by Lynch called "The Three R's" offered a comic nightmare vision of the modern school experience, followed by a clip from NBC News on the success of TM in schools, where it's been tried to help lessen student violence and raise test scores.
Closing the night was Duran Duran, who became part of the Lynch musical oeuvre in 2011 when the filmmaker directed an online broadcast of the band in concert from Los Angeles. Dressed in a salmon-colored suit, singer Simon Le Bon noted the influence of Lynch's 1977 film "Eraserhead" on a generation of art students, then dived into "Hungry Like the Wolf" and a fittingly hopeful and dramatic "Ordinary World."
Lynch appeared only briefly onstage in the show's final moments to read "a verse of unknown origin" as Donovan strummed an acoustic guitar: "May everyone be happy. May everyone be free of disease. May auspiciousness be singing everywhere. May suffering belong to no one. Peace."
Get our L.A. Goes Out newsletter, with the week's best events, to help you explore and experience our city.
You may occasionally receive promotional content from the Los Angeles Times.