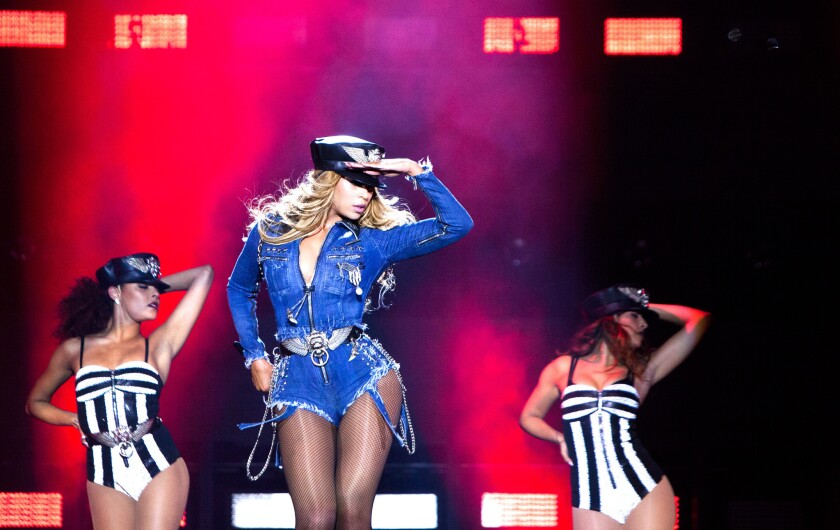 The deluxe edition of Beyoncé's surprise, self-titled album isn't due for a few more days, but the two new tracks included on the four-disc set have leaked. Late Tuesday club banger "7/11" and the breezy reggae-tinged "Ring Off" surfaced online.
On "7/11," produced by Bobby Johnson and Detail, she's looking to pack dance floors. "Legs moving side to side, smack it in the air," Bey rap-sings in a warbly double-time cadence reminiscent of her early days with Destiny's Child.
While "7/11" is nonsensical fun for the club or treadmill, "Ring Off" digs into deeply personal terrain.
Despite a year being dogged with rumors and reports that she and superstar husband Jay Z were on the outs after footage surfaced of sister Solange attacking the rapper in an elevator, the new tune, while aimed at moving on after a divorce, isn't about Bey. It's about her parents, and it's a celebratory ode for her mother.
Produced by Mike Caren, the track finds Bey detailing observing her mother's pain over a crumbling marriage and watching her love again.
"You used to dress and fix your hair / Then you smiled through your tears / In the mirror you would stare / And say a prayer / Like I wish he said I'm beautiful / I wish it didn't hurt at all," she sings to her mother. "Until you had enough then you took that ring off … So tired of the lies and trying, fighting, crying."
Some tabloids, sour their anonymous sources failed them, may try to spin the song as the singer's warning to Mr. Carter (Us Weekly already has), but Bey makes her intentions clear. She references her gleeful love anthem "Love on Top" and her mother's new man (accomplished actor Richard Lawson) before ending the song with a recent speech by mom, Tina Knowles, where she detailed her post-divorce life.
The song is a rare, personal turn for the notoriously guarded singer.
In her HBO documentary she opened up about the strained relationship with her father, Mathew Knowles, who used to manage her and guided her to stardom with Destiny's Child before she professionally severed ties with him in 2011.
But she has never spoken about the demise of her parents' union. Tina filed for divorce in 2009 shortly after Mathew was named in a paternity suit. He was proved to be the father and was recently named in a second paternity test, which also came back positive. "Ring Off" is likely the closest thing to a response that she will offer.
"Mama, you live and learn, that's just the way life goes / Always know that you've got a daughter / That's so, so proud you took the high road," she tells her mother on the new track.
Earlier this month the singer announced the Platinum Edition Box Set of the album.
The four-disc set will contain two cds and two DVDs, which includes a disc of new music and a live performance DVD from her Mrs. Carter Show World Tour along with a mini version of her official calendar. The original 14 songs and 17 videos that made up the project will also be included.
Remixes of "Drunk in Love," "Blow" and "Flawless" will be included on the bonus disc, along with a remix of previously unreleased fan favorite (and H&M promotional cut) "Standing on the Sun."
The box set will arrive Nov. 24. A stand-alone EP featuring the new music, remixes and live performances will also be available.
Listen to snippets of both tracks on the singer's official Soundcloud (the full tracks can be found with some sleuthing, if they haven't been pulled).
Follow me @GerrickKennedy
---