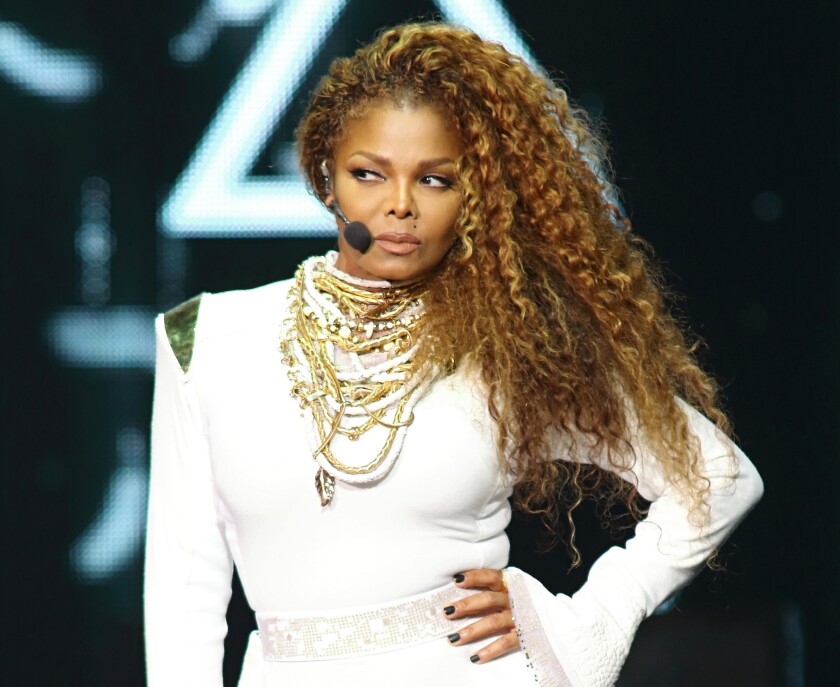 Before Janet Jackson made her much anticipated return to music earlier this year, it had been seven years since her last full body of work — but you wouldn't know it.
More than 30 years after she first broke in music, Jackson's influence remains omnipresent in today's pop landscape.
From Rihanna's sexual freedom and Beyonce's push for female empowerment to Ciara's acrobatic footwork to FKA Twigs and Tinashe's slinky, imaginative interpretations of R&B, it's all born from the blueprint Jackson drafted when she stepped out of the shadows of her more famous siblings and debuted the innovative R&B-pop she crafted alongside inventive production duo Jimmy Jam and Terry Lewis.
SIGN UP for the free Essential Arts & Culture newsletter >>
Even rappers Kendrick Lamar and Drake looked to the pop singer for inspiration, building their 2013 hit "Poetic Justice," which gleaned its title from one of her film's, around a Jackson sample. (That both were only age 6 when the movie was released is further proof of her timelessness.)
It's that bridging of the past and present, while nodding toward the future, that's served as the basis of Jackson's comeback.
"Unbreakable," her latest No. 1 album and her first since 2008, took the fusion of R&B, funk, disco and rock that drove her early, seminal discography and reinterpreted a more mature spin of it, but without chasing the mores of current pop. She has, after all, spent three decades navigating whatever space she desires.
And Friday night's concert at the Forum, part of a world tour that will keep her on the road through next year (she returns to L.A. in May with a date at the Hollywood Bowl) pushed the idea further.
After emerging onstage amid a dark, Hitchcock-like video intro that featured a flurry of black animated birds — one used its beak to yank an arrow from its chest before soaring above the rest, presumably a metaphor for the personal and professional hurdles the singer faced in recent decades — Jackson ripped through a high-octane set crammed with dozens of her ubiquitous smashes.
When she wasn't linking different eras of her own influential discography — which spans across groove-heavy bedroom R&B, neo-soul, dance-pop, disco, house, industrial, new jack swing, funk and more — she mined current sonics.
Take the show's opening salvo. Jackson wasn't even finished with the funk explosion of "Burnitup!", her new duet with Missy Elliott, when she sampled Elliott's synth-heavy 2005 club banger "Lose Control." Just as the crowd dug in, the beat dropped into 1986's "Control."
It was a seamless move that felt like Jackson's subtle way of reminding the sold-out crowd that trendsetting has been the central thesis of her career. If it's happened in pop within the last three decades, there's a thread that moves back to her.
And much of the night was about connecting the lines.
The sass and aggression of her quintessential kiss-off "Nasty" became more scathing when it was interpolated with Big Sean's profane anthem "IDFWU."
Late '80s dance-pop gem "When I Think Of You" isn't too far from the breezy disco swing she offered two decades later on "All For You," so of course the two tunes came back-to-back.
When she slowed the pace for a segment of ballads, "I Get Lonely" was turned into a moodier burner that reminded you how much the titillating alternative R&B of the Weeknd and Miguel was born from Jackson's sweat-soaked bedroom playbook.
And she didn't revisit steamy ballad "Anytime, Anyplace" without exploring the Lamar and Drake hit it inspired years later before moving to her current hit "No Sleep," itself a throwback to the downtempo neo-soul grooves of tunes like "Got 'Til It's Gone" and "That's the Way Love Goes" (both were performed next).
Armed with a muscular eight-piece band and a crew of all-female dancers that recalled the militant spirit of "Rhythm Nation," Jackson feverishly tore through routine after routine. The production wasn't flashy, it was a modest yet sophisticated set of platforms and stairs for her dancers to play off of and a number of video screens that offered tight closeups of Jackson, who barely broke a sweat as she moved through complex choreography.
"So many hits guys, I'm just getting started," she smiled after tearing through "What Have You Done for Me Lately," "The Pleasure Principle" and "Escapade" without blinking. In fact she had already cut across hits from three decades before she even took her first, quick, breather.
Hit revues are often rebuffed by venerable acts like Jackson, instead opting to build tours around new material and tossing in a few classics.
But for an act like Jackson, who has maintained the kind of cross-generational reach that's rare in contemporary pop (she's finally up for induction to the Rock and Roll Hall of Fame), it would have felt like a disservice if she overlooked much of the discography that helped her create the archetype for modern pop stardom.
And there was a lot of material to cover, too much in fact considering she's scored more than 30 No. 1's across a myriad of charts. Jackson worked hard to squeeze as much into the taut 90 minute set as possible. That meant some tracks were truncated and scaled back to more familiar hooks and verses, and a number of most known songs were skipped altogether.
For those of us who looked to Jackson to provide the soundtrack to our feelings about love, lust, heartbreak, spirituality, sexual liberation, pain and politics, Friday's show was largely a heady trip to the past.
Jackson, however, didn't ignore her present -- even if she doesn't mine the lengthy "Unbreakable" beyond a very small handful of tracks.
She sang live the entire night -- almost unheard of with today's pop arena spectacles -- with her most arresting vocals coming during new tunes: "After You Fall," a tender ballad built around just a piano and Jackson's voice, and "Shoulda Known Better," an EDM-inspired song of protest (a young child in the "Hands up, don't shoot" pose lingered on screen to drive home the song's message).
Throughout Jackson's comeback trail, much has been said about her more demure persona in both tone and appearance, and Friday's showing was no different.
The singer was covered from neck to toe in a chic ensemble of black leather and chiffon, her hair a red cloud of curls that nearly fell to her waist, and she bypassed much of the kinkier romps in her discography — although the audience was thrilled that she included the orgasmic house romp "Throb" in the set.
Make no mistake, however, with every bend, snap, shoulder pop, tongue flicker, fierce diva pose and hip thrust, Jackson exuded more sex appeal than any of today's pop stars who opt to bare skin in a bid to envelope push — but again, she's already been there and done that.
For more music news, follow me on Twitter: @gerrickkennedy
---