Review: 'Doctor Who' prepares for a goodbye, and hello to an uneven 'Class'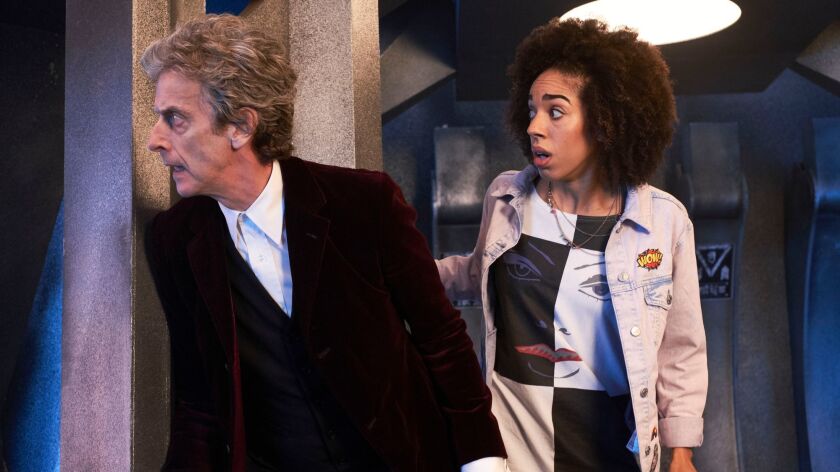 "Doctor Who" returns to Earth Saturday night on BBC America, after a year away (except for December's traditional Christmas episode). For those unfamiliar with this incomparably long-running sci-fi series-cum-British institution about an alien traveler in time and space, change is baked into its DNA: The Doctor periodically regenerates into a new version of himself, differently played by a different actor, but more or less the same person. (It's quite quantum.)
But there is a changing rotation too of sidekicks – "companions" – who complement or contrast and in different ways complete the Doctor's character. This practice is mirrored on the production level by the more occasional swapping out of show runners, which all means that, at any given time, there will be great disagreement on how the show is faring and whether this Doctor or companion is as good as the last.
Most of its faults, at least, are sins of ambition. If the 20th century version of the series was easily mocked as a pasteboard construction in spite of its having helped shape the minds of generations of Britons, the 21st century reboot has thought big and often deep, at times to a fault. Current show runner Steven Moffat has subjected Peter Capaldi's Twelfth Doctor to a surfeit of sober self-reflection, I have felt, when he comes most alive in action or comedy. Fortunately, Moffat has a talent for farce and for packing meaning into a joke.
The title of the new season opener, "The Pilot," refers to something within the story but also reminds us that (most) every season in this show is a new beginning. Capaldi continues as the Doctor, with the valuable Matt Lucas ("Little Britain") still around as comic foil Nardole; but Pearl Mackie is new, replacing Jenna Coleman (who left to play Queen Victoria on "Victoria") as the prime companion. Her Bill is a cafeteria worker at the university where the Doctor has been laying low, after a fashion, for reasons yet to be revealed.
He's become a popular lecturer there — mixing poetry and physics, which he declares to be the same thing, "because of the rhymes" — with his phone box-shaped time-space machine parked in a corner of his office, a pencil box full of sonic screwdrivers and framed photos on his desk of Susan Ford (the First Doctor's granddaughter) and River Song (complicated late love interest). This is a show that gives the gift of self-reference.
"Most people when they don't understand something they frown," the Doctor tells Bill, whom he has seen sitting in on his lectures. "You smile." He becomes her tutor, though small visual clues suggest that his interest is not merely academic.
I like Capaldi in the role, his dark Scottish humor; I like that he's an older Doctor, in the early tradition of the show. That Moffat never successfully defined his relationship to Coleman's overcomplicated Clara Oswald -- who had previously been the companion of Matt Smiths' much younger Eleventh Doctor – was a drag on their shared seasons, but the new round begins very promisingly, with the Doctor explicitly a mentor to Bill. (Possibly more – but not, in any case, romantically more; Mackie's character is gay, perhaps in part to get that recurring question off the table from the start.)
We begin the year knowing that it has been announced as Capaldi's last (and Moffat's as well) and that there will, therefore, be some sort of death-like reckoning awaiting him and us not too many episodes away. It's a shame, really, that this particular arrangement of actors and characters won't last — the new season is running strong out of the gate — but I am set to enjoy them while it does.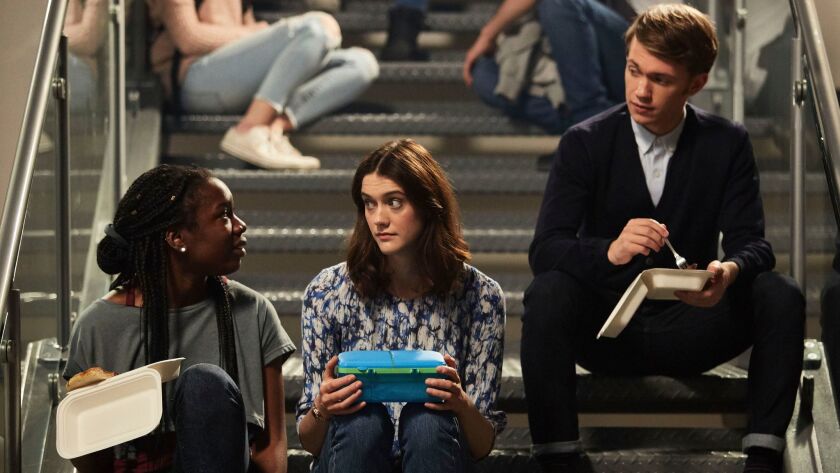 "Doctor Who" is a series with a multigenerational audience, catering specifically to neither young nor old. But success makes a franchise, and it was spun off into two since-departed, more demographically particular shows: "The Sarah Jane Adventures" for the kids, and "Torchwood" for the adults. Now comes "Class," also premiering Saturday on BBC America, in which the principal characters are high school students.
As there has been before in the Whoniverse, a rip in the fabric of space-time has threatened the good people of Earth (and the bad ones too) with perils from beyond this plane. This particular breach in reality happens to be located at the Coal Hill Academy, a school that has appeared in "Doctor Who" throughout the years. Other references to the mother show, and a cameo appearance by Capaldi, make the franchise official and strengthen the new series' infrastructure.
Like many teen and genre fictions, it has the blessing/curse of self-consciousness: There are pointed references to "Buffy the Vampire Slayer" and the attractiveness of characters on "The Vampire Diaries." (The characters here, you will not be surprised, are also attractive.) One episode, titled "Detention," seems meant to play off John Hughes' "The Breakfast Club." Mixing teen themes and tropes is the source both of humor and drama, as when characters argue about their relationship as monsters stand waiting, with surprising patience, to try to kill them.
The eight-episode first season has been created and entirely written by Patrick Ness, a British American author of YA novels ("A Monster Calls"), but as TV storytelling it feels muddled and mechanical. Where "Doctor Who" apportions crumbs on the way to finally making sense of an episode or an arc, "Class" drops them all at once on the table and tries to mash them into a loaf. It tells you too much, too fast. Romances feel constructed rather than chemical. Scenes run too long and characters explain too much — to the point that other characters will urge them to hurry up and get on with it.
Still, there are enjoyable moments, and it does offer the opportunity to spend a little more canonical time in the Doctor's world. The female roles are especially strong and well played, especially compared with their male counterparts, who tend to be mopey and dopey. (Well, that's lifelike enough, I suppose.)
Sophie Hopkins is winning as the musical nice girl who is "tougher than they think," as are Vivian Oparah as a 14-year-old prodigy and Katherine Kelly as a nails-tough alien freedom fighter telepathically enslaved as a bodyguard to her sworn enemy (Greg Austin), hiding out as a student at Coal Hill. She's passing as a teacher, a mean one. It's a character fit for "Doctor Who."
'Doctor Who'
Where: BBC America
When: 9 p.m. Saturday
Rating: TV-PG (may be unsuitable for young children)
'Class'
Where: BBC America
When: 10:10 p.m. Saturday
Rating: TV-14 (may be unsuitable for children under the age of 14)
Follow Robert Lloyd on Twitter @LATimesTVLloyd
ALSO:
Peter Capaldi to leave 'Doctor Who,' opening the door to new possibilities for the long-running character
Peter Capaldi: The Doctor who is almost in
---
Get our daily Entertainment newsletter
Get the day's top stories on Hollywood, film, television, music, arts, culture and more.
You may occasionally receive promotional content from the Los Angeles Times.