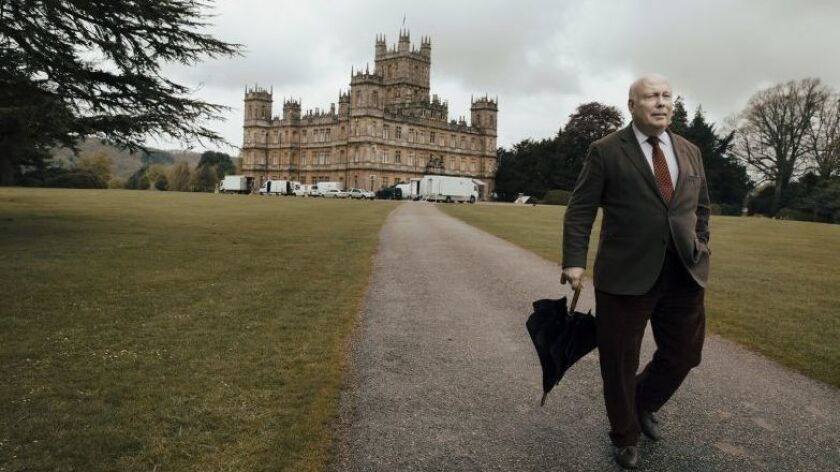 The team behind "Downton Abbey" is working on a new show filled with opulence and glamour — and ripe for drama.
Titled "The Gilded Age," the 10-episode series for HBO will be set in New York during the landmark year of 1885, "a period of immense economic change, of huge fortunes made and lost, and the rise of disparity between old money and new money, which is being reflected again today," according to Thursday's announcement.
The HBO/Universal Television project — from creator, writer and executive producer Julian Fellowes, fellow executive producer Gareth Neame and director and executive producer Michael Engler, and previously in development at NBC — will center on Marian Brook, the young, orphaned daughter of a Southern general, as she moves into the home of her rigid, old-fashioned aunts in New York City. She is accompanied by the mysterious Peggy Scott, an African American woman masquerading as her maid.
The episodes will follow Marian as she gets entangled in the lives of her incredibly rich neighbors, including a ruthless railroad tycoon and his ambitious wife struggling for acceptance by the Astor and Vanderbilt set.
"It has been a dream of mine for some time, as I am fascinated by this brutal and intensely glamorous period of America's history," Fellowes said in a statement. "It will be about ambition, of course, and envy and hatred and, perhaps most of all, about love. I hope people will enjoy the series. I know I will enjoy making it."
Added Neame, "This is a compelling part of the American story and has remarkable parallels with the world we live in as these people set many of the wheels in motion that drive us today."
"Downton Abbey" ran for six seasons and wrapped in 2015. The British historical period drama holds the record for being the most nominated non-U.S. show in the history of the Emmys, with 69 nominations and 15 wins. A big-screen follow-up, also from the aforementioned trio, will be released in theaters Sept. 20.
While "The Gilded Age" shares much of the DNA that made "Downton Abbey" an international hit, it also has a major difference even before filming has begun: racial diversity.
Thursday's announcement of the character Peggy Scott means that an African American character will be featured onscreen from the beginning of the series, and play a more prominent part than Gary Carr did in "Downton." As musician Jack Ross, Carr was the series' first notable black character, but appeared in only four episodes of its fourth season, which explored the Jazz Age.
Ross, who strikes up a romance with Lily James' Rose MacClare, was partly created as a response to concerns about the lack of racial diversity on "Downton," and Fellowes hasn't seemed to forgotten about it.
In 2012, he told The Daily Telegraph, "It would be rather nice to open [the show] up ethnically a bit. I think that's rather a good idea. You have to work it in a way that is historically believable, but I am sure we could do that."
Twitter: @cashleelee
---