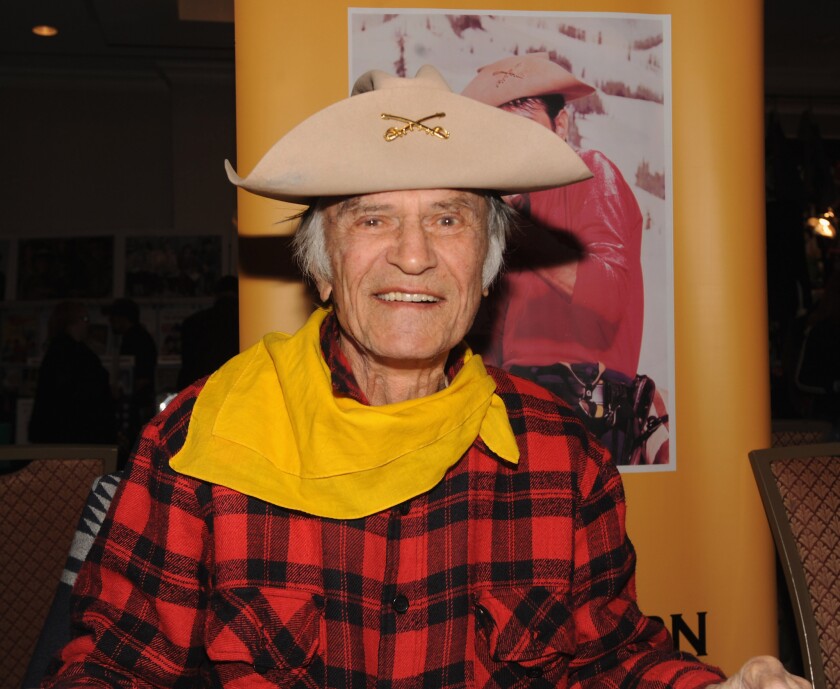 Larry Storch kept his classmates at DeWitt Clinton High School in the Bronx in stitches with his impressions of such famed actors as Claude Rains and Basil Rathbone and "The Wizard of Oz" himself, Frank Morgan.
"That's why I never graduated," he quipped over the phone from New York. "I was invited to never come back. My mother wanted me to stay in high school and get a diploma. The principal told her my record was so bad, let him go out and learn what he's going to be in life."
So at the age of 17, Storch made his professional debut doing impressions at a strip club in Albany, N.Y. The audience wasn't quite as receptive as his schoolmates.
"When the boss found out that all I did was impressions and nothing on the dirty side, he took me aside and said, 'Larry, you are a nice kid, and I like you, but I'm afraid I've got to fire you.' I was fired opening night on my very first job in show business."
Despite his shaky start, Storch has been leaving them laughing for the last 74 years on stage, TV — he was Jackie Gleason's summer replacement in 1953 — movies and theater. His best known role remains Cpl. Agarn, the bumbling sidekick of the double-dealing Sgt. O'Rourke (Forrest Tucker) on the 1965-67 sitcom "F Troop."
On Thursday, the 91-year-old will be making his final L.A. stand-up performance at the Comedy Store on the Sunset Strip. And five days later, Storch will get his star on the Palm Springs Walk of Fame.
The Comedy Store show, "Larry Storch Live: At Ease Boys and Girls!" will also feature appearances by Bernie Kopell, Hank Garrett, Bob Burns, Ken Berry, who starred with him on "F Troop," and Marion Ross.
Berry, who will be introducing Storch, had been a longtime fan of his comedy and impressions even before "F Troop."
"He used to do things like 'The Ed Sullivan Show,'" said Berry. "I never saw anyone work like that before. Working with Larry and some of those other guys was great — it was like recess every day."
Garrett, who will be performing some of his own stand-up act Thursday night, worked with Storch when the comedian guest-starred in the 1961-63 NBC sitcom "Car 54, Where Are You?" Garrett played officer Ed Nicholson on the comedy series.
"I learned so much watching Larry," said Garrett, who, like Berry, has remained close with Storch. "I call him all the time. He's an amazing guy — 91 years old, and he does yoga headstands."
The Comedy Store played an important part in Storch's early career. Then known as the famed Ciro's nightclub, Storch made his first professional comedy appearance there after serving, along with a young Tony Curtis, in the U.S. Navy on the submarine the USS Proteus during World War II.
"I wanted to hitchhike across the country [to New York] in my sailor's uniform because nobody would refuse a sailor," said Storch.
As fate would have it, bandleader Phil Harris picked him up in Los Angeles. "He said, 'Get in sailor,' " recalled Storch, who told Harris he was heading to New York.
"He said, 'Your first stop will be Palm Springs,'" noted Storch.
On the way to the desert, Storch told him about his comedy background and did his impressions. "When we got to Palm Springs, he turned the car around and said we're going back to Hollywood," said Storch.
"He takes me to Ciro's nightclub, and sitting in an empty room was Lucille Ball listening to her husband, Desi Arnaz, rehearse the band for tomorrow evening's opening. He said do a couple of voices for Lucille. I did Frank Morgan and various actors. She said lose the sailor suit, get into a blue suit and be here tomorrow at 8 p.m. You will lead off, and Desi will follow you onstage. That's the way it worked out."
---------------------------
'Larry Storch Live: At Ease, Boys and Girls!'
Where: The Comedy Store, 8433 W. Sunset Blvd., Los Angeles
When: Thursday at 7 p.m.
Admission: $30
---