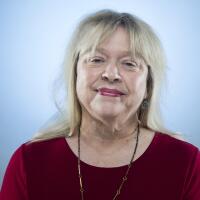 Susan King is a former entertainment writer at the Los Angeles Times who specialized in Classic Hollywood stories. She also wrote about independent, foreign and studio movies and occasionally TV and theater stories. Born in East Orange, N.J., she received her master's degree in film history and criticism at USC. She worked for 10 years at the L.A. Herald Examiner and came to work at The Times in January 1990. She left in 2016.
Latest From This Author
Glitz up your 2020 holiday shopping with our classic Hollywood gift guide featuring fun DVDs, books, games, and more.

Diane Baker, Diane Ladd and the writers and director of the movie "Seberg" reflect on the tumultuous life and mysterious death of the 1960s New Wave star.

Kirk Douglas, who died today at age 103, was known for many roles, but "Spartacus" may have been his greatest.

Grab a blanket and cuddle up with this holiday flicks

Robert Morse, an Emmy nominee for "Mad Men," will appear at the Aug. 14 screening of the 1967 musical "How to Succeed in Business Without Really Trying."

"The Zoo: San Diego" is the latest in a spate of Animal Planet docuseries to focus on conservation, not captivity, at world-class zoos and aquariums.

Chris Pine, J.J. Abrams, Jodie Foster and more select their favorite performances by the late actor Anton Yelchin.

Robert Townsend, the acclaimed director of such films as 1987's "Hollywood Shuffle" and 1991's "The Five Heartbeats," got his start in the biz as a teenager with a one-line role in the 1975 African American teen dramedy "Cooley High."

Thirty years ago, Tracy Edwards and her female crew made history when they entered the male-dominated world of the Whitbread Round the World yacht race with their boat, the Maiden.

For more than 30 years, David Sheehan was a mainstay on local TV working as an entertainment reporter, reviewer and interviewer for KCBS and KNBC, as well as producing network specials and the syndicated "Movie Magic" series.