CNN is betting on Michaela Pereira to boost HLN and give the West Coast a live national morning show
It isn't easy for CNN's Michaela Pereira to get around Los Angeles without being recognized.
"I get stopped on the street by people who say, 'We'd get up at 3 in the morning to watch you on CNN, and we're so glad you're home,'" Pereira says from her office at CNN's Hollywood bureau, the base for her new morning show "Michaela," which debuts Monday on cable network HLN.
Sometimes, thanks to a CNN segment on her Jamaican roots, the greetings have included invitations for homemade oxtail.
"It's like they get what it's like to come home themselves," she says. "It's really moving."
Pereira's home for the last three years has been New York, where she co-hosted "New Day," CNN's most aggressive attempt to compete with NBC's "Today" and ABC's "Good Morning America." But before her 2013 move to CNN, home was Los Angeles. For nine years, she was a fixture on the rollicking "KTLA Morning News," the locally produced program that's competitive, ratings-wise, in Los Angeles with the network morning shows that emanate from New York.
Now, CNN Executive Vice President Ken Jautz has enlisted Pereira in his effort to revamp the cable news channel's sister network HLN.
See the most-read stories in Entertainment this hour »
Jautz has said he wants to bring HLN back to its "news roots." The addition of "Michaela" brings more live news programming to HLN. Instead of two repeat hours of "Morning Express With Robin Meade," Pereira's program, starting at 7 a.m. Pacific time, will serve as a national morning show for and from the West Coast. (The broadcast network morning shows are on tape delay with news updates, while most of the other cable news morning programs start at 3 a.m. Pacific time and are off the air by the time most Angelenos start their days.)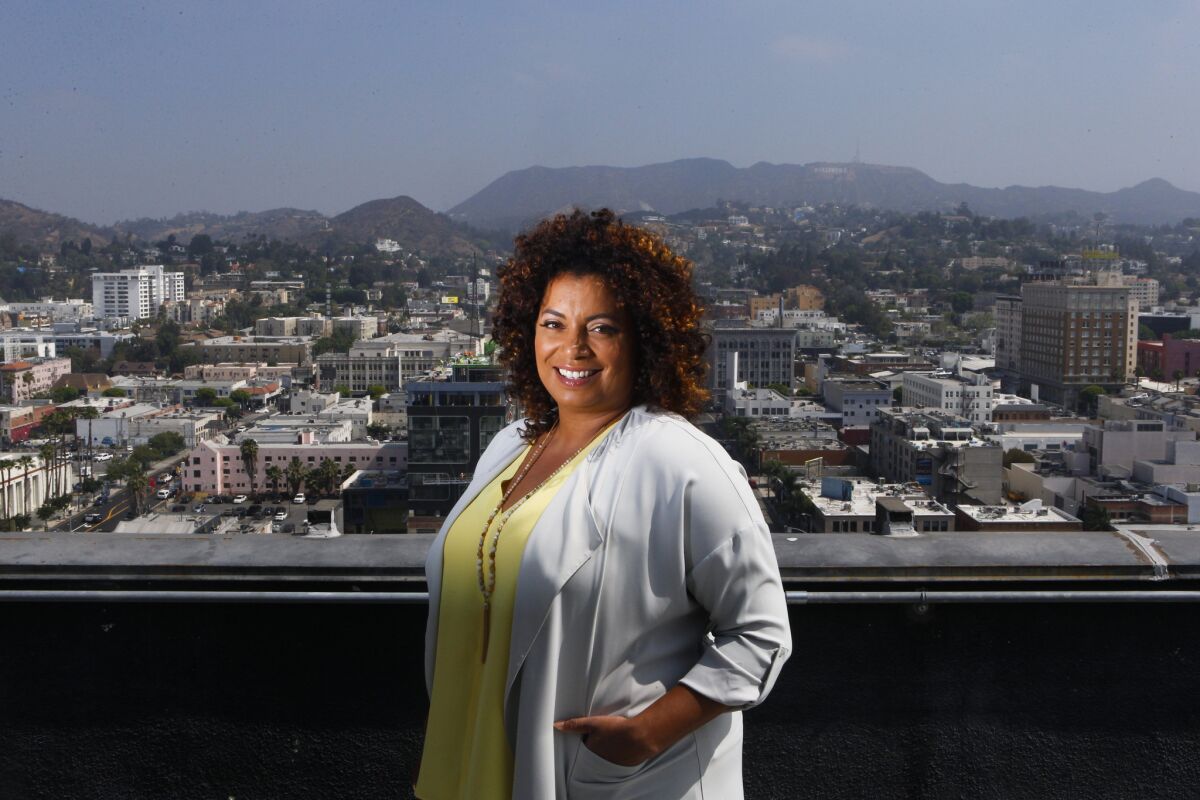 I was one of those who miscalculated the heart of this place, the power of this place.
— Michaela Pereira on Los Angeles
Once known as CNN Headline News, HLN in recent years had become a hodgepodge of courtroom coverage, true crime series and talk shows. The one constant on the channel has been the popular Atlanta-based "Morning Express," which serves up news and information in a less formal atmosphere than the New York-Washington nexus where most of CNN's broadcasts are located.
Jautz offered Pereira the chance to do a three-hour program with the same relaxed and personal approach of Meade's "Morning Express."
"People are going to be the focal point of this show," Pereira says. "It may be a celebrity nature. It may be everyday heroes. It may be folks doing something in their community."
Pereira's people-focused approach is part of the reason she connects with viewers on- and off-camera, as well as co-workers.
"She was the person who was the ringleader that brought people together," says Scott Warren, Pereira's executive producer at KTLA who is reuniting with her at HLN. "She was kind of the mom on set that could call somebody out."
What's more, Pereira is a distinctive presence, thanks to her thick, dark, curly hair that no producer or TV consultant would dare change after the auspicious run she's had. ("Natural hair is very popular right now," she notes. "It's nice to know people have caught up with me.")
During her nine years in L.A., Pereira, 45, established deep roots in the community. She started a serious long-term relationship, bought a home, got involved with local charities and, in the years the Lakers were winning back-to-back NBA championships, even became a Clippers fan. "When you come to Los Angeles, you quickly have to decide your allegiance," she says. "I love an underdog."
Pereira's popularity even survived KTLA's controversial move to insert her into its 2006 Rose Parade coverage, which literally put one of the event's longtime TV stalwarts, Stephanie Edwards, out in the rain.
"People tried to make a fuss about it," she recalls. "But I didn't bite. I love that parade."
Eventually, Pereira's success locally led her to becoming one of them, as CNN poached her in 2013 to join "New Day." She left behind her Duffy boat rides off Long Beach, hikes in Runyon Canyon and flea markets at the Rose Bowl for a view of yellow taxis swirling around New York's Columbus Circle outside CNN's headquarters. It was a long way from her local TV start in her native Victoria, Canada, and the now-defunct Tech TV cable network.
"Leaving KTLA wasn't a snap decision," she says. "I prayed about it. I took the counsel of my nearest and dearest. I weighed the pros and cons. It's not an easy thing to leave a very beloved and comfortable, respected place. It was tough."
Once she made up her mind, though, Pereira was all in at CNN. She sold her home in L.A. ("How could I keep real estate in Los Angeles and afford a New York rental?") and settled in alongside co-anchors Chris Cuomo and Kate Bolduan, and later, Alisyn Camerota. The combination worked. In 2015, "New Day" gave CNN its best ratings in the 6 to 9 a.m. Eastern time slot in four years.
"I went to have an adventure," she says. "It was the most challenging thing I've done professionally and perhaps personally."
But L.A. was still on her mind. "The love affair that I fell into and enjoyed and have still with me – it snuck up on me and surprised me," she says. "I was one of those who miscalculated the heart of this place, the power of this place."
Pereira hoped she would be back one day. She longed to be on the same coast as her adoptive parents in British Columbia and her boyfriend (a self-employed Los Angeles native who is "not in the business" is all Pereira will reveal about him).
Warren describes the West Coast as Pereira's comfort zone, and he plans to feature her enjoying this place. "You can sense that she's had this big exhale," he says. "She's really happy to be back here."
ALSO
More women come forward as Fox News CEO Roger Ailes fights sexual harassment lawsuit by former anchor Gretchen Carlson
NPR president Jarl Mohn is betting on smart, addictive podcasts to hook millennials
Classic game shows are making a comeback this summer: What's behind the enduring appeal
Get our L.A. Goes Out newsletter, with the week's best events, to help you explore and experience our city.
You may occasionally receive promotional content from the Los Angeles Times.