LL Cool J brings his chill to MSNBC's 'Story of Cool'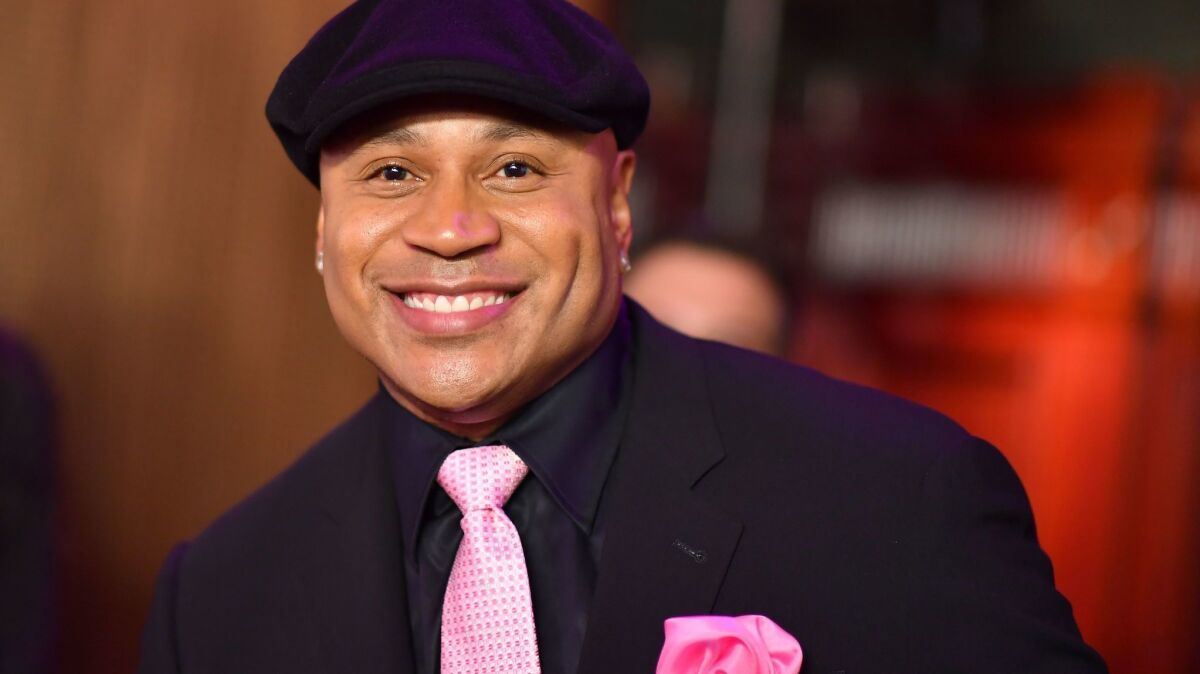 Grammy Award-winning hip-hop artist and actor LL Cool J has amassed one of the longest resumes in the entertainment industry since he started making music in his grandparents' Queens, N.Y. basement in the 1980s.
The "NCIS: Los Angeles" costar and host of the Paramount Network hit "Lip Sync Battle" adds a new entry Sunday as the narrator and executive producer of "Story of Cool," a three-part documentary series on MSNBC (6 p.m. and 9 p.m. Pacific). Using commentary from an array of scholars, rappers and marketing executives, the series takes a sweeping look at the leaders and style icons whose ineffable essence left an indelible mark on American culture.
The project also gave an opening for the musician-actor to immerse himself in the TV documentary genre that has quietly been an obsession for him. He recently spoke about it from Los Angeles.
The shows focus on a wide range of renegades who had a lasting impact on the public. Is that how we should define cool?
LL Cool J: I walked away from the "case studies," for lack of a better word, feeling like it's still a moving target. I think that it really is up to the individual, it's up to you, it's up to your colleagues, it's up to your family, it's up to my colleagues, my family, to define what this "cool" thing is. Because at the end of the day some people love Christian Louboutin and some people love Birkenstocks, you know what I mean? And it's a very personal thing. Now, there is something, it seems, that is inherently cool about the idea of being an individual that can change the way the masses see things, or live, or move, or exist. I think that the question still remains. What is it? I think it's really a case-by-case basis. It has some science, but it seems like it's more art.
This project is different for you. Why did you say yes to it?
LL Cool J: I'm a closet nerd. I love books, I love documentaries, I love reading, I love learning, I love exploring new ideas. So when (Brooklyn, N.Y-based production company) Part2 came to me and said, "Hey, we have this idea for this thing 'Story of Cool,' " I thought it was interesting because it was an opportunity to really go beneath the surface, beneath the pop-culture fluff. Normally when you associate me with a project, you would think it would be a pet frog. But this was more of a dissection...You know, this is probably the most cerebral thing I've done in a long time. I've never really shown people this side of my "interests," for lack of a better word, or personality.
What documentaries have really moved you?
LL Cool J: Anything Ken Burns does is amazing. His documentary on jazz was unbelievable. His documentary on prohibition, and "Unforgivable Blackness" (about champion boxer Jack Johnson) were great. I even like some of the docudrama things like "The Men Who Built America." The documentary on Rockefeller's life, which is a really old A&E Biography, I think, is really cool, really well done. That actually inspired me to read the book. I've watched everything from Colonel Sanders to, I don't know, you name it, the Heinz family, the Du Ponts. It's just kind of my thing.
The "Story of Cool" segments on advertising presents examples of how hip-hop artists attached themselves to brands and still remained cool. Rock artists have been less successful at that, partly out of concern of being seen as selling out. How do hip-hop artists make it work so seamlessly?
LL Cool J: It's really cultural. Like, a lot of the rock guys come from communities where they want to hide their money, right? They don't want to look like they're having any success. And a lot of the rap guys come from communities where they're so used to not being successful that they want to show off and have the money phone to their ear the day they make it and have a big gold chain on. It's a cultural thing that just expresses itself that way… It's like, "Yo, wow, this guy was able to go and become a part of FUBU," or "Wow, this rapper was able to start his own label and discover this artist," and, "Oh man, this guy went and got an endorsement deal. That's amazing." That's very hard for a kid in the hood to imagine being able to do. So you're inspiring, you're being aspirational, you're creating a standard, that kind of leads them and guides them.
There's no shame in success. I think that the inner-city community and the hip-hop community is still very excited about the idea of seeing some success. And I think that the rock community is very excited about the idea that —"'we're successful, but we still want to be regular." I think you see both sides responding to the cultural pressures that exist in their neighborhoods where they grew up, you know what I'm saying?
In the episode about leadership, you designated three cool presidents: John Kennedy, Ronald Reagan and Barack Obama. Why did they make the cut?
LL Cool J: These were three that really stood out for different and fairly obvious reasons. JFK was the first time television came into play, and his image and the way he approached it was unbelievable. How could you argue with the way he changed the paradigm in terms of how he approached politics? Reagan, being a guy who came from Hollywood and then inspired people, was able to turn that corner. And the way he handled himself, always cool under pressure, being really, really simple and then doubling down on the simplicity, but still inspiring people. And Obama, who was always calm under pressure, always calm when people were critical of him, never lost his cool, never blew his top. I mean, it's hard to argue that those three guys aren't cool. You may not appreciate their politics, but we're talking about their character and who they are as individuals and their style.
There is a story in the episode on rivalries about how Dick Clark tried to take down "Soul Train," arguably the coolest TV show ever, with his own ersatz competitor called "Soul Unlimited." It didn't work out for him.
LL Cool J: Dick Clark, may he rest in peace, of course. It was a very interesting thing. You've got to do the thing that comes natural to you. … I think that authenticity is important. When you try to be all things to all people, whether it's as a brand, whether it's as an artist, or even as a human being, that's when you get yourself in trouble, you know what I'm saying? I think you can be a generalist. I think you can have a general knowledge of a lot of different things. But you have to act on the things that truly inspire you,
So are you an MSNBC viewer? Where do you get your news?
LL Cool J: I watch a lot of documentaries and I do a lot of reading. I'm not a news addict. Because I feel like when you only watch the news all day, it could be pretty depressing, and it can almost become toxic. I don't like the way I feel emotionally when I watch the news all day long. So I cherry-pick on YouTube, and that includes MSNBC of course. But it also includes CNN, and it also includes, some of the other channels, you know what I'm saying? I check them all out.
Can LL Cool J still be considered cool after receiving a Kennedy Center Honor?
LL Cool J: I think you're cooler [laughs]. I mean, that's a pretty cool club to be in when you look at the list of recipients. My family got to see me receive it. To be acknowledged at that level is a wonderful feeling as an artist, you know?
'Story of Cool'
Where: MSNBC
When: 6 p.m. Sunday
Get our L.A. Goes Out newsletter, with the week's best events, to help you explore and experience our city.
You may occasionally receive promotional content from the Los Angeles Times.