Review: Megyn Kelly gets outmaneuvered by Vladimir Putin on her NBC premiere 'Sunday Night'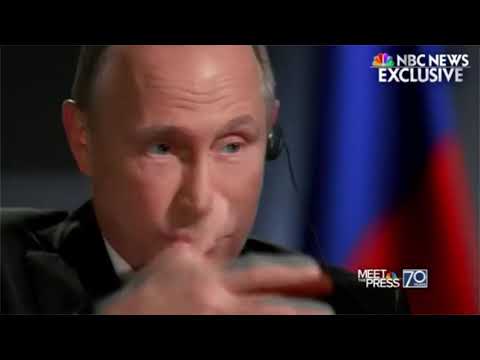 Putin talks about his relationship with Michael Flynn and claims of Russian hackers. (June 5, 2017) (Sign up for our free video newsletter here http://bit.ly/2n6VKPR)
Television Critic
"Sunday Night with Megyn Kelly" was many things for many people. For the former Fox personality, it was her major coming-out party on NBC. For Russian President Vladimir Putin, it was a game.
And for viewers, it was a chance to see if months and months of heavy buildup surrounding the network's new star anchor would pay off.
The hour-long news show promised to be "a tough conversation" between Kelly and the Russian leader. But for Putin, it was child's play as he displayed an elusive and ultimately dismissive demeanor toward Kelly.
The interview, which was teased for weeks on NBC as a must-see exclusive, lasted less than 10 minutes. But that was just about enough time to confirm that she's still not a great interviewer, and he's still one of the most deceptive interview subjects around.
Short of asking "How many people have you killed with your bare hands, Mr. Putin?," Kelly did everything she could to get something out of him other than smirks, huffs and "nyets."
Who on President Donald Trump's team did U.S. Russian Ambassador Sergey Kislyak meet with, she asked.
"There were no meetings," Putin said through an interpreter.
"No meetings between Ambassador Kislyak and anybody from the Trump campaign?" Kelly pressed.
He didn't know.
But wouldn't he know if such meetings were taking place, she asked.
"That's completely nonsense! Do you even understand what you're asking, or not?"
"Well, you're his boss," she said.
And that's about as far as that exchange went.
It was the most high-profile interview Kelly had conducted since sitting down with Trump at Fox back in May 2016. It was an anticipated event following her debate performance with Trump, in which he felt Kelly had treated him unfairly.
After the debate, Trump had attacked her repeatedly in the press and on social media. Their Fox sit-down was a chance to press him on his behavior and other issues. But she failed to seize the moment and was later criticized for it.
On "Sunday Night," Kelly came out of the gate in a much more forceful manner than she had with Trump, and asked much harder questions. But it was a poorly planned match in which to make an impressive launch for her series. She has to win over a wider audience than she had at Fox, and Putin ranks as one of the world's toughest interview subjects, a proven master of deception.
The interview took place in St. Petersburg over the weekend, after Kelly had moderated the St. Petersburg International Economic Forum, "Putin's signature event."
Clips were played from the event that showed Kelly asking Putin in front of 4,000 guests about Russia's role in the hacking of the 2016 U.S. presidential election.
Did Russia hack the U.S. election, she asked, pointing out that U.S. intelligence agencies had found ample evidence, "fingerprints," that it had meddled.
"What fingerprints, hoof prints, horn prints?," he answered dismissively. "What are you talking about? … It could come from your home IP address, as if your daughter carried out the attack."
The setup was a recipe for failure, especially for Kelly, who was hired for $15 million to $20 million by NBC last year after leaving Fox News, the conservative news outlet that had launched and propelled her career.
To make matters worse, Oliver Stone's "The Putin Interviews," where the filmmaker spent significantly more time with the Russian leader for a Showtime special, will air over four consecutive nights next week. They even watched "Dr. Strangelove" together. Poor Megyn Kelly.
Where Stone got more access, Kelly seemed to have little. She tried to deliver something substantive in under 10 minutes, and it wound up making her coming-out party more of a fizzle than a bang.
The segment was fleshed out slightly with small packages on Putin's background and a primer on the Russian/Trump investigation, but not much could be done with the thin interview that was left.
When Putin denied Russia had anything compromising on Trump, Kelly then segued into the next bit of their conversation the best she could, given that Putin was steering it the way of a bad spy novel: "Then the former KGB agent floated a Cold War conspiracy theory about U.S. dirty tricks," she said.
"There is a theory that Kennedy's assassination was arranged by the U.S. intelligence services," he said, "so if this theory is correct and can't be ruled out, then what could be easier in this day and age than using all the technical means at the disposal of intelligence services … [to point] the finger at Russia?"
Soon after that, Kelly threw the rest of the show to segments by other reporters on shady pharmaceutical companies and imperiled elephants.
'Sunday Night With Megyn Kelly'
Where: NBC
When: 7 p.m. Sunday
ALSO
Trump's tweets on London terrorist attack strike a combative tone
'Wonder Woman' lassos $100.5 million at box office; 'Captain Underpants' overperforms
Uproar over Bill Maher's remarks continues — can he weather another controversy?
Get our L.A. Goes Out newsletter, with the week's best events, to help you explore and experience our city.
You may occasionally receive promotional content from the Los Angeles Times.