Ex-'Bachelorette' segment producer discusses why she sued Warner Bros., alleging sexual harassment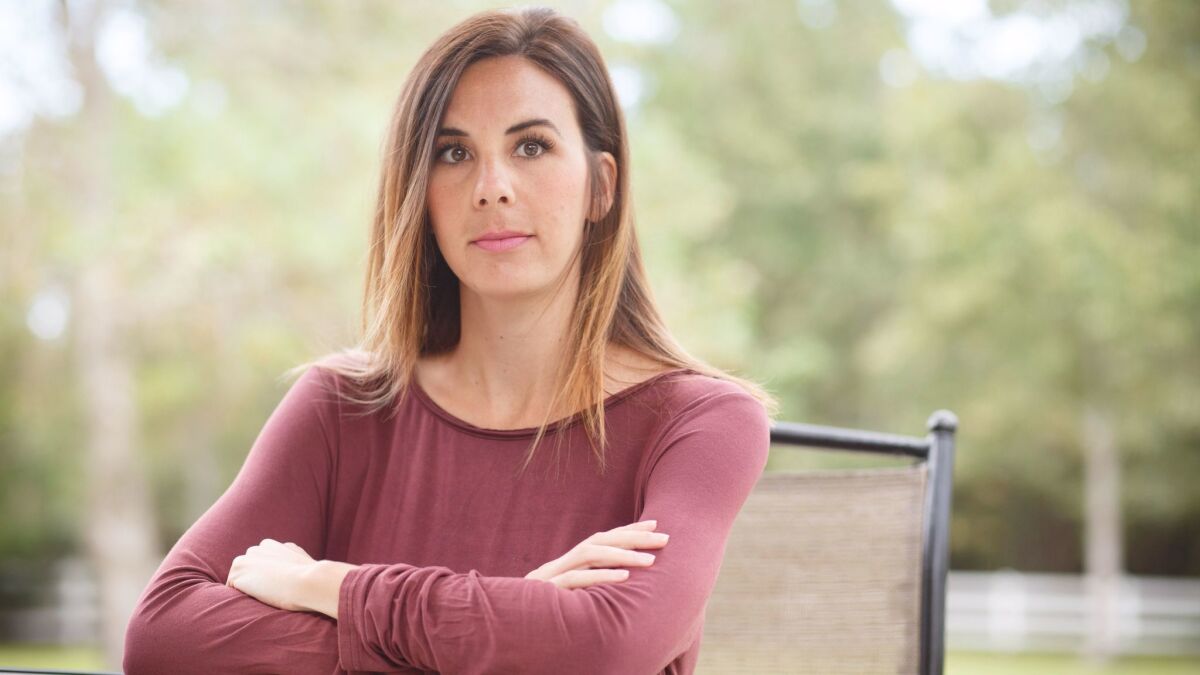 When Becky Steenhoek took a job on "The Bachelor," she knew there would be no way to avoid talking about sex. As she and the millions of fans who tune into ABC's reality show know, contestants often spend nights together in extravagant hotel rooms dubbed "Fantasy Suites."
What the 31-year-old television producer said she didn't realize was that she would be asked to discuss her own sex life. In a complaint filed Monday in Los Angeles Superior Court, Steenhoek said she was exposed to "pervasive and persistent sexual inquiries and language" during production of the 2016 season of "The Bachelorette" featuring JoJo Fletcher. She is suing Warner Bros., which produces the program, the show's production company and five "Bachelor" franchise producers, alleging sexual harassment and other claims.
In a statement, Warner Bros. said it takes "all allegations of workplace harassment very seriously" and that it investigated Steenhoek's claims earlier this year. "Our findings did not support the plaintiff's characterization of the events claimed to have taken place, which is why we are disappointed by the filing of this lawsuit," the company said.
In her complaint, Steenhoek said that producers Elan Gale, Bennett Graebner, Peter Scalettar, Jacqueline "Naz" Perez and Caitlin Stapleton frequently peppered her with graphic personal questions, including: "Is your vagina shaved?" "Have you ever sat under a shower faucet or touched yourself to masturbate?" "Have you ever fondled [testicles] before?"
When she complained to her supervisor, Stapleton, about how uncomfortable the line of questioning made her, she was fired, she claimed in the lawsuit.
"I know what the show is about — that they push boundaries, have sex in the fantasy suite and there's discussion about those things," Steenhoek said in a telephone interview with The Times from Texas, where she moved in with family after leaving the show. "However, I didn't think that as a crew member that I would be asked those really intimate questions. I'm not a contestant on the show. I didn't sign a contract basically signing my life over to the producers." Her suit is seeking damages for sexual harassment, sex discrimination, retaliation, failure to prevent harassment, intentional infliction of emotional distress and wrongful termination.
NZK Productions and four of the producers named in the complaint did not respond to a request for comment. Scalettar said he had no comment on the allegations. Earlier this year, after an investigation into misconduct on the set of the franchise spinoff "Bachelor in Paradise," Warner Bros. revised its policies regarding alcohol and sexual behavior on the part of the contestants.
Steenhoek's lawsuit represents a shift in the wave of sexual harassment allegations unleashed since the first reports of the Harvey Weinstein scandal. Instead of a single powerful man being accused of harassing a star or aspiring actress, in this case Steenhoek claimed multiple people, including two women, allegedly created a "hostile work environment" for an employee unknown to the general public. In 2006, the California Supreme Court issued a ruling in Lyle vs. Warner Bros., involving the television show "Friends." The court found a sexual harassment complaint could not be based on "the mere discussion of sex or use of vulgar language" heard in the writers room and noted that the comments were not directed at the plaintiff. Steenhoek, in this new complaint, claimed that the unwanted explicit language was directed at her personally.
She also alleged in the lawsuit that she was not allowed to continue work on the franchise because "her morals were getting in the way of her work" and "she was not being enough of a 'bitch.'"
Steenhoek grew up in Pella, Iowa, a small city in the Midwest with a population of roughly 10,000. She was raised in a Christian household and told The Times that faith was "really important" to her. Furthermore, she said in the lawsuit, she was sexually inexperienced and held "conservative views about sex."
After studying psychology at the University of Iowa, she moved to Hollywood in the hopes of pursuing a job in the television industry. Her first major job took her back to her home state: working as a production assistant on Iowa farmer Chris Soules' season of "The Bachelor" in 2014. She enjoyed the experience so much that she continued to work for the show until 2016, when the higher-ups asked her to be a segment producer on Fletcher's "Bachelorette" installment.
She was contracted to be paid $1,400 a week for the 10-week season and said she was told she would serve as "an emotional support system for JoJo" during the filming of "The Bachelorette." The executive producers thought Steenhoek would be a good fit for the job because "they felt I was a good person," she recalled.
She added that she and Fletcher got along well once production got underway.
"I knew that she looked to me to be there for her," Steenhoek said. "We would have serious conversations outside the show. We bonded over how we were raised and our families and things we really valued."
Fletcher did not respond to a request for comment.
As a segment producer, Steenhoek said, she also had the opportunity to interact with the show's top brass more frequently. As part of this "inner circle," she said in the lawsuit, on the way to a location shoot she shared a meal with the executive producers at the airport. When the group learned that their flight was delayed, they began discussing what they would be doing if they were home in their own beds instead, Steenhoek said.
Graeber said he would have been masturbating in bed with his wife, "describing in detail how he 'jacked off' onto his wife when they watched TV at night," Steenhoek contended in the complaint. Gale used an explicit word to describe the sex he said he would be having with his "girlfriend for two more hours," Steenhoek alleged.
"You could visibly tell it was very uncomfortable to me to witness, just because they did make comments like, 'Oh, Becky's blushing,' or 'Her ears are probably burning,'" Steenhoek said of the March 26, 2016 meal. "It was a bit of a theme that carried on throughout the season ... it was a fun time for them to see me get embarrassed."
Over the next two weeks, Steenhoek said, the sexual discussion continued. She would try to deflect the questions, "kind of laugh it off" or "remain silent."
"Whenever we weren't filming and we were together in a secluded group, it was all sex talk," she explained. "I didn't know that you could have that much talk about those types of things."
On April 9, 2016, Steenhoek alleged in the lawsuit that Stapleton asked her if she had ever fondled testicles. Steenhoek said she replied that she was not going to answer the question and that these kinds of conversations made her uncomfortable.
"I said I didn't think it had any relevance to us succeeding at our jobs or helping the show," she said. "It was unnecessary and it was affecting me negatively, and all I wanted to do was do my job and do it well."
The following morning, Stapleton apologized to Steenhoek and told her, she alleged in the complaint, "This is the way of the industry and world that we live in."
"She just told me, 'Listen, this is just how it is,'" Steenhoek said. "'These are middle-aged white men. This is locker-room talk. This is their way of showing that they're trying to bond with you.'"
Within days of complaining to Stapleton, Steenhoek said, she was suddenly excluded from production meetings and relegated to running menial errands for her bosses, including fetching their meals and making sure the food was to their liking.
Then, on April 17, while in line with others in the production team to board a plane from Argentina back to the U.S., Steenhoek said she was informed by Graebner that she would not be needed for the remainder of the season.
"He said they needed someone in this role who was a bitchier person and that I wasn't being enough of a bitch and that my morals were not a good fit with the show," Steenhoek told The Times. "When I was hired for the job, the reason they told me I was being hired because I did have the morals and they felt I was a good person. And then here I am being fired because of that reason."
Shelley Carling, who was Steenhoek's roommate in L.A., said her friend was extremely upset upon returning home. "She was crying a lot," Carling said. "I'm a Mormon, so I'm pretty conservative, and I'd say she's even more clean-cut. She's a very moral person, but she's not preachy at all. She just lives what she believes."
Steenhoek had been planning on what she said was a promised position on an upcoming season of "Bachelor in Paradise," but she soon learned that she would not be needed there, either. Back in the States, supervising producer Louis Caric reiterated that she was not a "good fit" with the franchise, the complaint detailed.
"He told me that the entertainment world wasn't a good fit for me and that I should reconsider my dreams," Steenhoek said. "So that was just a really discouraging conversation."
Following her exit from the show, Steenhoek took a few more production assistant jobs in the television business, but in January she decided to move in with her sister in Texas to "work through things."
"It tainted my whole view of the industry," she said, growing somber. "I had a dream of exploring this industry and then it was like, listen, you're never gonna fit in here."
Follow me on Twitter @AmyKinLA
ALSO
Hollywood's man problem may be a matter of simple math
Kevin Spacey's apology for alleged sexual misconduct triggers swift backlash
Weinstein sex accusations show the power of social media and the limits of shame in our celebrity-driven world
---
UPDATES:
2:34 p.m.: This article was updated to include a statement from Warner Bros.
7:15 p.m.: This article was updated with new information throughout.
This article was originally published at 12:40 p.m.
---
Get our L.A. Goes Out newsletter, with the week's best events, to help you explore and experience our city.
You may occasionally receive promotional content from the Los Angeles Times.