'Where the Bears Are' strikes a comic chord with a gay subculture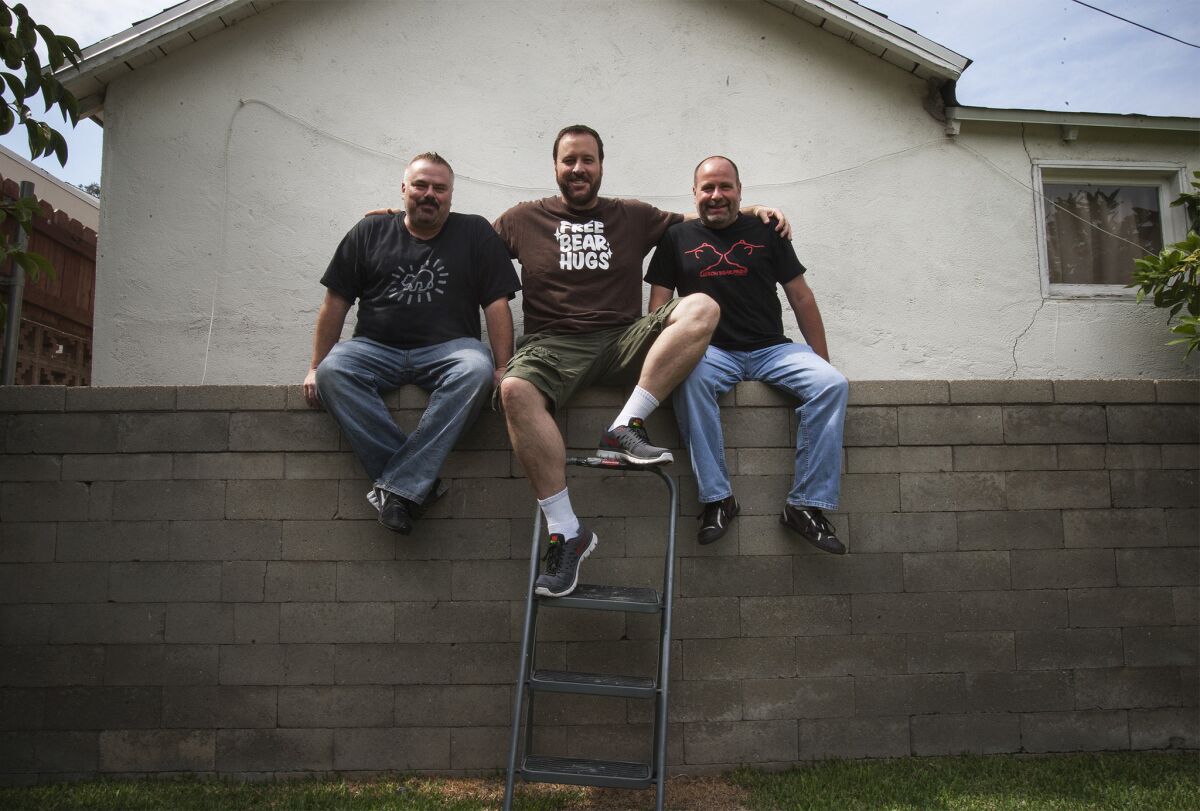 There's a bear on the bed: 280 pounds. Covered in hair. Fast asleep.
He's startled awake. There's a young man in the room, a good-looking one, and the bear's face is hidden behind a bulky rubber mask.
"I have sleep apnea!" the bear says, yanking off the mask. "I look completely ridiculous. It's an overweight bear thing."
The young man doesn't seem to care. He gives the bear, who's celebrating the fifth anniversary of his 40th birthday, a kiss.
Welcome to the world of "Where the Bears Are," an online comedy series about ursine creatures of a different sort: big, hairy gay men.
It's "The Golden Girls" with a middle-aged male twist — three beefy gay roommates gabbing about boyfriends, sex and aging. Los Angeles screenwriter Ben Zook, 50, plays the bear with sleep apnea (that's his own mask, thank you very much), and the very first shot of the series was a long pan up his big, bare belly.
"If you look at all the gay TV shows, you don't see a lot of guys who look like us," said Rick Copp, 50, who created the show with Zook and Zook's husband, Joe Dietl, 49. "Any gay character you'd see on television was perfect-looking, with no fat, no body hair, no facial hair."
Indeed, "Where the Bears Are" and its raunchy humor have struck a chord in the fast-growing gay subculture of bears. The Web series, now in its third season, hit 10 million views on YouTube and Vimeo last month.
There have been at least 22 episodes in each of its three seasons, with each episode running about six to 10 minutes. The three creators funded the first season entirely out of pocket and produced Season 2 with money from DVD and merchandise sales. For Season 3, they raised $160,000 through a Kickstarter campaign.
"Bears" follows the exploits of Nelson (Zook), Wood (Dietl) and Reggie (Copp), who happen to get tangled up in murder mysteries between trips to well-known Los Angeles bear hangouts, like the Eagle LA bar in Silver Lake and Oil Can Harry's in Studio City.
Even as they hunt for killers, the characters joke about topics familiar to the bear audience.
When Nelson is threatened by a man wielding a syringe full of poison, the man tells him, "It stops the heart. And with your high cholesterol and blood pressure, who'll question it?"
"Dr. Harvey Rosenblatt will! My triglyceride numbers went down 50 points in my last physical. Don't kill me! I worked so hard to get those numbers down!"
The series started small, filming in Zook and Dietl's house and around Silver Lake with a tiny crew of friends. But almost as soon as they posted it to YouTube, they started getting messages from viewers asking them to take their shirts off.
College professors began using them in lectures about gay subcultures. Gay bars in Portugal and England wanted to play the series.
"They play 'The Golden Girls' in some bars," said Copp, who was a writer on that show. "I always thought to myself, I wish I could do something cool enough that the gays would show in bars."
"We thought people would just want to see young, hot guys," Dietl added, laughing. "It was not something we were expecting at our age, to become sex symbols."
The term "bear" began as an obscure reference to men who felt like outliers in the gay community.
After the Stonewall riots in 1969, young gay men who had been derided as "sissies" began celebrating gym-buffed bodies, said Les Wright, editor of the bear history tome "The Bear Book." At the same time, the media portrayed gay men as comically effeminate and "gym trim," he said.
"People started using the term 'bear' for the not-so-thin build, with body hair and a bigger belly," Wright said. Bears were typically older men, and some had taken to wearing small teddy bears in their pockets when going to bars to signify they liked to cuddle — a tongue-in-cheek take on the regimentedness of popular, highly sexualized gay culture, Wright said.
The movement took off with an obscure flier photocopied in two San Francisco men's apartment in 1987 called BEAR. The underground magazine featured photographs of hirsute men, often wearing baseball caps and working-class uniforms.
Today, there are bear bars, bear apps, even a bear flag. The International Bear Brotherhood Flag, as it's called, features brown, gold, white, gray and black stripes — the colors of hair.
Once known mostly just within the gay community, bears have become much more mainstream because of the Internet and bear-specific media, said Steven Wolfe, the editor of BEAR Magazine. The online-only publication has seen huge growth in Latin American countries, including Mexico and Brazil, where traditional masculine roles are idealized, Wolfe said.
"Guys are free to basically be attracted to whoever they wish to be attracted to," Wolfe said. "Macho doesn't mean just being with women anymore. The bear movement has become international."
On a sweltering July afternoon, the guys behind "Where the Bears Are" were huddled in their new office behind Zook and Dietl's Glassell Park house.
Their third-season launch was only a few weeks away, and there was still so much to do. Several episodes were still unedited. A white board on the wall was covered in sticky notes with filming dates and deadlines.
As they watched a rough cut of the first episode, Dietl's character — a former porn star for Chunk Studios — posed on screen for a reunion calendar of hairy men.
"Isn't there going to be music there?" Zook asked, face serious. "Are there different shots of this?"
"I felt like it dragged too much," added Copp, who also wrote for the TV show "Wings." We should tighten it up."
As their audience has grown, so has their professionalism, said the men — who call themselves 3 Bears Entertainment.
The show began as a labor of love — an idea cooked up by the three actors and writers while they were drinking cocktails in a hot tub a few years ago. They thought they'd get a few hundred views if they were lucky.
As they went through edits, Copp yawned, fighting jet lag. They had just returned from an Australian bear convention called Southern HiBearNation. They were billed as the main attraction, the "bearlebrities" of the week.
A lot of bears say the show resonates with them because it makes no apologies for the characters' being gay, promiscuous or overweight.
Zook, the heaviest of the show's creators, appears shirtless often in the series and even competes in a Mr. Bear Chest contest at the Eagle LA bar and does a pole dance at Faultline Bar in East Hollywood.
"I love using my body for laughter," said Zook, a theater actor and writer who was given story credit for Adam Sandler's 2011 movie "Jack and Jill." "I've had weight issues all my life. For years, I was very self-conscious, with crash diets and eating disorders. I finally thought, 'You know what? It doesn't matter.'"
In what's been popular for their viewers, Zook's character even wins the love of a younger, attractive bear character named Todd, who's a bartender at the Eagle. They call him Hot Toddy.
As the main characters toast that new relationship in one scene, Dietl's character looks at his friends and smiles.
"You guys," he says.
"Don't say it," Zook's character responds.
"Bear hug!"
---
Get our L.A. Goes Out newsletter, with the week's best events, to help you explore and experience our city.
You may occasionally receive promotional content from the Los Angeles Times.