Snapchat meets the on-trend '80s at Balmain's Paris Fashion Week show
The finale of the Balmain fall/winter runway show at Paris Fashion Week on March 2.
(Francois Guillot / AFP/Getty Images)
Balmain's fall and winter 2018 collection had a retro-future blast of color thanks to iridescent fabrics and paillettes.
(Pascal Le Segretain / Getty Images)
Balmain's fall and winter 2018 runway collection was also heavy on the black-and-white looks and strong shoulders.
(Pascal Le Segretain / Getty Images)
The finale of the Maison Margiela fall/winter show on Feb. 28, 2018, at Paris Fashion Week.
(Francois Guillot / AFP / Getty Images)
Looks from the fall and winter 2018 Maison Margiela collection at Paris Fashion Week.
(From left, Francois Guillot / AFP/Getty Images, Thibault Camus / AP Photo, Francois Durand / Getty Images)
Standout looks from Balmain's fall and winter 2018 runway show.
(Pascal Le Segretain / Getty Images)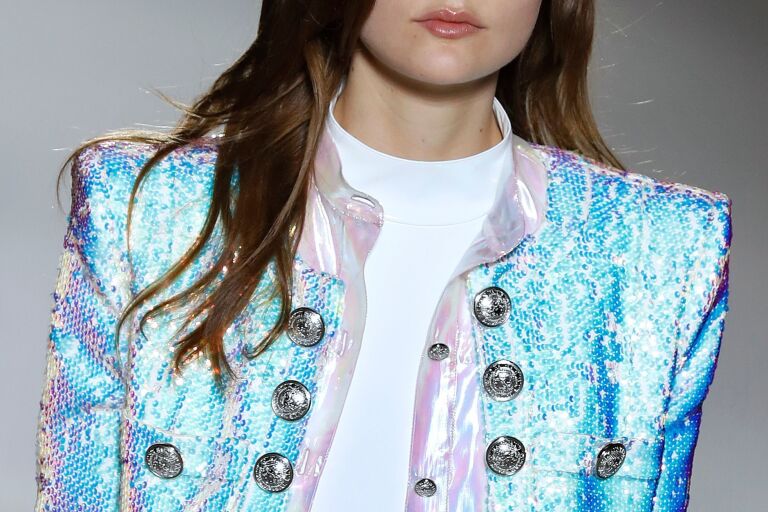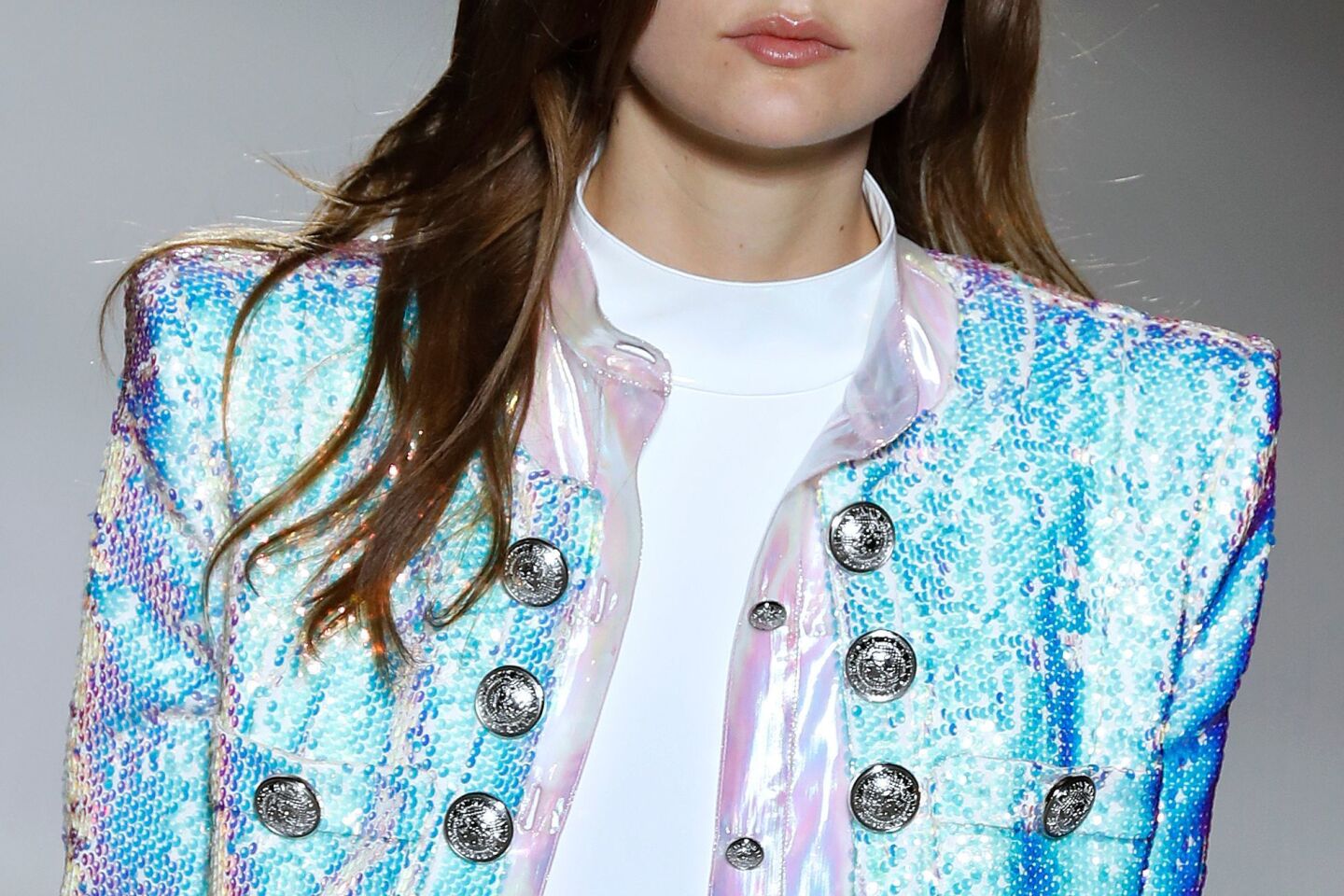 Details on a strong-shouldered jacket in the fall and winter 2018 Balmain runway collection.
(Francois Guillot / AFP/Getty Images)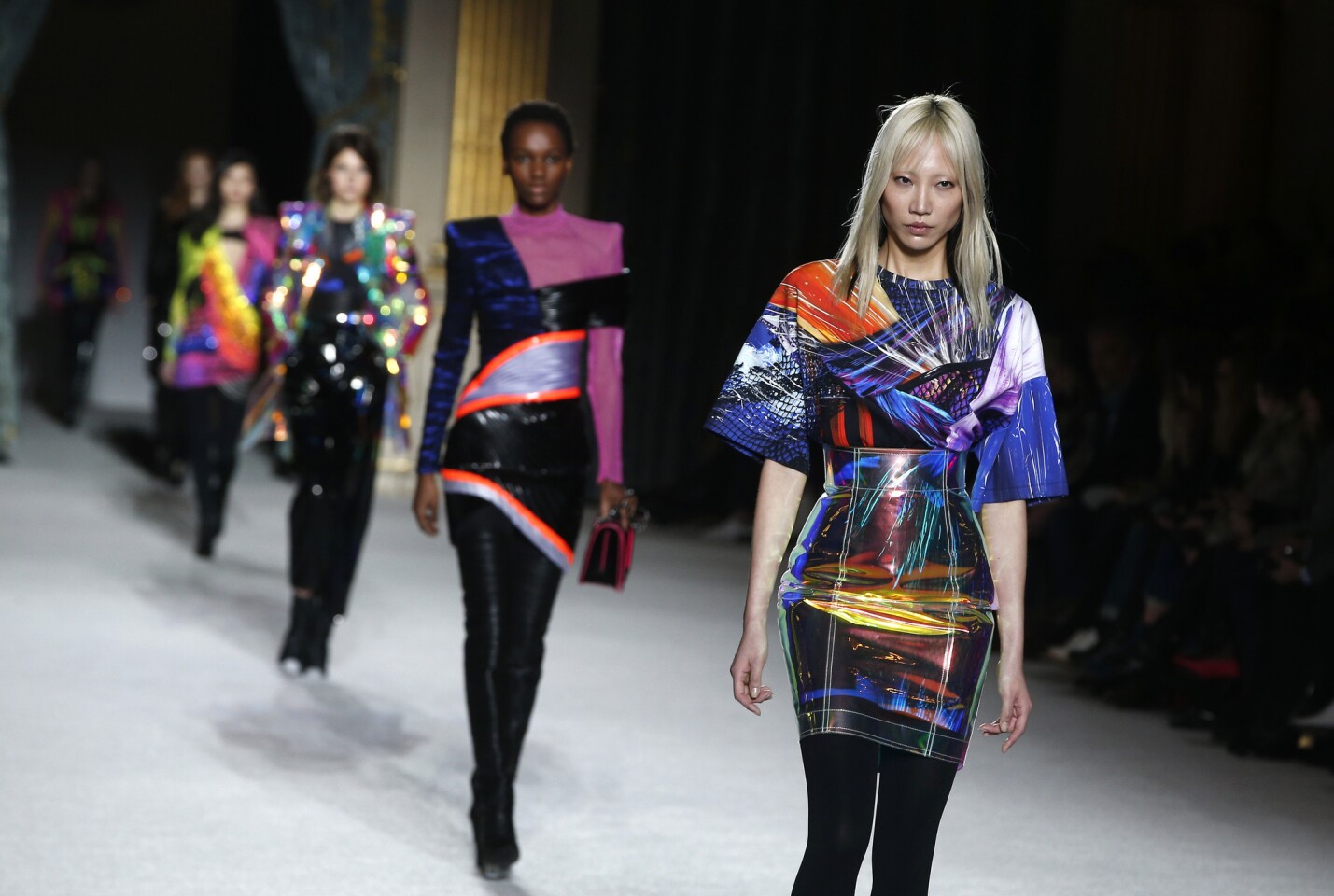 A few of the brightly colored looks from the Balmain fall and winter 2018 collection.
(Thibault Camus / Associated Press)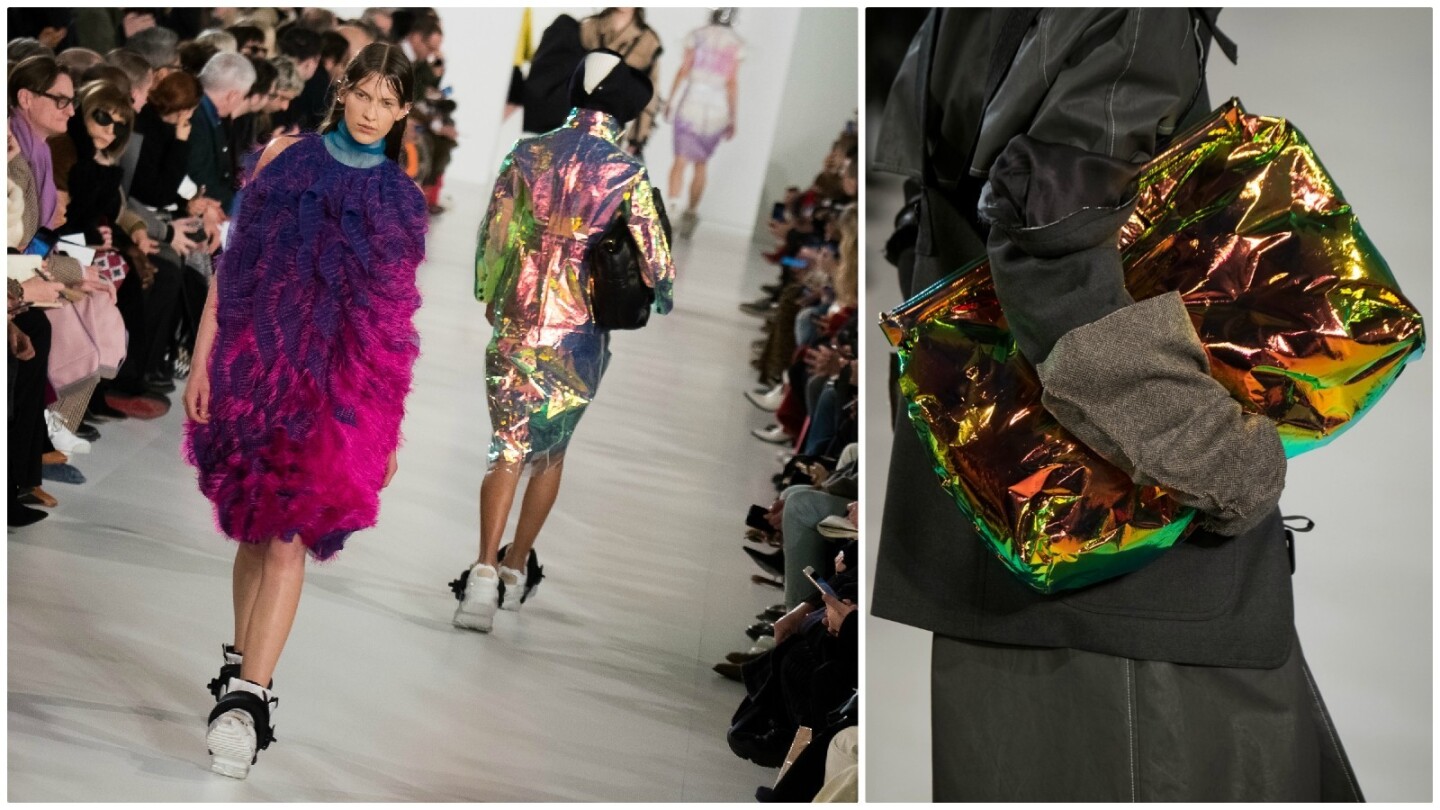 Looks from the fall and winter 2018 Maison Margiela runway collection, including an iridescent version of the label's Glam Slam bag.
(Francois Durand / Getty Images)
Designer Olivier Rousteing leads models in the runway finale.
(Francois Guillot / AFP/Getty Images)
Reporting from Paris —
When Maison Margiela presented its fall and winter 2018 collection three days ago, we didn't give the iridescent and holographic-effect pieces much thought. That's partly because the light-bending foils and nylons crafted into skirts, blazers and voluminous parkas as well as an astronaut-worthy version of its puffy Glam Slam bag were only one part of creative director John Galliano's continued exploration of what the show notes call "dressing in haste" — outerwear that doubles as dresses, overalls layered over (instead of under) a trench coat and the like.
But then, the Balmain fall and winter 2018 collection shown on Friday was chock full of the same trippy, light-refracting fabrics and embellishments. I saw rainbow-refracting paillettes the size of half-dollars adorning strong-shouldered jackets as well as plastics with a shimmery holographic finish that were fashioned into mostly see-through trousers tops and trench coats. And there was diamond-quilted, silver metallic leather used in zip-front jackets and high-waisted trousers.
In his show notes, Balmain's creative director, Olivier Rousteing, explained that these futuristic elements were homage to the namesake founder of the house, Pierre Balmain. "He was emboldened by future visions, as he broke with many well-established conventions of his time," Rousteing wrote. "That's why I feel that today's runway pays a special homage to this house's legacy. Just like Pierre Balmain, I use this collection to challenge myself to look forward, playing with new ideas, techniques, materials and colors."
Another nod to the future came in the form of cards at each show seat that instructed attendees on how to access a special Balmain Snapchat lens that allowed users of the photo-sharing app to layer some of the collection's feathery rainbow aesthetic over shared photos. (On a side note, if you ever want to utterly confuse the 40-plus crowd, simply ask them to use Snapchat.)
Although the show notes' description of the virtual Balmain mask as the "world's first digital accessory" felt a little overblown, it was a significant acknowledgment of the up-and-coming generation of consumers to whom the app, its flower crowns, dog ears and face-swaps are second nature. That crowd was, no doubt, the one Rousteing was referring to with the paillette-covered slogan T-shirt that proudly proclaimed: "We Are the New Generation."
While Rousteing was enthusiastically peering into the future, for fall and winter 2018 he was definitely doing it from the past — the on-trend '80s to be precise — with pops of fluorescent color, strong-shouldered jackets and dresses. On the soundtrack was Blondie's "Heart of Glass" (a song released as a single in 1979) as well as '80s hits Soft Cell's "Tainted Love" and A-ha's "Take on Me."
At first blush, the future-retro mash-up seemed like a disconnect. However, on several looks, there appeared to be something vaguely familiar about the way light bounced off the silvery gray surfaces of the clothes to create rainbow colored shards that danced with every step.
Then, later that evening, I chanced upon Randall Roberts' piece for The Times about the likely end of the CD era, and it hit me. The circular plastic platters catch the light in very much the same way as looks in Balmain's latest collection. And, for anyone who grew up with the CD as their primary music delivery method, catching that glint of holographic-like color as a CD was moved from jewel case to CD player signaled one thing. Auditory magic was about to begin filling the room. (Also, given Rousteing's age and passion for music, it all makes sense.)
Now destined for the trash heap of outmoded technology, the CD was cutting-edge technology when it hit the U.S. market on March 2, 1983, exactly 35 years to the day before the latest Balmain collection hit the catwalk.
Sheer coincidence perhaps, but it underscores the fact that no matter what business you're in and how of-the-moment you are, things are always going to evolve and change. Those who are successful in technology and in fashion are the ones who are looking ahead, acknowledging and trying to connect with "the new generation."
Ignore them at your peril. Because there's no Snapchat lens that can make obsolescence look good. (At least I don't think there is.)
For more musings on all things fashion and style, follow me at @ARTschorn.
---