L.A. designer Emme Parsons slides into spring with a curated collection of sandals
Emme Parsons' shoe label was inspired by two tiny feet. "The catalyst for my brand was having my son," Parsons said of launching her Los Angeles-based eponymous line of women's sandals in 2017.
As the story goes, Parsons first had the impulse to create footwear many years earlier while on vacation in the south of France, but it wasn't until her son, Remy, was 4 months old that she decided to follow through on her longtime aspiration.
"I wanted to be a good role model for him to follow his dreams," the 38-year-old footwear designer said during a recent interview. "I thought, 'I want to make my mark. I want to do something that my son is going to be proud of and that I can be proud to show him. … I want to take that risk.'"
Parsons' background as an art director and graphic designer for brands such as Lucky magazine and Theory proved helpful as she developed her namesake label's aesthetic. However, Parsons had no formal training, so she immediately enrolled in a one-day workshop at Willie's Shoe Service in Los Angeles. "It's actually a weird funny roundabout story," she said, explaining that the store's owner had coincidentally enlisted one of Parsons' former Theory colleagues, Keiko Hirosue, to teach what Parsons called "a fundamental crash course in shoemaking."
After launching the brand in 2017 with a couple of resort styles, Parsons released a small, curated spring 2019 collection in March. Key styles include the Paloma, a dainty design featuring a hand-woven toe band; the Chris, a luxurious-looking slide; and the Susan, a stylish lace-up sandal that also comes in a slingback.
"I wanted the shapes to be wearable and timeless," Parsons said of her shoes, which are handmade in Tuscany, Italy, and feature a palette of light blue, mango, gold, white, black and beige in materials such as suede and calfskin leather. "They're really versatile and go with everything."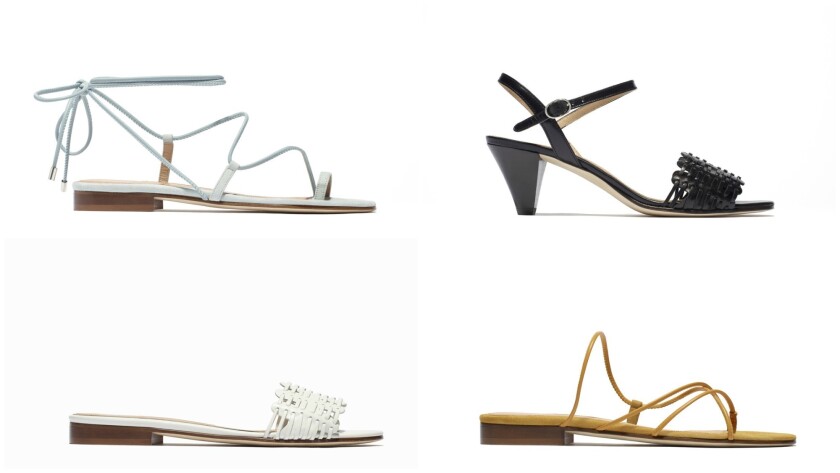 Parsons said her shoes differ from others on the market in that the designer prefers a thicker sole and heel in the name of durability.
"A lot of the high-end designers are moving toward super-thin soles," she said. "But once you take them out, they get so beat-up."
It was of equal importance to Parsons to sell her sandals at a more accessible price point than those from luxury brands. That way, she said, "if you wear them to death, it's not the end of the world if you have to buy another pair."
Gwyneth Paltrow has been spotted in the designer's sandals, which is fitting since Parsons' shoes, which retail for $360 to $475, are available at Goop Lab in Santa Monica. Her sandals are also available at Bird in Culver City as well as on the brand's website, emmeparsons.com.
Parsons said her ongoing goal is to create classic designs and silhouettes that can be worn year-round. "The whole intention of the line isn't about reinventing the wheel every season but slowly layering on new designs," she said. "The basis of the business is essentials that are available every season."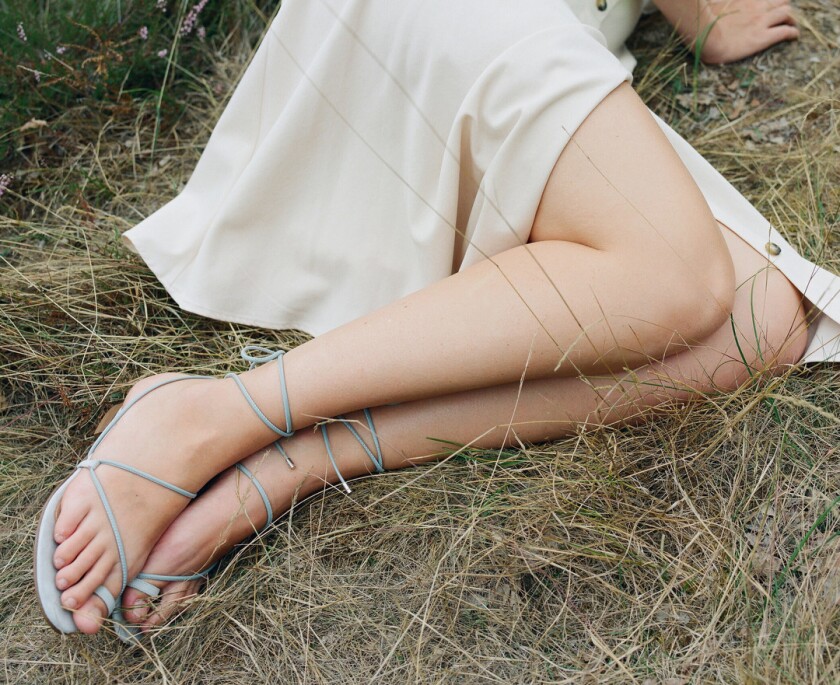 Parsons said she hopes to branch into men's sandals "that aren't flip-flops and aren't too over-designed or over-the-top."
Now living in Silver Lake, the former New Yorker, who moved to Los Angeles in 2014, has taken the town's "City of Angels" nickname to heart. Parsons often volunteers and donates a small portion of company proceeds to local charities such as the Good Shepherd Center for Homeless Women & Children, the L.A. Mission and My Friend's Place.
"It's so important to support our community," Parsons said. "We're not at the point where we can donate a specific percentage per shoe, but we're taking baby steps and trying to do whatever we can."
For fashion news, follow us at @latimesimage on Twitter.
---