Robot barista makes your coffee, remembers your order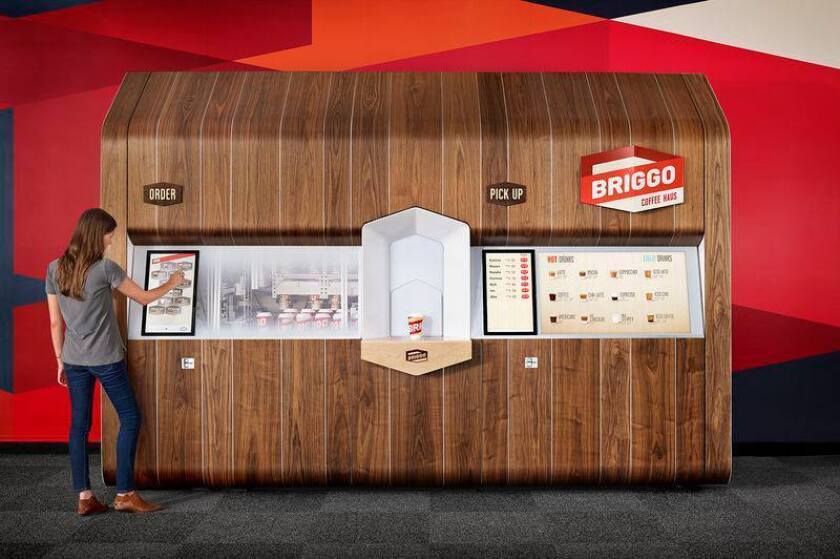 Move over, Starbucks, there's a new barista in town. A robot barista is taking over modern coffee culture at a commons area at the University of Texas at Austin. And it always remembers your order.
This Briggo automated coffee machine may not be human, but it was trained by Patrick Pierce, who happens to be a human, award-winning barista. Its customers can order anything from a sugar-free vanilla latte with three pumps to a regular coffee with sugar and a splash of milk.
Inside the machine are robot arms and approximately 250 sensors that create each custom drink order. Briggo roasts its own beans, which are sustainably grown, high-elevation coffees from Latin America.
"What we've created is in essence a small food factory that absolutely replicates what a champion barista does," Briggo Chief Executive Kevin Nater told Quartz. "We have calibrated this machine to pull espresso shots to the same specification as an Illy or a Stumptown or an Intelligentsia. We've just done it without the human element."
PHOTOS: Specialty coffee shops in Los Angeles
The 50-square-foot Briggo "Coffe Haus" is synced to a smartphone app that makes waiting in line for your morning coffee virtually nonexistent. You can log in to the app for one-click ordering. It memorizes your order and saves your payment information. You can check how long the wait time is for a drink, place your order ahead of time and have it waiting for you when you arrive at the kiosk. Which completely minimizes your chances of becoming a victim of #StarbucksDrakeHands.
The kiosk has earned four stars on Yelp with mostly good reviews, but some customers have walked away disappointed.
"Had to wait 30 minutes to get a hot drink, and when I got it this was cold," wrote Laila F.
"The concept is great, but the coffee was not," wrote Allison Y. "Coffee was watery, syrup was overly sweet and artificial tasting, and everything just tasted off."
"This is the most delicious coffee I've had in a very long time," wrote Kris P. "Always made exactly the same as before."
For now, the kiosk is only at the UT campus, but it's slated to hit "secret locations" across the country.
Want more caffeine-fueled news? Follow me on Twitter: @Jenn_Harris_
ALSO:
Booze heist: $26,000 worth of Kentucky bourbon stolen
Oreos as addictive as cocaine: How to kick your addiction
---
Get our weekly Tasting Notes newsletter for reviews, news and more.
You may occasionally receive promotional content from the Los Angeles Times.