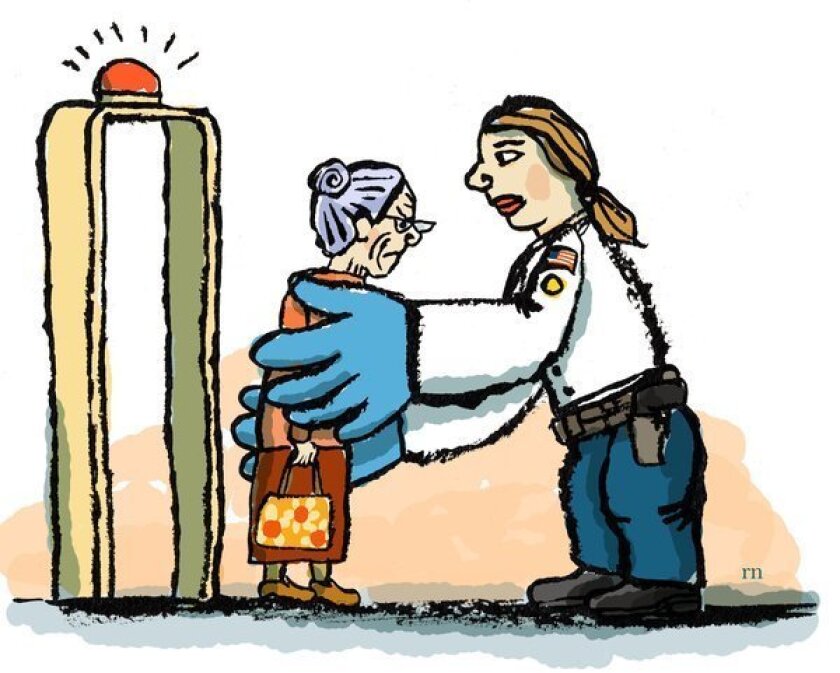 When I was at the interview for my Global Entry card — a program that allows faster passage through Customs upon return to the U.S. — one of the last things the Customs and Border Protection officer said before I left was this, "Don't get arrested." After recent reader letters, I am convinced that this was more than just a throwaway line designed to elicit a smile. If you've been arrested or CBP thinks you have been, your return to this country may be anything but a cakewalk.
A July 21 On the Spot column ["At Miami Customs, a Legal Tangle"] told the story of a Southland man who had been arrested in 1970 for possession of a small amount of marijuana, then a felony. He was acquitted and had spent the ensuing 43 years as a public servant. Returning from a recent tour group trip to South America, he was detained and questioned about his record, something that had not happened in more than a dozen trips in and out of the country in preceding years. He was unnerved but had nothing to hide and was released. Customs told him to get his record expunged.
Customs told me later that he needed to go through the redress program. I'm unclear why Miami Customs didn't suggest that route, which is less expensive than going through the legal process required to wipe a record clean.
But, then, there are many things I don't understand about Customs, including this reader's story: She wrote to say that she and her husband, whom she described as looking like grandparents, were detained reentering the U.S. at the Canadian border while officials questioned them extensively about their itinerary and work history.
The husband had a misdemeanor arrest, also in the 1970s. "My husband seemed to think the man [the Customs officer] had a bully complex, i.e., he had the power and we didn't, [so] we had to play the game politely in order to gain admittance to the country we were born in after leaving it for less than 24 hours."
This couple had been in and out of the country several times and had never had trouble.
Los Angeles immigration lawyer Eliezer Kapuya thinks improved computerized records and additional information that you disclose on social media may have something to do with the increased scrutiny. "1984 is already here," he said.
"We are living in a time where computers are storing in their memories the secrets of our lives forever," he said in an email. "I have had several clients who were detained at various airports" because of this.
Both Kapuya and reader John Young of Glendale think traveler fatigue puts you at a distinct disadvantage when you return to the U.S. after a long flight. The Customs officers are fresh, Kapuya said, and you are not. Young, who says he frequently gets stopped when he returns to the country, said, "'Suspicious' usually means jet-lagged and tired."
Kapuya thinks the size of the crowd at immigration can determine whether you're detained; he also attributed some of it to luck, good or bad.
Another reader has the latter, it would seem. Customs believes she was caught trying to smuggle drugs into the country in 1986. She never left the country that year, she said in an email, and is nothing but a law-abiding citizen, although she did acknowledge a traffic ticket.
The redress program is probably her best bet. Does it work? Brian Kelly, who writes the blog ThePointsGuy.com, said his father shares the name of an Irish terrorist. His dad was always stopped at Customs and sought relief through the redress program. He has had no entry problems since. To learn more about CBP's program, go to https://www.dhs.gov/dhs-trip.
One reader wrote to say that if you want a pleasant Customs encounter, you should try the Dublin airport. "We landed, collected our luggage and went looking for Customs," he said. "We were almost to the arrival area when I saw an officer sitting in a chair and asked him where we were to clear Customs. He looked up and said, 'You just did.'"
There is, methinks, a happy medium between the above scenarios and the Dublin experience. Is it OK to scare the wits out of someone in the name of national security?
Have a travel dilemma? Write to travel@latimes.com. We regret we cannot answer every inquiry.
---