California's opioid death rate is among the nation's lowest. Experts aren't sure why
Declaring the opioid epidemic a public health emergency this week, President Trump said that no part of society, "young or old, rich or poor, urban or rural" had been untouched by drug addiction.
Ninety-one Americans die every day from an opioid overdose, according to the U.S. Centers for Disease Control and Prevention. The drugs now kill more people each year than car crashes.
But in California, the opioid crisis, though still bleak, has been less severe.
In West Virginia, the state hardest hit by the epidemic, 41 of every 100,000 residents died from drug overdoses in 2015, according to the CDC. In California, that rate was 11 — the seventh-lowest in the nation.
California officials warned this year that although opioid deaths have leveled off here, the epidemic is still killing thousands. More people die each year from drug overdoses in California than in any other state, though that's largely because of the state's enormous population.
Public health experts can't agree on why California's opioid death rates are lower than the rest of the country's, but some suggested it could be because of the state's demographics as well as the type of heroin available.
Though there are occasional reports in California of overdoses from drugs such as fentanyl, a highly potent opioid, they aren't as pervasive, experts say.
"We're spared in California," said Dr. Daniel Ciccarone, a UC San Francisco professor who studies heroin usage. "We have the episodic things — the East Coast is the killing fields."
Twenty years ago, California had one of the highest rates of drug-related deaths in the nation. Between 1999 and 2015, the rate continued to climb, increasing by 30%, according to data from the CDC.
The jump was bad, but elsewhere in the country, it was worse. West Virginia's rate, for example, grew during that time by 975%. Rates skyrocketed so high in other states that California now has one of the lowest drug-death rates in the nation.
"In California, we are seeing increases in problems with opioid use disorder, just like the rest of the country, but the per capita problems are certainly higher in parts of Appalachia and elsewhere," said Dr. Carla Marienfeld, an addiction psychiatrist at UC San Diego. "It's not that we aren't seeing increases."
Opioid death rates in many parts of the state, including Los Angeles, Sacramento and San Bernardino counties, remain relatively low. But last year, 10 mostly rural counties in the state's extreme north had more opioid prescriptions than residents, a red flag for public health researchers.
In some of those regions, death rates are just as high as in the most impacted states.
"If California were divided up into several states ... then parts of our state, principally the north, would be a disaster area as bad as West Virginia," said Dr. Kelly Pfeifer, an opioid expert at Oakland-based California Health Care Foundation.
How drug death rates have stayed comparatively low
Pfeifer experienced a wake-up call about opioids when she worked at a rural health center in the northern Bay Area about a decade ago. She said that doctors had been taught that opioids weren't addictive.
"I got a call from a coroner," she said. A woman had died gripping a pain pill bottle with Pfeifer's name on it.
"I had to totally revamp. … All of us who practiced during that time were prescribing doses that were previously only being seen in hospice," she said.
Since most Californians live in urban centers, they may have been sheltered from the higher prescribing habits of rural areas, she said. Studies also have found that doctors are less likely to address complaints of pain from nonwhite patients, which would mean fewer opioid prescriptions per capita in diverse places such as Los Angeles.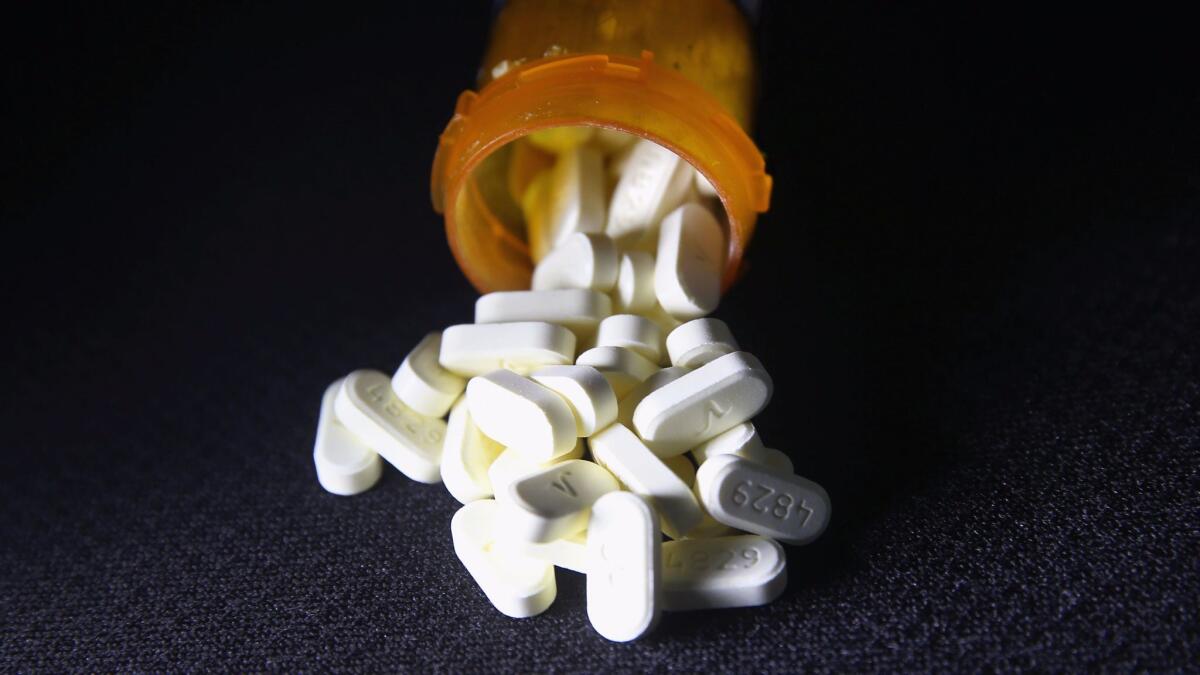 Family members of people killed by the epidemic often describe a loved one who started taking prescription opioids, such as Vicodin or OxyContin, after receiving them from a doctor or trying them at a party. Typically, an addiction to heroin followed, and then a fatal overdose.
Experts say that the drugs available in California may affect how people transition from pills to harder substances.
Heroin sold east of the Mississippi River is usually white powder, but the kind sold in the West tends to be black tar heroin, experts say. Black tar heroin is more difficult to use and is harder to spike with other substances, creating a sort of protective effect, experts say.
Many opioid overdoses are linked to fentanyl, an incredibly strong opioid that can kill even in small doses.
"Black tar heroin simply can't be cut as easily with fentanyl," Ciccarone said.
It's also possible that dealers of methamphetamine, which has historically been more common in California than in other states, could have kept out heroin. And studies have suggested that easier access to marijuana makes people less likely to seek out opioids.
Ciccarone and other experts said cartels also might not be sending as much heroin and fentanyl to California.
"There's no social demographic rhyme or reason as to why the zone that's bad off with heroin and fentanyl is," said Ciccarone, referring to the Midwest and New England. "It seems to me that it's a supply issue that's driving fentanyl and heroin overdoses."
Future risk of fentanyl
In 2015, state and local health leaders created opioid safety coalitions in California, which have expanded access to naloxone and medication-assisted treatment. It's an unusual state-backed program involving law enforcement, government and health officials in each community, Pfeifer said.
"You have to work locally, because L.A. and Modoc County couldn't be more different," she said.
Now, 95% of Californians live in a part of the state where leaders have joined a coalition. Between 2015 and 2016, there was a roughly 12% drop in the amount of opioids prescribed across the state as well as in the rate of people taking high-dose opioids.
Pfeifer said that the state's Medi-Cal program also has invested heavily in expanding and improving addiction-recovery services for its members.
Still, Ciccarone said that if the heroin in California becomes more dangerous or cartels start sending more fentanyl to California, deaths could spike here, too.
"There's no reason to think there'd be demand for fentanyl in Detroit, but not demand in San Francisco," he said. "That still means the boogeyman is out there."
Many people are concerned about fentanyl. In one week in Sacramento last spring, 36 people overdosed from street drugs, and fentanyl was the prime suspect.
Though several opioid-related problems are flatlining or dropping in California, fentanyl deaths increased 47% last year, according to state data.
"I think it's too early to know if we'll be able to stay ahead of it," Pfeifer said.
soumya.karlamangla@latimes.com
Twitter: @skarlamangla
ALSO
Trump calls opioid epidemic an 'emergency' but offers few new resources to combat it
Don't blame the surgeons: Long-term opioid use rarely starts with surgery, study finds
The quiet crisis among African Americans: Pregnancy and childbirth are killing women at inexplicable rates