Minnesota bans triclosan, an ingredient in antibacterial soaps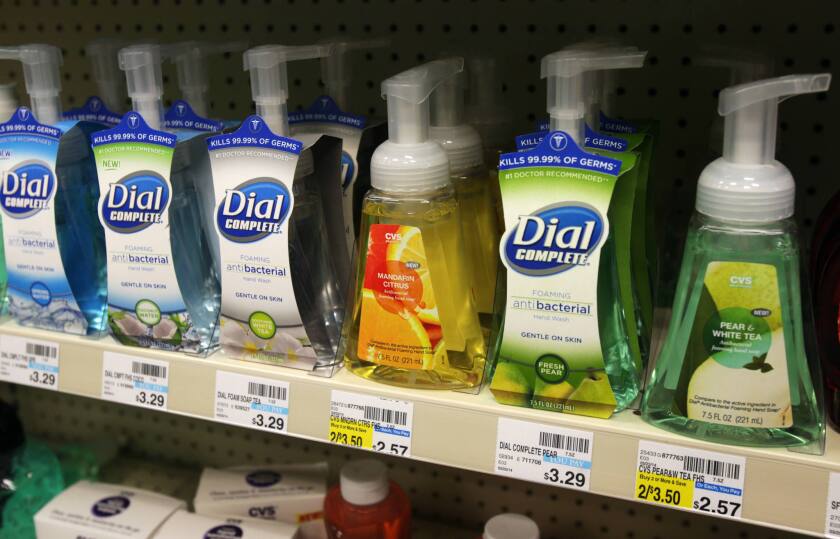 Triclosan, a controversial antimicrobial agent and registered pesticide found in antibacterial soaps and body washes, dishwashing liquids, cosmetics and toothpastes, is being banned in Minnesota effective Jan. 1, 2017.
On Friday, Gov. Mark Dayton signed a bill into law that will prohibit the use of triclosan in products used by consumers for sanitizing or hand and body cleansing.
------------
FOR THE RECORD
11:18 a.m. May 23: An earlier version of this post stated that a new Minnesota law prohibits the use of triclosan in any cleaning products, personal care items or cosmetics. The law prohibits the chemical in any cleaning product that is used by consumers for sanitizing or hand and body cleansing.
------------
Minnesota is the only state to enact a ban so far, but manufacturers have announced plans to discontinue using the chemical. On its website, Procter & Gamble announced that it has decided to eliminate triclosan from its products by the end of the year. All of its Crest products are now 100% triclosan-free. Additionally, Johnson & Johnson plans to eliminate it from its consumer products by 2015.
The U.S. Food and Drug Administration has found no evidence that triclosan provides extra health benefits over those of regular soap and water.
According to the Environmental Protection Agency, studies on lab animals have found that triclosan alters hormone regulation, may contribute to the development of antibiotic-resistant bacteria and may be harmful to the immune system. Last year, a study by the University of Minnesota found increased amounts of triclosan in several Minnesota freshwater lakes.
---