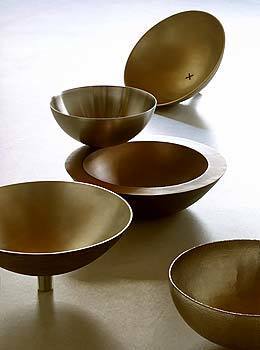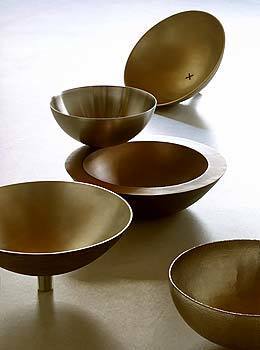 Infinite Fitting silicon bronze "X" basin, $2,302, at EuroConcepts at the Pacific Design Center, West Hollywood; Pollux double-walled stainless steel basin, $756, at Details, West Hollywood; Terra Bacia hammered and polished copper "Nojoqui Large" vessel, $829, and Infinite Fitting white bronze "O" vessel, $2,062, both at EuroConcepts; Native Trails satin nickel "Maestro" vessel, $626, at George's Pipe & Plumbing Supply, Pasadena.
(Carin Krasner)
Kallemo gray rubber "Non" chair, $650, at Shelter, Los Angeles and Santa Monica; white enameled ceramic mirror, $328, resting on white enameled ceramic tray, $82, at Boffi Los Angeles, Santa Monica. Reflected in mirror: Opaline opaque glass carafe, $95, and soap dish with base, $80, at Waterworks stores
(Carin Krasner)
Mahogany sink with stainless steel base, $6,800, and single-lever platinum matte faucet, $873, both at Hagan Flynn Inc., Los Angeles; Romanian hemp hand towel, $84, at Soolip Bungalow, West Hollywood.
(Carin Krasner)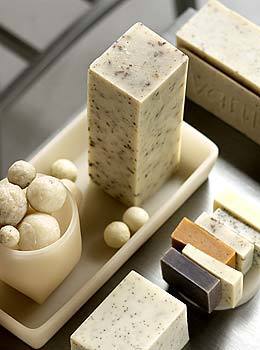 All-natural handmade vegan olive oil soaps, $1.75 per ounce, at the Soap Kitchen, Pasadena; ivory resin tank tray, $26, and jarcanister, $18, both at Restoration Hardware.
(Carin Krasner)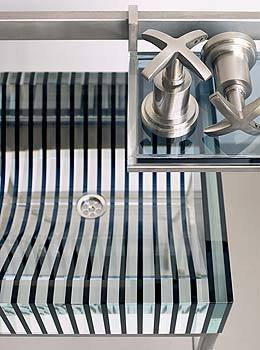 Striped glass basin with stand, $5,318, brushed steel rail with soap dish, $643, and Rubinet satin nickel handles, $367, at Snyder Diamond, Santa Monica.
(Carin Krasner)
Vanity mirror, $51, satin nickel toothbrush holder, $135, stainless steel tissue box, $59, soap dish, $18, and soap dispenser, $48, at Details, West Hollywood, all resting on custom blue glass tile, $30 per square foot, at Hagan Flynn Inc.
(Carin Krasner)