Amid excitement and suspicion, Bahraini prince visits Museum of Tolerance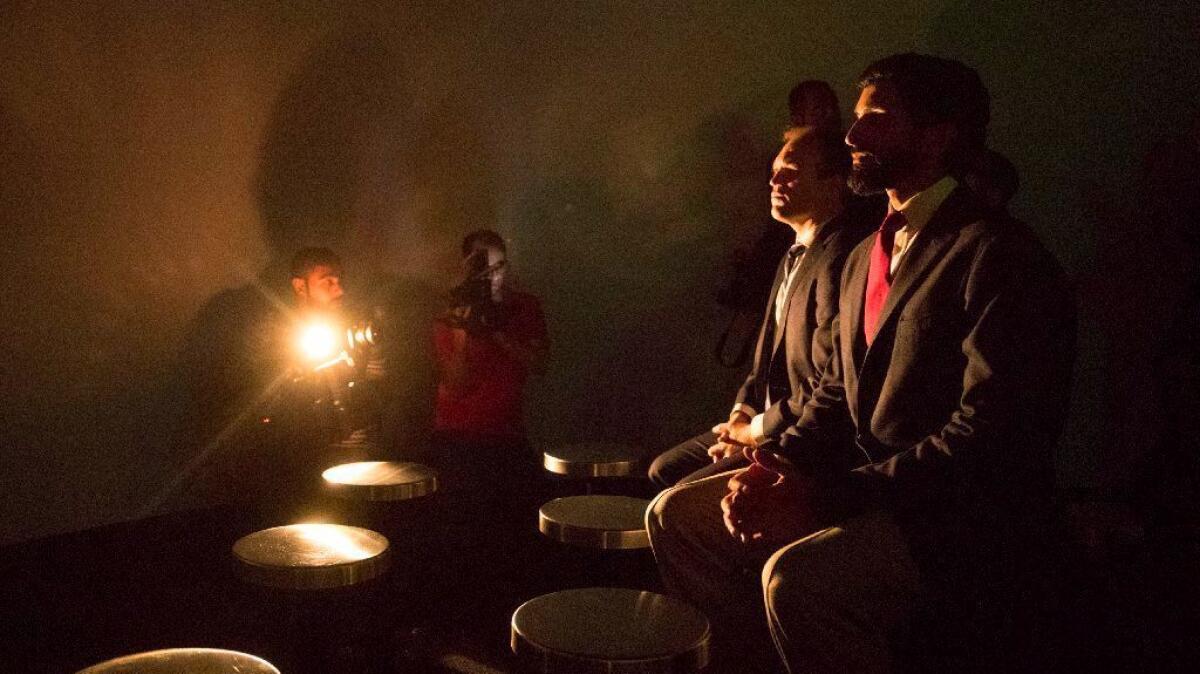 The Arab prince sat straight in his blue suit jacket, red tie and charcoal gray slacks as he listened to an audio reenactment of Anne Frank and her family's attempt to hide from the Nazi Gestapo during World War II.
There have been ups and downs in their relationship, but Bahrain is one of dozens of nations that does not recognize the state of Israel. The Gulf state has participated in an Arab League boycott of the Jewish state in an effort to help Palestinians extract territorial concessions from Israel.
But this week, Prince Nasser bin Hamad al Khalifa, the son of Bahraini King Hamad bin Isa al Khalifa, and a large entourage, jostled their way through a rushed tour of the Museum of Tolerance. It was led by the museum's founder, Rabbi Marvin Hier, who also founded the Simon Wiesenthal Center, named after the famed Nazi hunter. Hier highlighted the story of Frank and applauded Bahrain's efforts to fight religious extremism as well.
Gulf countries such as Bahrain have been opening channels with Israel — whose prime minister, Benjamin Netanyahu, opposed the nuclear deal the Obama administration brokered with their rival Iran. These countries, like Israel, are worried about Iran's nuclear ambitions.
The prince's visit also comes as Bahrain confronts growing criticism from the United States and international human rights organizations about the treatment of its Shiite majority, which is regularly disenfranchised by the Sunni-led government.
That the prince would come to the Museum of Tolerance — an unabashedly pro-Israel institution — highlights the shifting sands of Middle Eastern politics in an era in which common enemies and concerns can create strange bedfellows.
The day concluded with a dinner, attended by hundreds of interfaith leaders, at the Beverly Wilshire Hotel and the release of a declaration by Bahrain's king calling for religious freedom.
"Every individual has the freedom to practice their religion, providing they do no harm to others, respect the laws of the land, and accept responsibility, spiritually and materially, for their choices," the Bahraini declaration reads.
Part of the goal of this trip is for Bahrain to highlight on its own terms how tolerant of a country it can be. Jews, Hindus and Christians are encouraged to practice freely even as their Shiite counterparts struggle to get an equal footing in society.
This visit and the declaration prompted criticism from human rights activists. They say Bahrain regularly and often violently suppresses the Shiite majority while crushing political dissent.
Last month, U.S. Secretary of State Rex Tillerson castigated the Bahraini government.
"Members of the Shia community there continue to report ongoing discrimination in government employment, education, and the justice system," Tillerson said. "Bahrain must stop discriminating against the Shia communities."
Hier, who delivered a benediction at President Trump's inauguration, said he visited the king's palace in February. The two bonded over a shared appreciation of Frank Sinatra, and Hier said he was heartened by the king's warming stance toward Israel. He said that while staying at the Four Seasons hotel, he wore his yarmulke and people did not bat an eye.
"People didn't give us a second look," he said. "That impressed me because that says they expect to see scenes like that."
Of the allegations of human rights abuses in Bahrain, he said: "I'm not going to tell you that they are the perfect specimen of a state. I don't think any state is. Human beings are not perfect."
But when it comes to Israeli-Arab relations, Hier said he sensed that change was in the air.
"If I had to predict, I would tell you that the Arab world's relationship with the state of Israel is going to dramatically change," he said. The king is "ahead of the pack and smart. It is the way to go, and he's smart. This is a dinner tonight that's hosted by a Jewish organization that no one will say is not so pro-Israel."
In Bahrain, unlike the other Gulf states, which are predominantly Sunni, Shiites make up roughly two-thirds of the population — not counting migrant workers. But they are disenfranchised by the Sunni royal family, which controls the country, said Joe Stork, deputy director of Human Rights Watch's Middle East and North Africa division.
"I think it's fair to say that there is a good deal of discrimination against the Shia," he said. "The bigger issue is the zero tolerance for any kind of political dissent."
Stork cited the imprisonment of Sheikh Ali Salman, the country's main Shiite opposition leader, as one of many examples of political repression.
An assortment of religious leaders from various faiths accompanied the prince's tour of the Museum of Tolerance. Some snapped selfies together and maneuvered to be closer to the prince. At one point a man wearing a yarmulke whispered to his Muslim counterpart: "So much that's wrong with America today is because we pushed God out of the picture."
Brian Dooley, a senior advisor for Human Rights First, said that these types of events are a regular part of the repertoire of countries that don't necessarily have the best human rights records.
Bahrain "talks a very good game about being pluralistic on some levels. They have a very large Catholic church in Bahrain," said Dooley, who has been prevented from traveling there for the last five years.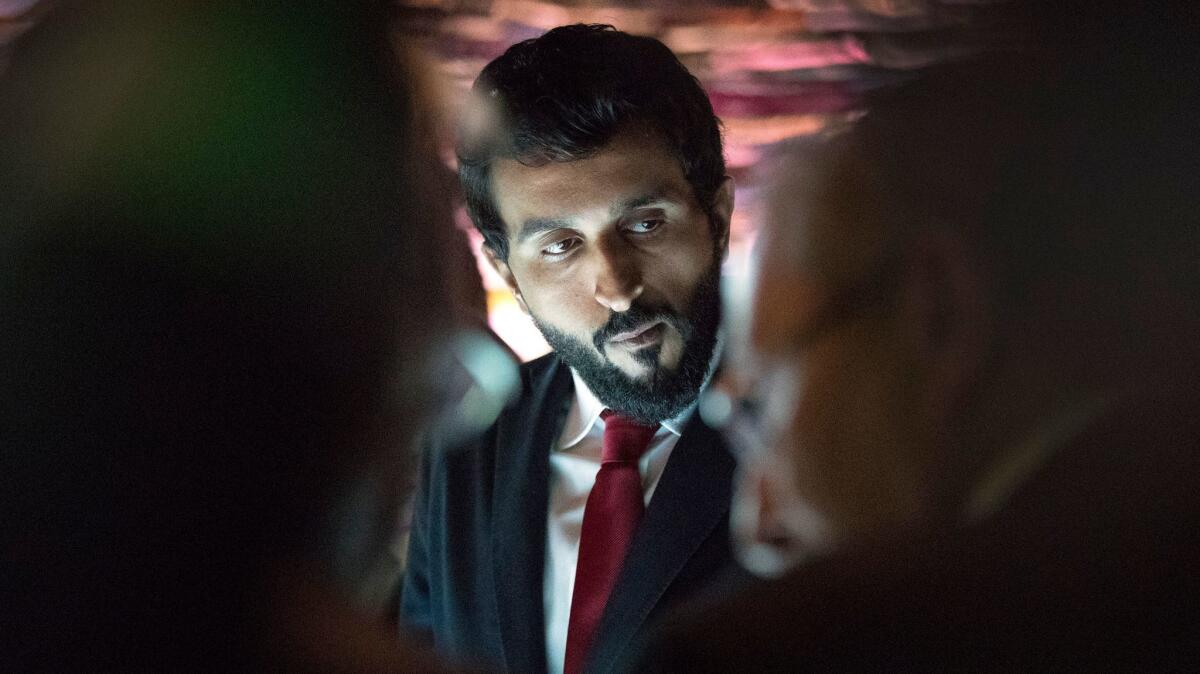 "There are other faiths that are encouraged to practice freely," he said. "I think the trap that Bahrain wants us to fall into is: Isn't this so much better than Saudi Arabia?"
Dooley said he thinks it's good to invite people like the prince and call them out on their country's behavior. He pointed out that Prince Nasser has been accused of abuses during Bahrain's brutal crackdown in the aftermath of protests inspired by the Arab Spring in 2011.
The Trump administration, partially in its efforts to take a far tougher stance toward Iran, has relaxed restrictions on arms sales to Bahrain. Last week, Tillerson approved a $3.8-billion arms deal to the country that includes F-16 jets, missiles and patrol boats.
When the tour came to a close, Hier introduced Nasser, who gave a short set of remarks before leaving the building. He said it was his first time in Los Angeles but would not be his last.
That evening, the prince announced a new center named after his father for "interfaith dialogue and peaceful coexistence," according to the Bahrain News Agency.
"This day is a reminder to all of us of what we have achieved in promoting interfaith dialogue and understanding, as well as another reminder of the work we must complete, in combating hate speech and bigotry."
Sign up for Essential California for news, features and recommendations from the L.A. Times and beyond in your inbox six days a week.
You may occasionally receive promotional content from the Los Angeles Times.