Supreme Court decision deals blow to health coverage efforts in California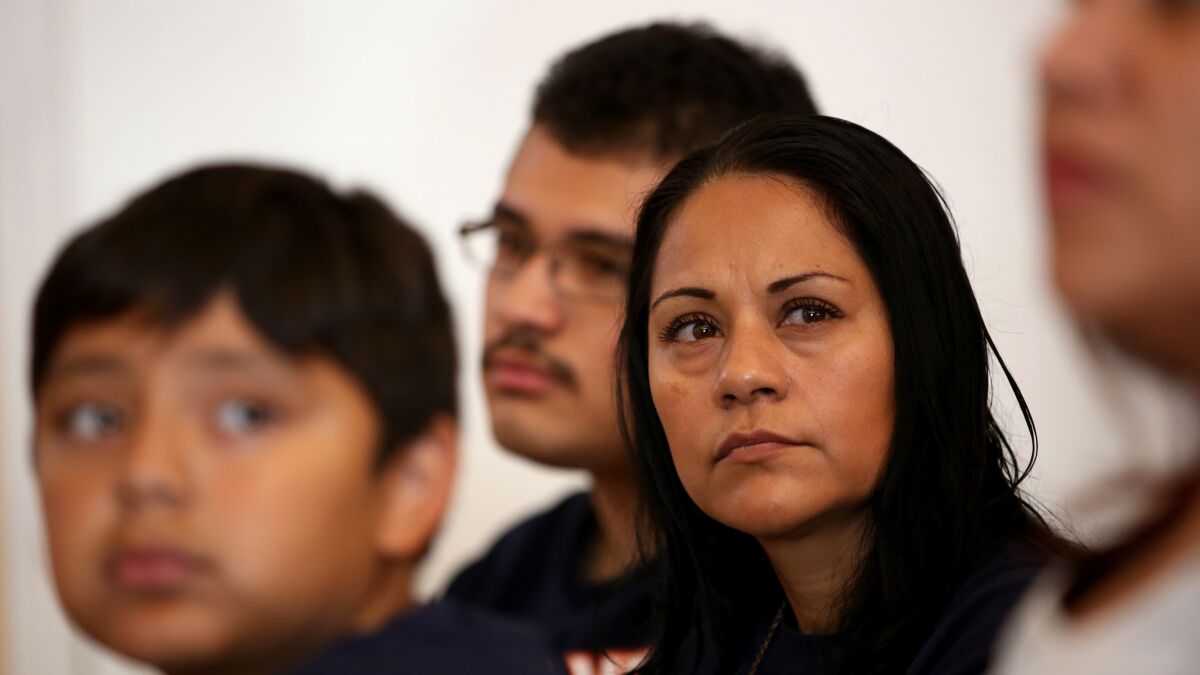 The Supreme Court decision Thursday effectively blocking President Obama's immigration programs also comes as a blow to California legislators who have been fighting to offer health insurance to people living in the country illegally.
Immigrants living in the U.S. without authorization can't enroll in Obamacare and make up a large portion of those who remain uninsured in California. But an unusual state policy allows those granted temporary relief from deportation to sign up for Medi-Cal, the state's low-income health program.
If the court had upheld the deferred action programs, more than half a million unauthorized immigrants in California could have become eligible for state-funded health insurance, according to UC Berkeley and UCLA researchers.
Daniel Zingale, senior vice president of the nonprofit California Endowment, said he was disappointed that thousands would not be gaining health insurance, but said he was hopeful that the decision "will ultimately result in health justice for all."
In 2014, President Obama issued executive actions granting immunity from deportation to the parents of citizens and other legal residents and also expanding a similar immunity program for young immigrants brought to the U.S. illegally as children.
But new initiatives landed the case in the Supreme Court after dozens of states sued to stop them.
On Thursday, the highest court issued a 4-4 tie vote, leaving in place a lower court's order in Texas that prevents the program from taking effect.
The deadlock also stalls what would have been a boon to efforts in California to provide health insurance to those here illegally.
California is one of a small number of states – along with New York and Massachusetts – that lets immigrants granted deferred action to sign up for their Medicaid programs.
If the program had gone forward, approximately 621,000 people – or 54% of the 1.15 million adults in the state who would have been eligible for deferred action – could have qualified for Medi-Cal based on their incomes, according to an analysis by researchers from the UC Berkeley Labor Center and the UCLA Center for Health Policy Research.
Join the conversation on Facebook >>
UC Berkeley researcher Miranda Dietz said the deferred action programs could have been "a really big deal for Californians."
Without these programs, researchers estimate that as many as 1.5 million of the 2.67 million immigrants in the state illegally could remain uninsured by 2019 – roughly half of California's total uninsured population.
Antonio Campos, who lives in Sacramento, had been waiting for a verdict from the court. Campos, 50, came to the U.S. in 1995 and overstayed his visa.
He wanted a work permit and a chance to get health insurance for him and his wife Ramona.
For the last five years, Ramona has felt pain in her chest and experienced shortness of breath. Once it became so severe he took her to the emergency room and ended up paying $1,500.
But they still haven't been able to fix the problem. The couple, who own a business cleaning houses, can't afford to visit a doctor to diagnose her.
California legislators and advocates are searching for other ways to provide such immigrants health insurance.
In an early victory in that effort last year, Gov. Jerry Brown allocated funding to allow 170,000 undocumented kids sign up for Medi-Cal at an annual cost of about $143 million.
Earlier this month, he signed a bill making California the first state to ask federal officials to allow immigrants here illegally to buy insurance through its state health exchange, without providing them with subsidies.
soumya.karlamangla@latimes.com
Follow @skarlamangla on Twitter for more health news.
ALSO
Supreme Court upholds use of affirmative action at universities
Up to 700 barrels of oil spill in Ventura County; crews stop flow before it hits ocean
House Democrats continue to protest as Senate considers vote on gun legislation
---
Life is stressful. Our weekly mental wellness newsletter can help.
You may occasionally receive promotional content from the Los Angeles Times.