L.A. will keep getting hotter, scientists say — a lot hotter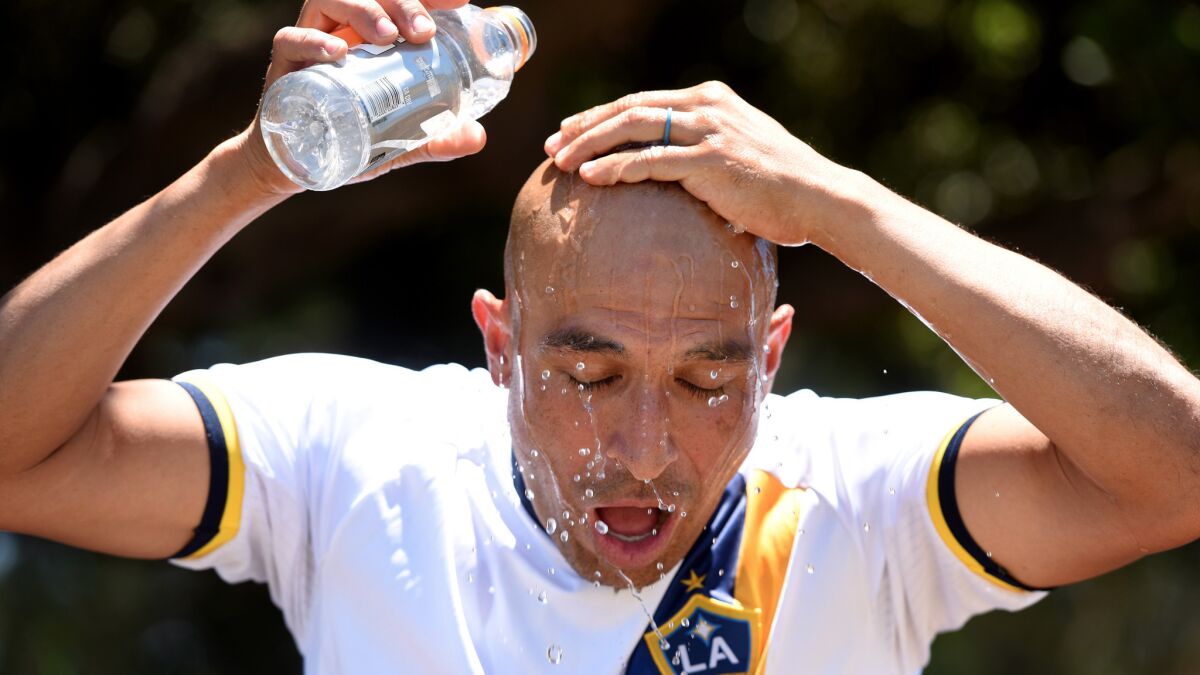 Think today's heat in L.A. is miserable? It's going to become more frequent in the summers to come.
Days of extreme heat are defined as those on which the temperature reaches 95 degrees. In downtown Los Angeles, there was an average of just six extreme heat days yearly in the 1980s and 1990s.
But by the year 2050, there could be 22 days of extreme heat in Los Angeles, and by 2100, there could be 54 such days, a study released by UCLA scientists last year said.
It gets even worse the farther inland you go.
The San Gabriel Valley could see its number of extreme heat days climb from 32 to 74 by 2050, and 117 by 2100.
Here are some maps of how bad it could get:
"A new season of extreme heat" likely lies in our future, the UCLA scientists warned.
By 2050, the most likely average future August will be warmer than the hottest August of the 1980s and 1990s, they said.
In fact, L.A.'s future winters will be most similar to how April felt in the '80s and '90s.
"We have to confront this," study co-author Alex Hall, a professor at UCLA's atmospheric and oceanic sciences department, said in an interview last year. "Climate change is inevitable in this region."
Valleys will be hit worse than the coast, said Katharine Reich, associate director of the Center for Climate Science, part of the UCLA Institute of the Environment and Sustainability, which performed the study.
"If you're in the San Fernando Valley, where the Santa Monica Mountains block your access to cool sea breezes, you'll experience more extreme heat," she said. "The farther inland you go, the more impacted you'll be."
NEWSLETTER: Get essential California headlines delivered daily >>
There is, however, some good news. A concerted effort to control carbon emissions could make L.A.'s future less hot than it could be.
For instance, if a concerted effort were made to curb carbon emissions, downtown L.A. could see only 15 days of extreme heat by 2100, instead of 54 days if business goes on as usual.
And the San Gabriel Valley could see only 61 extreme heat days, instead of 117.
"If we decide to get off the 'business-as-usual train,' we can prevent even worse impacts" that would otherwise come at end of the century, Reich said.
That means following through on pacts such as the landmark Paris climate accord, designed by world leaders to rescue the planet, Reich said.
On a local level, installing rooftop solar panels and reducing driving gas-guzzling cars would also help, she said.
"Increasing our use of public transit – if we did that across the board in L.A. – that would really make a meaningful reduction in L.A.'s carbon emissions," Reich said.
In the long run, making sure new roofs are "cool" – that is, come in a white or light, reflective color instead of black – would also help keep cities cooler.
Los Angeles and Pasadena have laws requiring new roofs and major re-roofing projects to use cool roofs, said David Fink of the nonprofit Climate Resolve, which aims to prepare local governments for climate change's effects. But most of the other cities in L.A. County do not have such rules.
Planting more trees and developing a cooler, more reflective asphalt on city streets would also help, Fink said.
On a hot day, black asphalt on city streets can heat up to as much as 150 to 160 degrees. A cooler material could reduce that heat absorption by 30 to 40 degrees and reduce the "urban heat island effect," which raises city temperatures by four to six degrees.
ALSO
Twin fires burn more than 4,500 acres and trigger evacuations in San Gabriel Valley
Record-setting heat wave leads to blackouts in L.A.
---
Life is stressful. Our weekly mental wellness newsletter can help.
You may occasionally receive promotional content from the Los Angeles Times.