Amid Metrolink problems, frustrated board member quits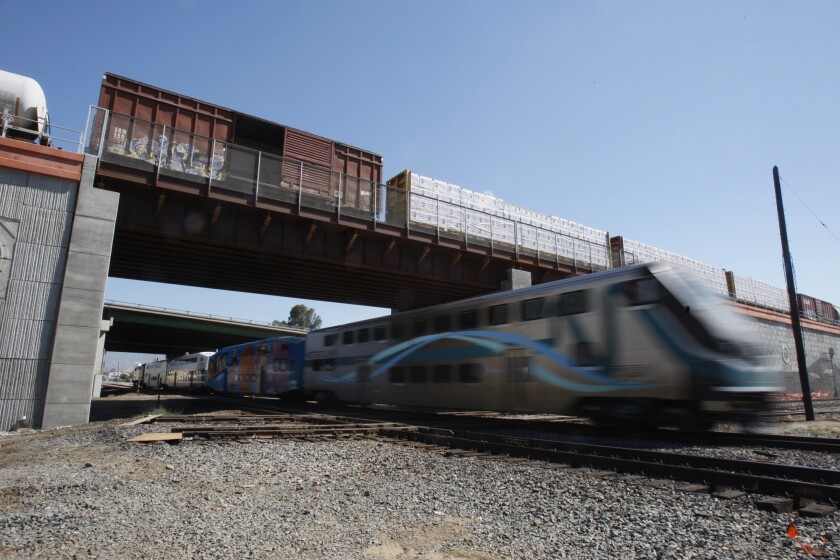 A board member for the Metrolink commuter railroad resigned this week, saying she was frustrated with the line's complicated governing structure and unwillingness to significantly improve business practices.
Carolyn Cavecche, a veteran Orange County politician and transportation policymaker, submitted a resignation letter Monday after serving five years as a board member and an alternate.
She is departing at a difficult time for Metrolink, which has been trying to build ridership, correct a variety of financial irregularities and cope with a fleet of aging locomotives as well as faulty ticket vending machines. The line serves six Southern California counties and has a $221.5-million annual budget.
The railroad also has had a number of other key departures recently, including three chief financial officers last year, the head auditor in November and Chief Executive Officer Michael DePallo last month.
"I am frustrated by the real lack of interest in the board to making substantial changes in how it handles the business of Metrolink," Cavecche said Thursday. "The agency needs better financial accountability, an auditor and changes in governance. I don't see a board that is willing do this."
Her letter was sent to the chairman of the Orange County Transportation Authority, which appoints Metrolink board members from that county. A Metrolink spokesman said officials in Los Angeles had not received the letter yet.
Cavecche, who sat on a committee that exposed serious financial accounting problems at the railroad, said that the chief auditor has not been replaced yet and that the board's interest in addressing ongoing oversight problems is waning.
"We uncovered gross negligence in how this agency handles its fiduciary responsibilities," she said. "It goes back to the board not demanding good staff reporting. There was a brief moment when board members were aghast and wanted change. It lasted for a short amount of time."
However, Jeff Lustgarten, a Metrolink spokesman, said the agency has hired a new chief financial officer who has made substantial progress solving accounting irregularities and improving financial controls. He added that the auditor's office will remain independent and that there have been no changes in its operation.
"We have a new finance team," Lustgarten said. "It has done yeoman's work, and we are in an exponentially better position as it relates to the agency's cash position. The team has been presenting more complete and accurate budget information to the board."
Cavecche also contended that the railroad needs to simplify its board of directors, which now has 11 members and 11 alternates. Members from the Los Angeles County Metropolitan Transportation Authority, which contributes the most money to Metrolink, get four votes each.
"It is an unworkable situation. It makes no sense," said Cavecche, who suggested that there be only 11 board members with one vote apiece.
She added that the last straw for her was a move planned by board members on Friday to prevent the chairmanship from being rotated to an Orange County member in keeping with its bylaws.
Cavecche said Orange County could be unfairly shut out from the chairmanship, although it is the second largest contributor of money to Metrolink. She added that the OCTA should reevaluate its support for Metrolink.
Follow @LADeadline16 for transportation news.
---
The stories shaping California
Get up to speed with our Essential California newsletter, sent six days a week.
You may occasionally receive promotional content from the Los Angeles Times.