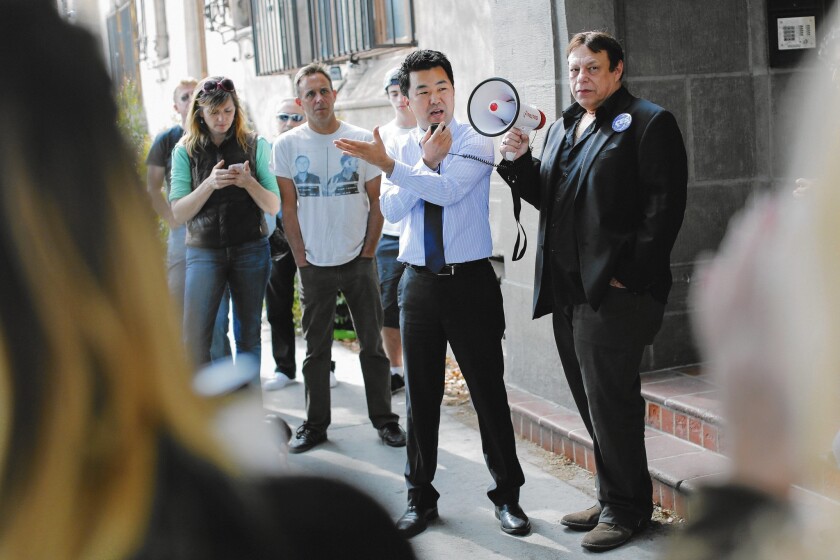 David Ryu won a coveted spot on the Los Angeles City Council after pledging not to take campaign money from local developers.
That promise burnished his reputation as a City Hall outsider — and may have helped him beat opponent Carolyn Ramsay, a former council staffer.
But it was just one in a long list of Ryu campaign pledges, many of them demanded by neighborhood and advocacy groups weighing him against Ramsay in the race to represent a sprawling Sherman Oaks-to-Silver Lake council district.
They range from sweeping to the specific: Ryu said he'd reform how the district's share of discretionary money was spent by forming a community task force to review possible projects. He pledged to sponsor an ordinance to make sure at least half the revenue from Sherman Oaks parking meters went to ease traffic in Sherman Oaks, as its homeowners association pushed for.
He vowed to oppose turning a Hollywood apartment building beloved by tenants into a hotel. And he declared he'd keep a popular council staffer working at a Toluca Lake field office.
The push for such promises is emblematic of the demanding district Ryu has just won, which is among the more affluent, politically involved areas of the city. But it is also a familiar phenomenon across the city. Suspicious of City Hall, many local groups prod political candidates to make firm promises — often in writing — to hold them to later.
"It's a way of grabbing hold of a system that has seemed unresponsive," said Raphael Sonenshein, executive director of the Edmund G. "Pat" Brown Institute for Public Affairs at Cal State L.A.
In District 4, much of that suspicion has swirled around real estate development, with neighborhood groups upset that developers have been able to win exemptions from community restrictions on the scale of new buildings and shops.
"Time and time again, we have been forced to defend our neighborhoods through legal actions" when the city disregards community rules for development, Miracle Mile Residential Assn. President James O'Sullivan declared in a letter introducing its pledge. "We will no longer accept vague promises and slaps on the back."
Its pledge, which Ryu and Ramsay signed, requires that the newly elected councilman immediately disclose on his or her website whenever that person's office is approached about a possible development project, prod the city to show that services such as sewers and police patrols would not be overburdened and satisfy other requirements surrounding new building.
Many pledges revolve around issues specific to his area — which may be easier for Ryu to keep because the full council traditionally defers to the member who represents the affected district. But the new councilman will also have to hash out agreement with other representatives on citywide matters on which residents have pressed him for action, a test of how the City Hall outsider will get things done inside those downtown chambers.
The demand during the campaign for detailed, written pledges "really speaks to the deep mistrust this community has in their elected officials — a trust David will be working hardto restore," Ryu campaign spokeswoman Rachel Estrada said in a statement.
Both Ryu and Ramsay signed another pledge pressed on them by a tenant leader at the Villa Carlotta, a Hollywood apartment building that became a center of protests after new management revealed plans to turn it into a hotel. The pledge stated they would oppose a zoning change or any conversion of use for the Franklin Boulevard building.
Even though both candidates had talked about protecting the apartments, "there was a lot of skepticism about holding somebody to things that they say during the campaign," said Sylvie Shain, the Villa Carlotta tenant leader who persuaded candidates to sign the pledge. "Once you write things down, it's very clear. It's in black and white."
The Sherman Oaks Homeowners Assn. asked Ryu and Ramsay to sign a dozen pledges. Ryu signed almost all of them, including promises to not grant exceptions to planning guidelines for Ventura Boulevard "except to a de minimis extent," to oppose a disputed development at the landmark Sunkist building unless it is scaled back and to push for multiyear budgeting.
But Ryu balked at making two promises sought by the group: to try to amend the City Charter to require L.A. to fully fund its employee pension plans and pay for street and sidewalk repairs out of the city general fund within a fixed period of time — both without any added taxes imposed on residents.
"It's really tempting when you're up here to say everything that you guys want. To tell you what you want to hear," Ryu told a crowd when asked why he didn't make those pledges during a public forum at Forest Lawn Memorial Park. But he argued it wasn't a financially realistic promise. "It's not possible. I'm not going to lie to you."
Ryu also went through a gantlet of community forums ahead of the primary, where the packed field of candidates made promises verbally. In Toluca Lake, they were asked whether they would maintain a field office in the area — and keep a specific staffer, Alice Roth, working for the council office. Ryu, like most of the candidates, said he would.
Jay Beeber, a former candidate who later endorsed Ryu, told the Toluca Lake crowd that any staffer backed by the community would stay, without specifically promising to keep Roth. Beeber later said he worried that it wasn't reasonable to ask a politician to hire a particular person, because they had to find someone with whom they could work well.
"It seemed like this particular campaign was heavily laden with pledges," Beeber said. Like Estrada of the Ryu campaign, he saw it as a reflection of distrust. "People are used to candidates saying whatever they want to say and then not being responsible for upholding it.... The electorate expects to be lied to."
Sonenshein said readily agreeing to such promises can be a tempting way to please a crowd and win votes. But he warned that making extremely specific commitments could end up tying the hands of elected officials faced with changing circumstances. If a politician flouts a pledge, they'll hear about it, added Sherman Oaks Homeowners Assn. President Richard Close.
"We quickly find out who's honest and who's dishonest," Close said.
Ramsay was accused of breaking the Miracle Mile Residential Assn. pledge after she spoke up at a City Hall hearing in favor of a nearby museum project that concerned some neighbors. The candidate maintained she was firmly committed to the pledge and said many other residents backed the project, but O'Sullivan blasted her for "betrayal" on the CityWatch website. He later became a vocal supporter of Ryu.
Not everyone is convinced that such pledges are effective in holding politicians accountable. Once elected, "you have four years to hand out gifts and make friends," said Dermot Givens, a political consultant not involved in the race. By the time the next election rolls around, "they want you to deliver on a promise for the future, not the one that you've already broken."
But O'Sullivan said that if Ryu ended up breaking his pledges, "there would be a recall effort fairly quickly."
"We've lost patience," he said.
Follow @LATimesEmily for breaking news from L.A. City Hall
---