California, GOP on same page in bid to curb U.S. role in schools reform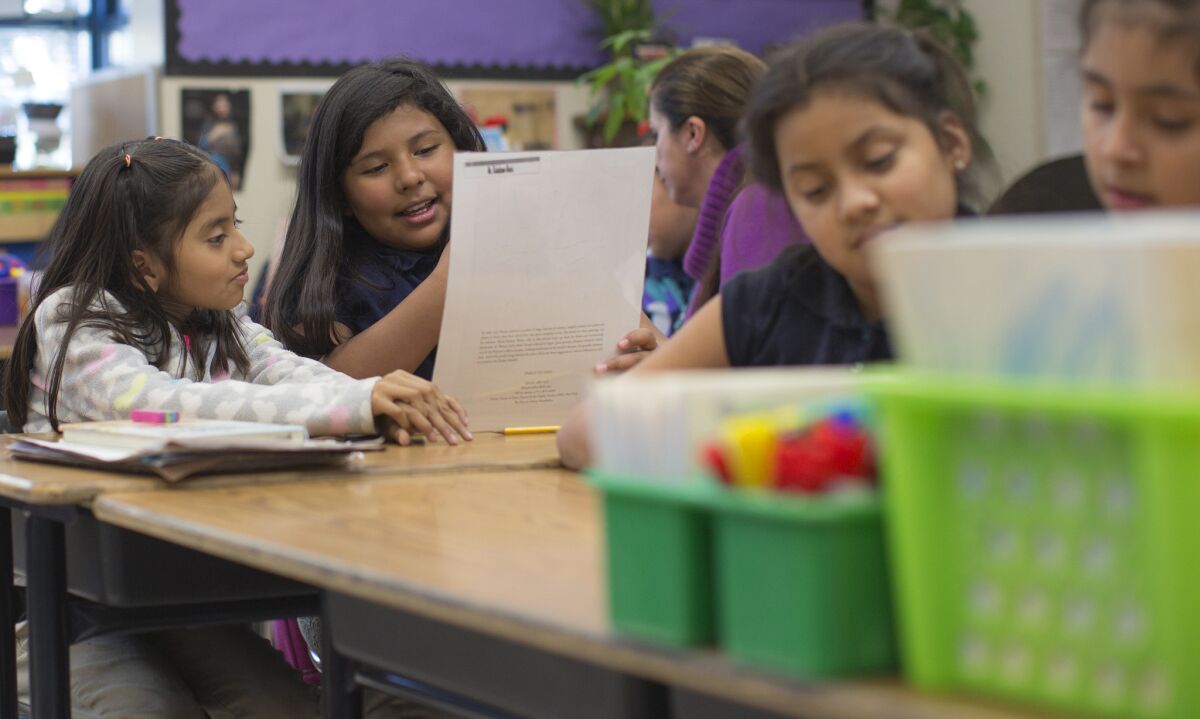 California may be a blue state, but a Republican-led effort to scale back federal intervention in educational reform is drawing support here.
As the House of Representatives moves to vote on reauthorizing a 50-year-old education reform law, Republicans are pushing to sharply curtail what they see as federal overreach in prescribing testing, setting achievement goals and imposing sanctions on schools that fail to improve. Instead, the House bill would shift authority for such decisions to states and school districts.
And that suits many in California just fine.
That's because California has outpaced the nation in developing its own reform measures, including a pioneering school finance system that gives more money to needy students and an effort underway to craft a more complex measure of achievement than simply test scores. The federal prescriptions, many say, too often have interfered with California's approach.
"The law has raised a lot of tensions in our overall federal-state relations," said Michael Kirst, state Board of Education president. "We want more flexibility and deregulation."
Such views are shared across much of the state's educational spectrum. Erika Hoffman of the California School Boards Assn. said that federal rules have "mucked up" some of the state's initiatives, while Dean Vogel of the California Teachers Assn. said those closest to schools should make decisions about them – a philosophy that drove Gov. Jerry Brown's 2013 push to radically revise the school finance system with more local control.
"In California, we're saying that you don't decide 3,000 miles away…what's best for local communities," Vogel said.
At issue is how to revise a federal law passed in 1965, which provided massive dollars to schools primarily to better serve low-income and minority youth. Under former President George W. Bush and a bipartisan congressional coalition, the law was last renewed in 2001 with federal prescriptions aimed at ensuring schools did not neglect disadvantaged students.
The No Child Left Behind law ordered states to give annual standardized tests and collect data on the performance of not only all children, but also individual groups of students who are minorities, low-income, disabled and speak limited English. The law set increasing performance goals for each group. Schools that failed to meet them could be forced into prescribed changes, including overhauling staff and curriculum, closing campuses or converting to independent charter schools, which are publicly funded and usually nonunion.
Most states have received waivers from the law in exchange for adopting reform plans that include teacher evaluations tied to student test scores; California refused to do so and did not receive a waiver.
Many agree that the law had some merit. U.S. Rep. Mark Takano (D-Riverside) was a high school English teacher at the time and said the federal requirement to collect testing data on different groups of students forced schools to confront and address learning gaps among them.
"It shined a light on the achievement gap among students of color," said Takano, a member of the House Education and Workforce Committee that passed the bill earlier this month on a party line vote without hearings.
As a result, the National Assn. for the Advancement of Colored People's legal defense fund and other civil rights groups are fiercely opposing the House bill, saying that strong federal oversight is still needed.
But the House bill largely rejects a top-down federal approach. "For the last 50 years, Washington has assumed more programs, more spending and more top-down mandates will cure an ailing education system," the bill's author, U.S. Rep. John Kline (R-Minn.) said in a statement, adding that local communities should determine school success.
In California, the federal law created conflicts with reform measures the state previously had taken. The state had launched annual standardized tests in 1998 and a year later crafted a school performance measure based on student test scores, known as the Academic Performance Index. Because the two systems measured achievement differently, some California schools met the state performance target but not the federal one.
The House bill would eliminate the federal performance measure and the prescribed sanctions – a move many in California support.
"There's broad recognition of schools making great strides toward state goals…but they are penalized for not meeting federal goals," said Hilary McLean, spokeswoman for the California Office to Reform Education, a consortium of L.A. Unified and nine other school districts that have collaborated on their own reform plans. "The federal system has been so unhelpful for so long it's almost been ignored."
The bill's continued requirement for annual standardized testing has sparked opposition in some states, where teachers and parents have led protests against what they see as too many tests that distract from learning. But Kirst said testing is not an issue in California. The state has cut about half of its tests since 2011 and now only requires the federal minimum of annual tests in grades 3 through 8 and once in high school.
Many California officials have joined critics in raising concerns about the bill's other provisions, including a freeze on federal funding levels and a change in how special dollars earmarked for poor children would be allocated. The U.S. Department of Education recently estimated that Los Angeles Unified could lose $782 million over six years under the House bill compared to President Obama's budget; other California districts set to lose big include Fresno, Long Beach, Santa Ana and San Bernardino.
Kline has dismissed such assertions as "scare tactics and budget gimmicks" and said his bill would increase funding for poor students by $500 million. He has also said that the change in allocating special funding for poor children is optional for states.
But Edgar Zazueta, L.A. Unified's chief lobbyist, said the funding proposals were a "deal breaker" that would compel the nation's second-largest school district to oppose the measure.
In addition, some worry that the Republican effort to scale back federal involvement is a guise to slash funding for schools – or shift more of it to charters and private campuses.
In any case, many expect a long road before a federal bill is approved. The U.S. Senate is expected to adopt a more bipartisan product and reconciling it with the House measure will take time. Kirst, Takano and others are hoping for a better balance between more state flexibility and continued federal oversight.
Mostly, though, California just wants the freedom to pursue its own reform plans.
"We've got a process in place we think will work," Hoffman said. "We would like to continue doing that and not have it turned around or upside down because of what the federal government says they want at a national level."
Twitter: @teresawatanabe
---
Life is stressful. Our weekly mental wellness newsletter can help.
You may occasionally receive promotional content from the Los Angeles Times.