LAUSD chief signals desire to limit teacher job protections and change funding rules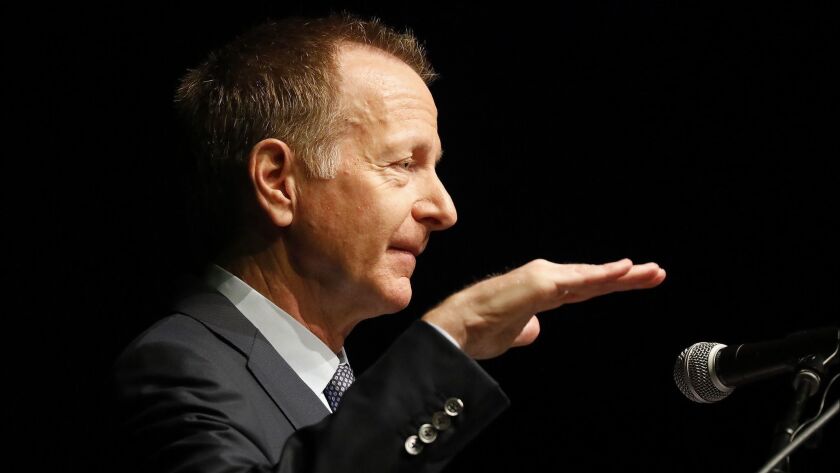 Los Angeles schools Supt. Austin Beutner has yet to lay out his plans to help the nation's second-largest school district shore up its finances and improve its academics. But on Thursday, in a speech to an invitation-only audience, he gave strong signals that he might fight to place some limits on job protections for teachers and to get Sacramento to change the way it determines funding.
Beutner defended the concept of tenure but expressed dissatisfaction with the results.
"We need a transparent, efficient and fair process to manage ineffective teachers out," he told the crowd of students, parents, district leaders and representatives of community organizations gathered in the library of the Robert F. Kennedy Community Schools complex in Koreatown. "In the same way we need to support teachers, we need to support students and make sure that they have great teachers in their classrooms."
Only "a few, a very few, people in the teaching profession are not helping students succeed," he said, but "an ineffective teacher can cause students to lose more than a year of learning, which is setting students up for failure."
Tenure rules in California's traditional public schools provide strong protections for fully trained teachers after two years.
Changing teachers' job protections or the way in which they are evaluated would most likely have to be accomplished through contract negotiations, state legislation or a ballot initiative. Beutner acknowledged the Los Angeles Unified School District could not just decide such highly contested matters on its own.
His speech was part of a public relations counter-offensive against the teachers union, which is threatening to strike over pay and other issues. Union representatives were not invited but heard about the event in time to organize a raucous protest of more than a hundred outside the library.
The union wants a larger pay raise than the district says it can afford and also has called for hiring additional teachers, nurses, librarians and counselors.
Beutner asserted, as he has repeatedly, that the district faces dire consequences unless it spends more prudently. More state funding also is sorely needed, he said.
To that end, he spoke enthusiastically about an idea often raised by school board member George McKenna that state funding should be based on enrollment rather than actual student attendance in class.
Beutner noted the correlation between poverty and chronic absences. Schools lose funding every time a child is not in class, but they need to pay for efforts to improve attendance.
"We need to fix a funding system that is not equitable and penalizes the very students most in need," Beutner said.
Such a change would have to be made at the state level.
California moved away from basing funding on enrollment years ago because schools abused that system. There were reports of registered students who did not exist and also of schools that did little to keep students in class because they only cared that they remained on the books.
Beutner, who took over in May, said recently that he expected to finish hammering out a strategic plan before the end of 2018.
Twitter: @howardblume
---
The stories shaping California
Get up to speed with our Essential California newsletter, sent six days a week.
You may occasionally receive promotional content from the Los Angeles Times.