Brown, Napolitano vague about progress of their UC funding confab
UC students and supporters march outside of the regents meeting in San Francisco.
(Jeff Chiu / Associated Press)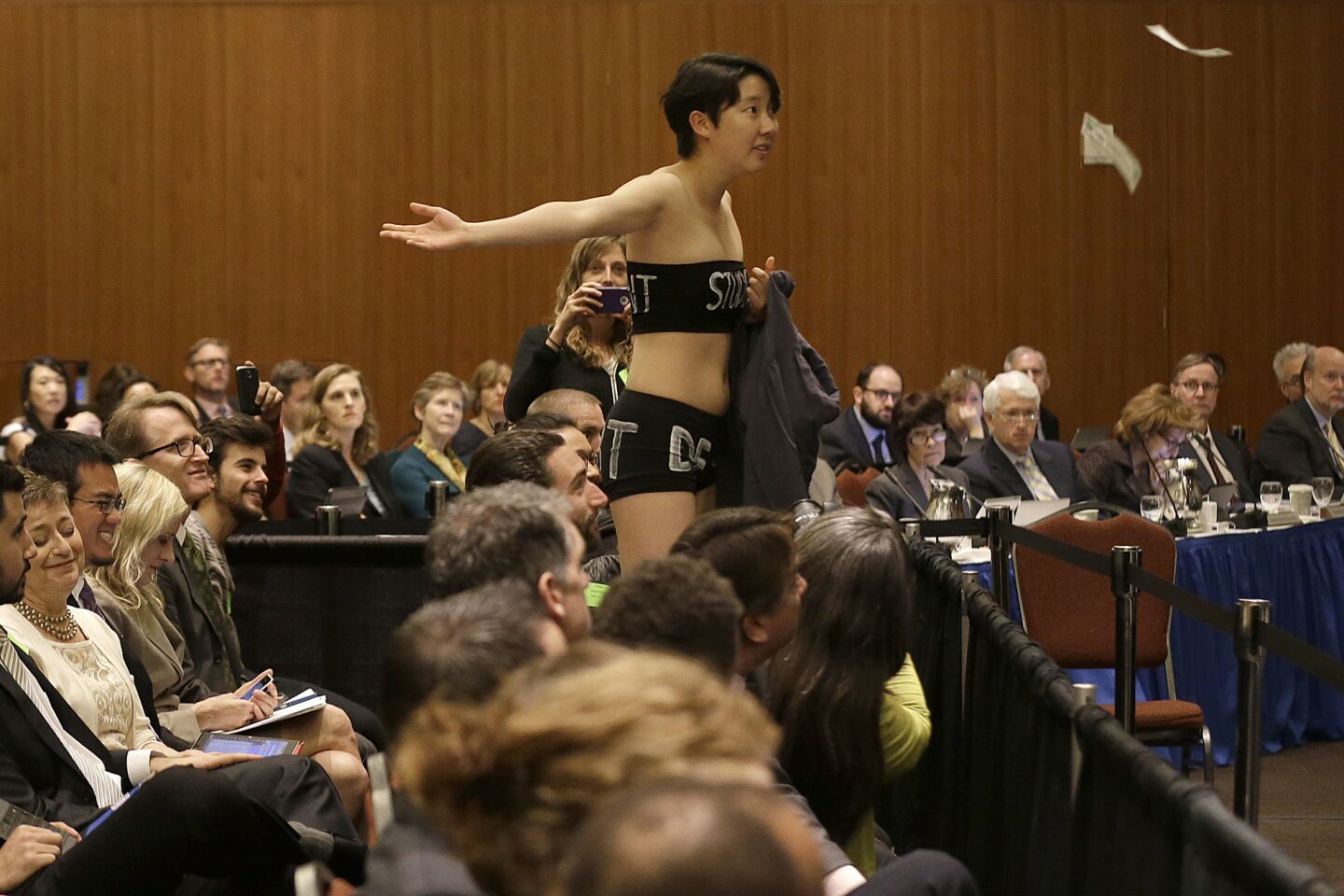 UC Berkeley student Kristian Kim throws fake money while starting a protest during the regents meeting.
(Jeff Chiu / Associated Press)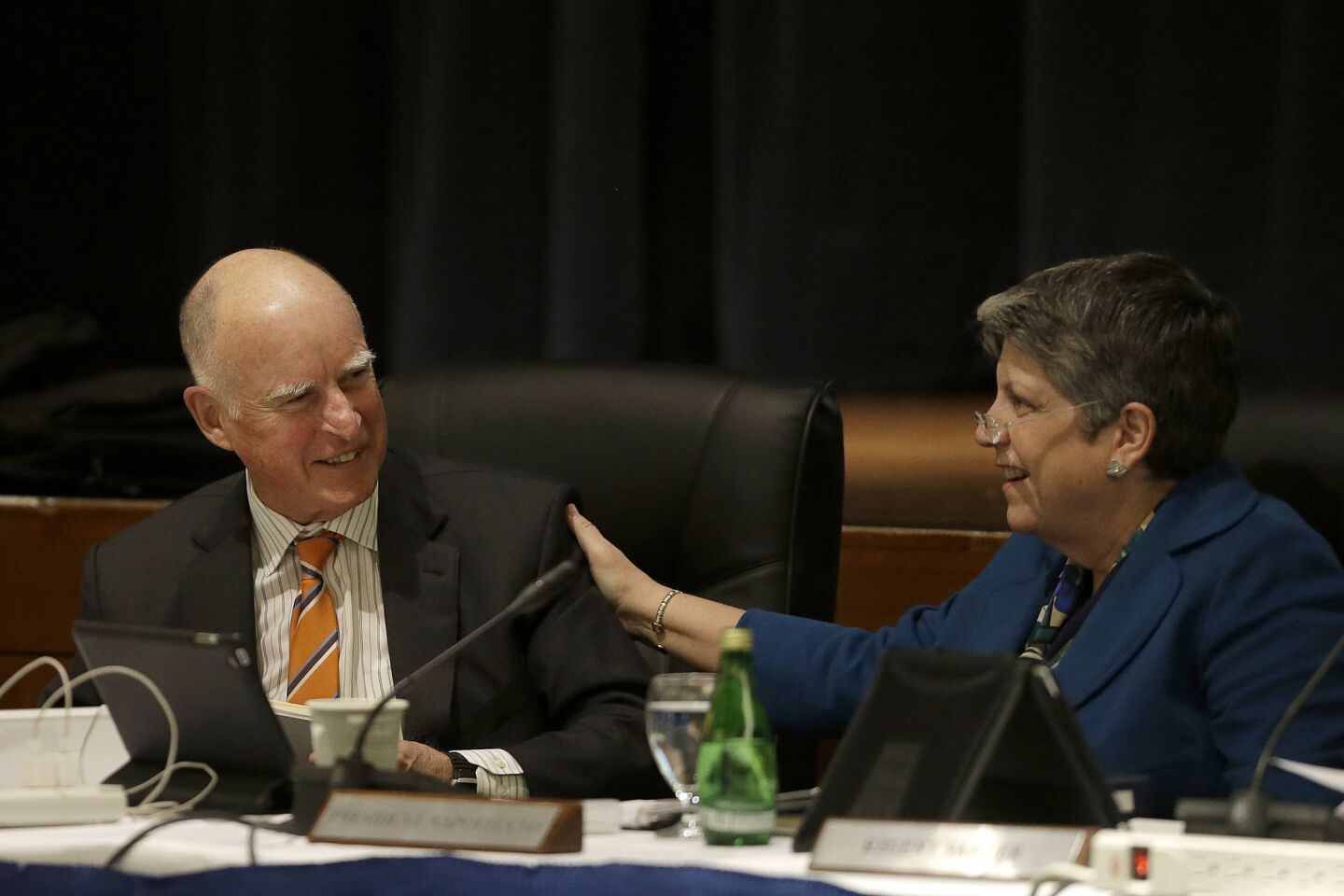 Gov. Jerry Brown and UC President Janet Napolitano after their briefing on the progress they're making over funding issues.
(Jeff Chiu / Associated Press)
UC students try to make themselves heard during the regents meeting.
(Jeff Chiu / Associated Press)
Reporting from SAN FRANCISCO —
Gov. Jerry Brown and UC President Janet Napolitano said Wednesday that they are making progress in their unusual two-person effort examining the spending and funding of UC but offered no concrete details on whether they are nearing a compromise on disagreements over possible tuition hikes.
Sitting side by side and speaking without any apparent rancor between them, the two indicated they will keep meeting as spring deadlines approach for state funding decisions. Brown has proposed increasing state revenue for UC by $120 million, or 4%, next year, but only if tuition remains frozen for a fourth consecutive year. Napolitano says UC needs $100 million more than that for such costs as pensions and salaries, or it may hike tuition by as much as 5% in each of the next five years.
"I think we are moving in the right direction," Brown said. With input from experts within and outside the university, the governor and Napolitano are studying such issues as getting more students to graduate in three years and offering more online classes along with the more immediate question of next year's tuition.
Brown said he is deriving "pure intellectual pleasure" from the meetings but also said that one of his goals is to flatten the steep rise in UC tuition over the last 10 years. He seemed to want to end any public notion of personal antagonism with Napolitano, a fellow Democrat who is the former governor of Arizona and former U.S. secretary of Homeland Security. Going back generations, "an inherent tension" always existed between UC and its state funders, Brown said.
Napolitano said she hoped for concrete proposals in "the near future" from the joint meetings as well as from discussions with legislative leaders. The aim, she said, is "to find the right resolution for the university and for the state."
She said UC would not resist changes and reforms but wanted to ensure that student access and academic quality are protected.
The regents have authorized Napolitano to increase undergraduate tuition for Californians by as much as $612 in 2015-16, to $12,804, excluding room and board and some campus fees, if state funding does not increase enough. By 2019-20, the worst-case scenario could be $15,564 tuition.
About 30 students protested at the meeting in the UC San Francisco hall, standing on chairs, stripping off their shirts and throwing phony dollar bills in the air. After police warnings of arrest, the protesters filed out after about 10 minutes, and no one was arrested.
In a university video, Napolitano can be heard telling regents Chairman Bruce Varner: "Let's go; we don't have to listen to this crap." She and other regents left the room until protesters left.
Also Wednesday, UC Merced Chancellor Dorothy Leland presented a plan to expand her campus from 6,200 students to 10,000 over the next five to seven years and construct many new buildings doubling the school's physical capacity. Leland said her proposal is the best way for the 10-campus UC system to accommodate more California students, especially those from the Central Valley. UC Merced, the newest, opened in 2005.
Leland's plan, however, is based on a controversial financing and managerial idea. It would involve a single master developer from private industry who would construct and operate all the new buildings, rather than the traditional method of UC hiring contractors for each structure individually. The campus would pay back the developer over time for the 1 million square feet of classrooms, labs, dorms and offices.
Leland estimated the cost at $1.1 billion with traditional planning and financing methods and said her proposal would produce significant — although still undetermined — savings. However, several regents objected and said pinning all that work on one private team might involve too many financial risks for UC.
"You are getting in bed with somebody for a very, very long time," said Regent Hadi Makarechian. He and others said the idea needs closer scrutiny, and Leland promised she would return to the regents in September with more financial details.
The regents approved a related plan for the school — to build a new back-office administrative building in the historic downtown of UC Merced, which is several miles from campus. The new building would replace rental facilities around the area.
Student protesters also demanded that UC Berkeley agree to local housing aid and local hiring if it proceeds with plans to turn its underused property in nearby Richmond into a satellite campus. That new school could accommodate global-oriented programs for up to 10,000 students and faculty. UC Berkeley has said it will provide community benefits.
The stories shaping California
Get up to speed with our Essential California newsletter, sent six days a week.
You may occasionally receive promotional content from the Los Angeles Times.