Donors began distancing themselves from Calderon before probe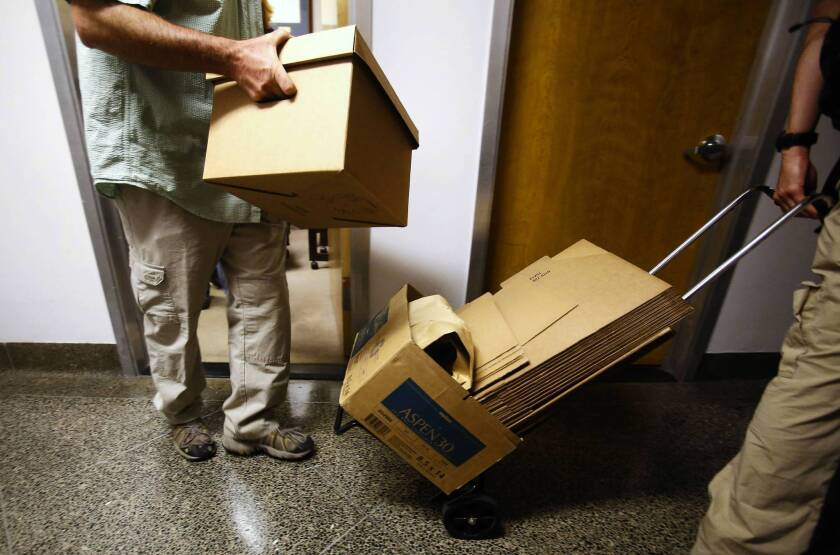 SACRAMENTO — Even before the FBI raided state Sen. Ronald S. Calderon's Capitol office as part of a corruption investigation, some of his strongest supporters were already distancing themselves from the Montebello Democrat.
About six months before the June raid, some corporate benefactors had begun revamping a political committee they funded that was generous to him and his brother, former Assemblyman Tom Calderon, a leader of the organization until late 2011.
In addition to aiding Democratic candidates, the group, called Diversity PAC, had paid for travel, expensive dinners and other perks for both siblings.
But last December, business leaders who funded the group elected a new board of directors that changed the committee's mission, according to the new board members.
Six months later, after the FBI inspected Calderon's office, a new Diversity PAC treasurer was appointed to replace the one who had long held that position in addition to serving as treasurer for the brothers' campaign accounts.
Meanwhile, some contributors to the group stopped giving, and others took issue with some of its operations. In addition, money for some of the Calderon brothers' other accounts — typically filled by robust donations from the same business interests — also appeared to be drying up.
Fourteen donors to Diversity PAC contributed more than $50,000 to Tom Calderon's unsuccessful run last year to return to the Assembly after a decade. This year, only two of those gave small amounts to his effort to clear his campaign debt.
And five months after Ronald Calderon opened a legal defense fund to help him fight the FBI inquiry, he has reported just $15,000 in contributions, from three sources, including PG&E;, which helps fund Diversity PAC. The senator declined to be interviewed.
Both brothers have parted ways with the group, according to John Jacobs, a longtime fundraiser for the Calderons who remains in that role for the committee. Tom Calderon said he left the fund before his 2012 Assembly campaign, citing rules limiting service by candidates on certain kinds of political committees, but declined to comment on other issues.
Tom Calderon was the group's founding principal officer, in 2005. He called it Latino PAC, and its mission was "to elect Latino candidates," according to filings with the secretary of state. The fund later became Diversity PAC, and its purpose evolved into support for moderate Democrats, those involved said.
Diversity PAC has raised $1.2 million from interests that lobby the Legislature. Donors included AT&T;, cigarette maker Philip Morris USA, Sempra Energy, the Assn. of California Life and Health Insurance Companies, the Pharmaceutical Research and Manufacturers of America (PhRMA), Eli Lilly and Co., Walgreens, Blue Shield and the payday loan firm Check Into Cash.
Candidates who received contributions from the committee over the years include Gov. Jerry Brown, state Sen. Leland Yee (D-San Francisco), state Assemblyman Anthony Rendon (D-Lakewood) and Ronald Calderon for his committee for state controller in 2014.
As part of its fundraising, the PAC took big donors by private jet and limousine to top-rated golf courses, including Pebble Beach, the Bandon Dunes Golf Resort in Oregon and the American Club Resort in Wisconsin. One corporate official who attended a Bandon Dunes event with Ronald Calderon said he stopped giving to Diversity PAC three years ago.
"I'd rather go someplace where the cost didn't eat up a bunch of your contribution," said the executive, who was not authorized by his employer to speak publicly on the issue.
Diversity PAC has paid more than $100,000 to Bandon Dunes over the years for fundraisers, not counting the cost of the flights. The PAC has spent $43,000 on fundraising events at the La Quinta Resort and Club near Palm Springs, which boasts on its website of having 41 pools, 23 tennis courts, seven restaurants and five golf courses.
Another executive said he stopped giving because "it just seemed to me the money was not being used for much of anything except what Ron Calderon or Tom Calderon wanted it to go to."
The executive declined to speak on the record because he has been subpoenaed by the FBI in the Calderon investigation, although on matters unrelated to Diversity PAC.
Some donors disliked other aspects of the operation.
Blue Shield Vice President Mark Weideman objected, for example, when the PAC's then-treasurer filed papers with the state two years ago, under penalty of perjury, inaccurately listing Weideman as a principal officer of Diversity PAC instead of Tom Calderon.
Weideman said he complained to the treasurer and received an email from her acknowledging that "It seems it was an error listing you as the Principal Officer."
The former treasurer, Yolanda Miranda, declined to comment.
Diversity PAC has paid Tom Calderon, his consulting firm and other groups he formed $34,700 over the years, much of it for travel, lodging, meals and meetings. The last payment involving him was on July 16 of this year, a $10,000 donation to a nonprofit he formed, Californians for Diversity.
Ronald Calderon has received travel and lodging expenses from Diversity PAC that include $1,562 for lodging at the Park Hyatt hotel in Carlsbad to attend a conference in 2011. The PAC also gave him $1,039 that year for airfare and lodging for another trip.
The new members of Diversity PAC's three-person board are executives with PG&E;, Altria and PhRMA. The group's new mission, according to a statement from the board, is to promote moderates in both major parties rather than Democrats alone.
---
The stories shaping California
Get up to speed with our Essential California newsletter, sent six days a week.
You may occasionally receive promotional content from the Los Angeles Times.