Compton Community College regains local control after years of oversight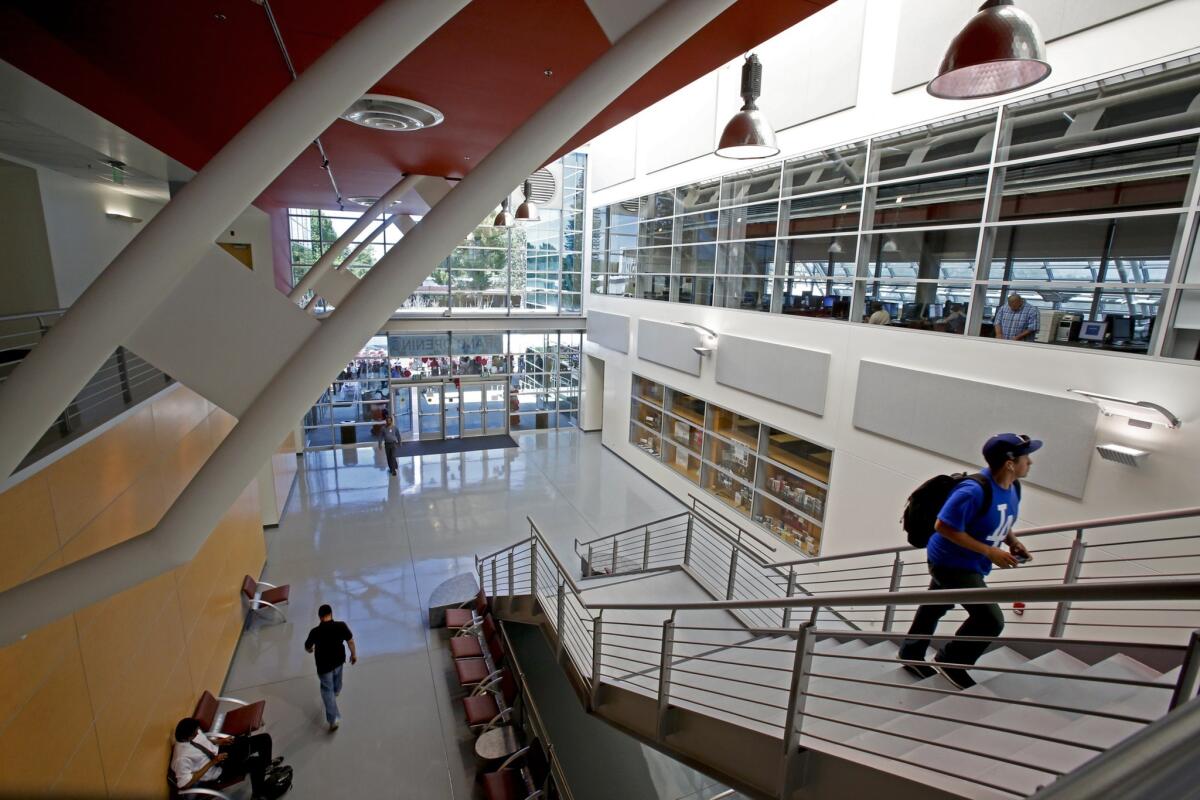 The Compton Community College District, which has been managed by a state-appointed special trustee since it lost its accreditation more than a decade ago, has won back the authority to govern itself — a major nod to its efforts to rebuild, state officials announced Tuesday.
The college now will be run once again by its own elected board of trustees.
State legislators stripped that board of its power after the discovery of serious administrative failure and widespread corruption on campus. In 2006, the college became a satellite campus of Torrance's El Camino College.
A state Assembly bill laid out the scenario by which Compton College could once again be run by its own board after the governor, the director of the state Department of Finance and the state chancellor agreed that the district had met a comprehensive list of requirements for two straight years. Even after control reverts back to the board, the state-appointed trustee will stay on to assist, with the power to take that control away again, officials said.
This is an important step to restoring accreditation as a fully independent college, said California Community Colleges Chancellor Eloy Ortiz Oakley, who oversees the state's 113 community colleges — the largest system in the nation.
"This is a sign of remarkable progress and we congratulate faculty, staff, administrators, students and the community on the hard work that has led to this," he said.
This is a sign of remarkable progress and we congratulate faculty, staff, administrators, students and the community on the hard work that has led to this.
— California Community Colleges Chancellor Eloy Ortiz Oakley
Compton College's troubled history began to draw major attention in May 2004, when the state — in a rare action — took over the college in an effort to restore it to financial solvency.
The takeover followed an investigation by the state chancellor's office amid concerns about the school's accounting practices. Federal and local investigations were looking into possible corruption.
By June 2005, the accrediting commission had begun the process of revoking the college's accreditation. In October of that year, a former Compton College trustee pleaded guilty to siphoning more than $1 million in public funds to himself and his family members via a dummy organization that enrolled people in sham college courses.
In a scathing audit released in 2007, state investigators said they found numerous instances of potential financial fraud, including more than $571,000 worth of computer equipment that was purchased but never inventoried. Administrators and teachers, the audit said, enrolled nonexistent students or lied about enrollments to get more money from the state. Payroll was so "extremely disorganized" that one maintenance employee missed three consecutive months of work and still got paid, while another worker gave herself a 25% raise without getting approval from bosses.
The state chancellor at the time estimated that upward of $5 million was stolen from the college during those years, but that there was no way to really know since many documents had been destroyed. He emphasized that the "vast majority" of faculty and staff were honest and cooperated with the investigations and the rebuilding.
Over the years, the school board has worked to regain influence and oversight responsibilities. Winning back accreditation is four-step process, which officials say could be completed as early as 2020.
Founded in 1927, Compton Community College educated generations of students and became a community point of pride. The school district covers about 29 square miles, serving residents of Compton, Lynwood, Paramount and Willowbrook, as well as portions of surrounding neighborhoods. It's been referred to as California's historically black college, and Compton Mayor Aja Brown has spoken about how her mother received her nursing credential there.
Andres Ramos, president of Compton College's Board of Trustees, welcomed Tuesday's news and said there's still work to be done: "Our commitment to represent the interests of the communities we serve will continue to be a priority as we continue moving forward."
To read the article in Spanish, click here
Follow @RosannaXia for more education news
ALSO
County voters to decide on quarter-cent sales tax for homelessness programs
Private prison companies likely to be big beneficiaries of Trump's plan to detain more border crossers
Lake Oroville: $100 million in damage, more than 100,000 ordered to evacuate and more rain on the way
Sign up for Essential California for news, features and recommendations from the L.A. Times and beyond in your inbox six days a week.
You may occasionally receive promotional content from the Los Angeles Times.