This industry stands to benefit from Trump's crackdown on the border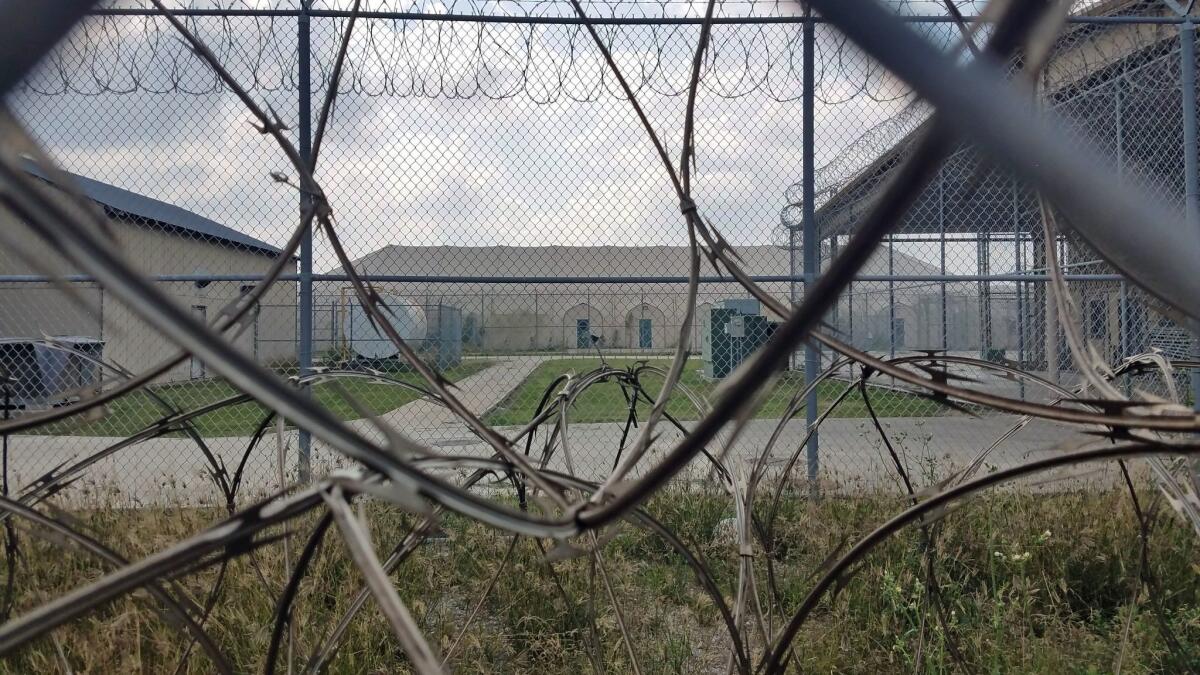 Reporting from Raymondville, Texas —
When John Chavez peers through chain link and razor wire into the vast tent city that once housed one of the nation's most notorious prisons for immigrants, he does not see a failed experiment.
Two years ago, inmates set fire to the sprawling complex in protest of poor medical conditions, slashing holes in their tents and forcing the government to shut it down. Yet many people in this struggling south Texas county— like Chavez, who once worked as a security guard at the privately run prison — have high hopes the abandoned detention center will reopen.
"If Trump is going to crack down on immigrants, we're going to have to process them somehow," the stocky 55-year-old said as he stood outside the empty shell of his old workplace. "Maybe there's a shot I could get my job back."
If Trump is going to crack down on immigrants, we're going to have to process them somehow.
— John Chavez, former private prison security guard
Stocks for private prison companies have surged in the two weeks since President Trump signed an executive order calling for expansion of immigrant detention facilities at or near the border with Mexico, specifically authorizing the use of private contractors "to construct, operate, or control facilities" in what is expected to be a substantial ramp-up of the massive detention system that thrived under the Obama administration.
With the number of immigrant detainees already at historic levels, critics warn that rapidly expanding prisons will only exacerbate squalid living conditions and substandard medical care. The big beneficiaries, they say, will be stockholders and executives of for-profit prison companies.
Carl Takei, a staff attorney at the American Civil Liberties Union's National Prison Project, predicts "an enormous boondoggle for the private prison industry."
"The immigration system already lacks rigorous oversight and transparency," he said, "and now there's this perfect storm — a push to rapidly expand the system, a lack of existing oversight and the profit motive driving these companies."
Private companies provide immigrant detention at a lower cost: about $144 per inmate a day, versus $184 in federally run Immigration and Customs Enforcement facilities. Immigrant attorneys and human rights groups have long argued the profit motive spurs private companies to cut corners and cram inmates into shoddy and overcrowded facilities.
For critics, Raymondville's Willacy County Correctional Center is Exhibit A in the case against private detention centers. Not long before it was forced to close in 2015, the ACLU dubbed it a "physical symbol of everything that is wrong with enriching the private prison industry and criminalizing immigration."
Officials in Willacy County are still banking on being a place to lock up immigrants, even though the county has filed a lawsuit against the private company whose "abysmal management," it claims, caused inmates to riot.
"Everybody here wants it back because they need jobs," Eliberto "Beto" Guerra, a Democratic Willacy County commissioner, said of the facility. "It means security for a lot of families."
Well-paid jobs are scarce in Raymondville, a Rio Grande Valley hub of cotton and sugarcane fields whose main street is dominated by loan stores and pawn shops. More than a third of Willacy County residents live below the poverty line.
The idea for an immigrant detention center was born 15 years ago, when a large construction company approached local officials with a pitch to revitalize their economy: borrow $65 million from the public debt markets to build prisons.
In 2006, as President George W. Bush pushed to crack down on illegal immigration, the county hired a Texas construction company to build the detention center on a cotton field on the outskirts of town. It then contracted with a Utah-based company, Management & Training Corp., to run the complex.
This has become a common arrangement. As ICE detention has exploded in recent years — reaching more than 41,000 beds last November — about 65% of ICE detainees are now held in facilities operated by private, for-profit contractors.
As Joe Alexandre, Raymondville's former mayor, remembers it, county officials were assured they would earn more than they needed to recoup their multimillion-dollar investment.
Built in just a few months, the sprawling complex, dubbed Tent City, could hold 2,000 inmates and was the largest immigrant detention camp in the country. Ten huge tent domes, made of Kevlar stretched over metal frames, were erected over concrete pads. Each oval tent held 200 men or women, with no partitions dividing the toilets or showers.
Almost immediately, there were problems. Inmates complained of rotten food, unsanitary conditions, poor medical care and limited access to the law library and telephones.
"The level of human suffering was just unbelievable," Kathleen Baldoni, a former Willacy nurse, told a congressional briefing in 2009, adding she was unable to provide the level of medical care ethically required of her. A 2010 human rights report noted the prison had only one physician on staff to treat 1,358 inmates. The following year, a PBS documentary explored more than a dozen allegations of sexual abuse by Willacy guards.
Management & Training Corp. ended up losing its ICE detention contract in 2011. Yet almost immediately, it struck a new contract with the Bureau of Prisons to expand the facility and house 3,000 immigrants awaiting deportation while serving federal criminal sentences, many convicted of illegally entering the U.S. To fund the expansion, it refinanced, building up more debt.
Eventually, things came to a head. In February 2015, prisoners engaged in a mass uprising, cutting and burning holes in their tents, wielding pipes and brooms and seizing control of the prison for nearly two days.
When it was over, the Bureau of Prisons declared the detention center "uninhabitable." After transferring all the inmates to other federal prisons, it canceled its contract with MTC and shut down the facility. All 400 employees lost their jobs.
Across Raymondville, former prison workers fell into debt as they struggled to find full-time work.
After working at Willacy for nearly 10 years, earning up to $18 an hour with overtime, Chavez and his wife, Diane Vasquez, suddenly had to survive on her $25,000 annual salary.
Chavez has taken on the odd landscaping job, but he remains unemployed. "We're just living paycheck to paycheck," Vasquez said.
Vasquez's niece, Mia Vasquez, 27, who lost her job administering medication in the detention center pharmacy, is working part-time as a bartender, but she no longer can pay her student loans or her cable bill. The repo man has taken her Nissan Xterra twice.
Facing a $2.4-million budget shortfall, the county has frozen salaries and slashed jobs. After letting go of his chief deputy, an investigator, a dispatcher and a senior patroller, Sheriff Larry Spence said his department is hard-pressed to cover the county's 784 square miles.
"Our city and our county have really gone downhill," said Alexandre, the former mayor, who owns a jewelry shop. So few enter his downtown shop since the jail closed that he plans to introduce financing and allow customers to pay in installments.
In December, Willacy County sued Management & Training Corp., claiming its "abysmal management" cost the county tens of millions of dollars in damages. In its lawsuit, the county claims MTC was "only interested in the money" and "turned a blind eye to the enormous problems that plagued the prison."
It was a message that critics of private prisons and detention centers had pushed for years, and it came after activists had managed to win a string of victories across the country: Presidential candidate Hillary Clinton, who previously had accepted donations from private prison lobbyists, had pledged to end for-profit prisons and detention centers; the Department of Justice had announced it would begin phasing out the Board of Prisons' use of for-profit prisons; stock prices plunged for prison contractors.
Trump, though, had spoken highly of for-profit prisons. And in December, a Department of Homeland Security Advisory Council subcommittee recommended continuing the use of private detention facilities for immigrant detainees because they're cheaper and allow officials to adapt to sudden surges in immigrant detention.
Its report was rejected by a vote of the full advisory council, and the group's final recommendation was to begin a measured phase-out of reliance on private prisons. That recommendation, however, was nonbinding, and experts say it is highly unlikely to be followed under the new Trump administration.
Last week, a spokesman confirmed MTC was trying to secure a contract to reopen the Willacy facility, but he declined to specify whether it was seeking a new contract with ICE or the Board of Prisons. He also declined to comment on the county's lawsuit against MTC.
Celeste McDonald, a spokeswoman for MTC, said company executives "completely disagree with the assertion that the Willacy facility was poorly managed." She noted that the center was fully accredited by the American Correctional Assn. and the Joint Commission, which reviews healthcare facilities.
"It makes sense for governments to contract with private prison operators when there is a need," she said in an email. "MTC and other contract prison operators are highly accountable and answerable to the government, offenders entrusted to their care, and the public. Contract prisons are required to meet the same standards and requirements mandated by the government for all prisons."
As many in Raymondville hope the detention center will reopen, they reserve their criticism less for the company that ran the facility than for the detainees who forced it to close.
"They were given three meals a day and medication — more than many would have gotten in the free world," Alexandre said. "I just think they got over-demanding."
Mia Vasquez said the detainees' medical care was probably better than what she now has without health insurance.
"Why would they complain?" she said. "Medical, dental, vision … they had it all. I wish I could get that care."
ALSO
Trump national security advisor Michael Flynn resigns over contacts with Russia
Here's everything Donald Trump has tweeted since he became president
With Trump in the limelight, Congress has been quietly working to undo Obama-era regulations
---
UPDATES:
8:35 a.m.: This story was updated with information on the final recommendation of the Department of Homeland Security Advisory Council on the use of private prisons.
This story was originally published at 3 a.m.
Sign up for Essential California for news, features and recommendations from the L.A. Times and beyond in your inbox six days a week.
You may occasionally receive promotional content from the Los Angeles Times.