Boy, 8, shot in head by intruder while sleeping in bed; suspect sought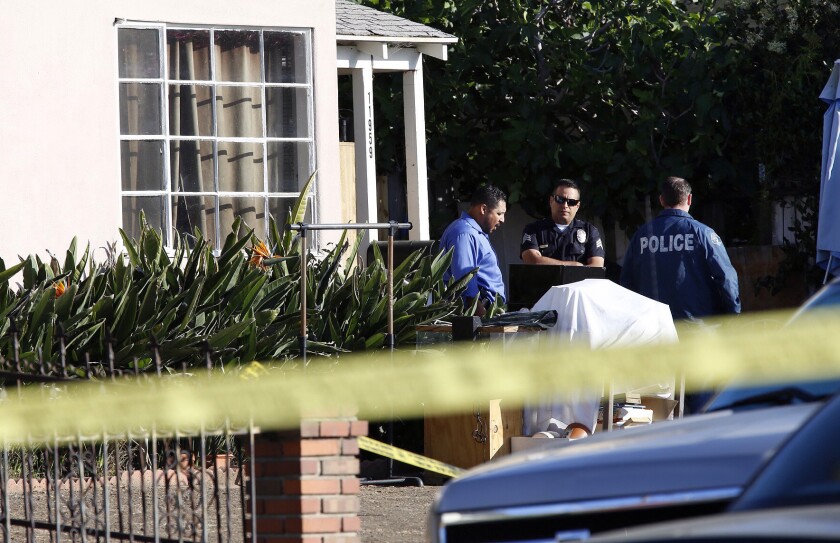 After an 8-year-old boy was shot in the head by a stray bullet while he was sleeping at his Del Rey home, police said Monday they were conducting an exhaustive search for the gunman.
"We're looking at all potential motives," said Los Angeles police Capt. Nicole Alberca, describing the gunman as a medium-built man who was wearing a gray hooded sweatshirt.
"We haven't ruled anything out."
On Sunday, the boy fell asleep on his father's bed, so the father carried him to his own room and tucked him into bed just before midnight, said Sgt. Frank Preciado.
He heard the front door open and thought it was his 20-year-old son who wasn't home yet, Preciado said.
But after leaving the boy's room, the father was confronted by an intruder who had entered the home in the 11900 block of Wagner Street through the front door, which was unlocked, according to police. The boy's room is next to the front door.
At some point during the confrontation, the intruder fired 10 gunshot rounds at the father, who ran into his son's room to shield him from the bullets and told the gunman, "My kids are sleeping in this room," according to Preciado.
The father discovered that his son had been struck in the head by a stray bullet that pierced a wall, Preciado said.
The man's 17-year-old was also in the room but was unharmed. The boy's mother and grandfather were also home at the time of the shooting, Preciado said.
It could have been worse, according to Preciado. The older home's lath and plaster walls stopped most of the bullets, he said.
The intruder fled before police arrived, and no arrests had been made.
The boy was taken to Ronald Reagan UCLA Medical Center, where he underwent surgery, said LAPD Sgt. Patricia Suarez. He was in critical but stable condition, police said.
The boy's parents declined to speak at a press conference held Monday. Police did not release the boy's identity because he is a minor.
Police are investigating the shooting and are looking into whether it was gang-related. Police say the boy was not the intended target.
Although the gunman is believed to have fled on foot, authorities are asking anyone who may have seen a vehicle leaving the area to call police at (877) 527-3247 or the anonymous tip line at (800) 221-8477.
For breaking news in California, follow @VeronicaRochaLA and @LATvives.
---
For reporting and exclusive analysis from bureau chief John Myers, get our California Politics newsletter.
You may occasionally receive promotional content from the Los Angeles Times.